Vietnamese Female Scientists Meet in Paris to Share Experiences
The event praised women in science and connected overseas Vietnamese women with their homeland.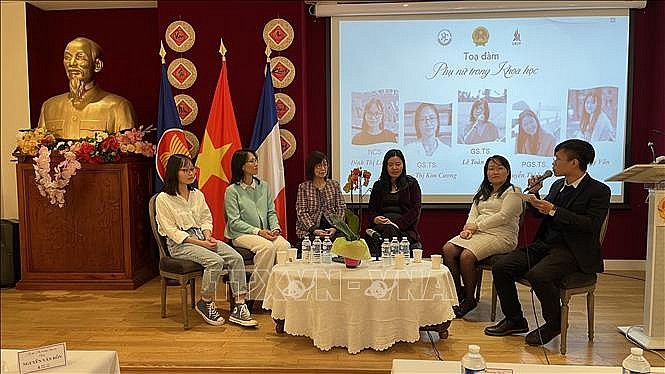 Speakers at the event. (Photo: VNA)
A seminar named "Women in Science" was held by the Union of Vietnamese Students in France in Paris on March 12.
The event celebrates International Women's Day and Vietnam's Month of Youth. It also commemorates the United Nations General Assembly's International Day of Women and Girls in Science (March 11) and UNESCO's year of Basic Sciences.
The event was held in both virtual and in-person form. It was attended by the Vietnamese Ambassador to France Dinh Toan Thang, Ambassador Le Thi Hong Van, head of the Vietnamese Permanent Delegation to the UNESCO, sponsors, and many Vietnamese students in France.
The seminar featured five outstanding Vietnamese female scientists in France, each from a generation. They are experts in different fields, such as biosphere, medicine, economy, chemical, and environment. The scientists, whose ages range from the twenties to seventies, have earned remarkable achievements in their careers and made great contributions to the Vietnam-France relations.
Their love for sciences, their extraordinary efforts to overcome prejudices against women in work and life has inspired the young generation and created the seminar's joyful atmosphere.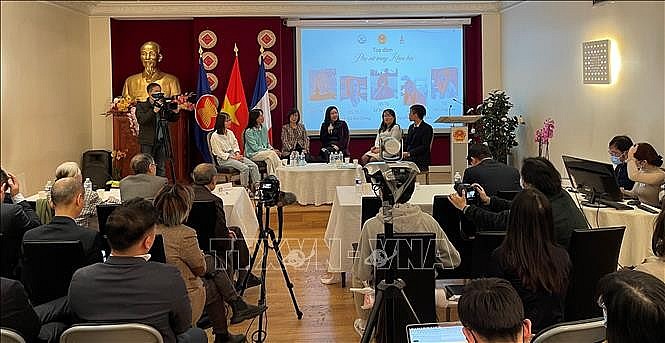 Participants at the event. (Photo: VNA)
Despite her old age, Ph.D. Le Toan Thuy still does research. She leads a team in CESBIO - Center for Studies of the Space Biosphere. Thuy is the pioneer of the European BIOMASS satellite program for forest biomass assessment, scheduled to be launched in 2023. She also led the Asia-RiCE (Asian Rice Crop Estimation & Monitoring) project.
Le Toan Thuy said when a woman wanted to follow a career in science, she had to face challenges, the first of which was her own insecurity. Women of her generation tend to lack the confidence and nerve to pursue their dream. They also face prejudice from their own family, who conventionally do not like their daughters to become scientists. Female scientists have to fulfill their duties both at work and as housewives and mothers, which puts much more pressure on them compared to their male colleagues. To overcome all the mentioned hardships, women must work harder, be proactive and confident.
From her experience, Thuy said young ladies should not let those challenges affect their love for sciences. She said: "If you have a passion for sciences, then your gender should not be a problem. There are of course difficulties, but mostly from prejudice. You have to first overcome such stereotype."
Dinh Thi Lan Anh, the third-year Ph.D. student at the Paris Observatory, said she found successful female scientists of the elder generation as a source of inspiration, a driving force for the young to strive in their fields.
"Not many young girls follow a career in science recently, so I hope the community will grow, more women will embark on this path. There is no difference between women and men when it comes to science. I also hope to receive more support from the leaders and a better environment will be created for female scientists," she said.
Nguyen Xuan Minh Vuong, a male student in artificial intelligence highly appreciated the talk. He said "Everyone has strengths and weaknesses, but women deserve to be respected in society. Their contribution in science is undeniable, so they worth honoring."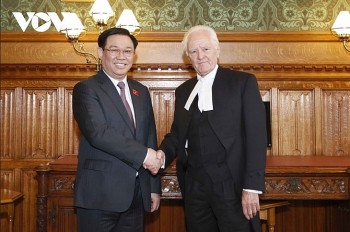 Friendship
Vietnam is willing to create all favourable conditions for investors of the UK to operate in the Southeast Asian country, National Assembly (NA) Chairman Vuong Dinh Hue told UK Secretary of State for International Trade Anne-Marie Trevelyan during their meeting on June 29 (UK time).