Vietnamese Filmmakers Mourn Death of French Filmmaker André Van In
The late André Van In is rememered as a "kind-hearted" and "devoting" teacher to Vietnamese filmmaker community. He is an veteran advisor of Varan Vietnam, the foundation for many Vietnam-based independent documentary filmmakers.
Many Vietnamese filmmakers expressed their grief for the late French director André Van In, who passed away on August 27, 2022 in Paris, France. The legacy this expat director left behind and his love for Vietnam is honored by many generations of Vietnamese filmmakers.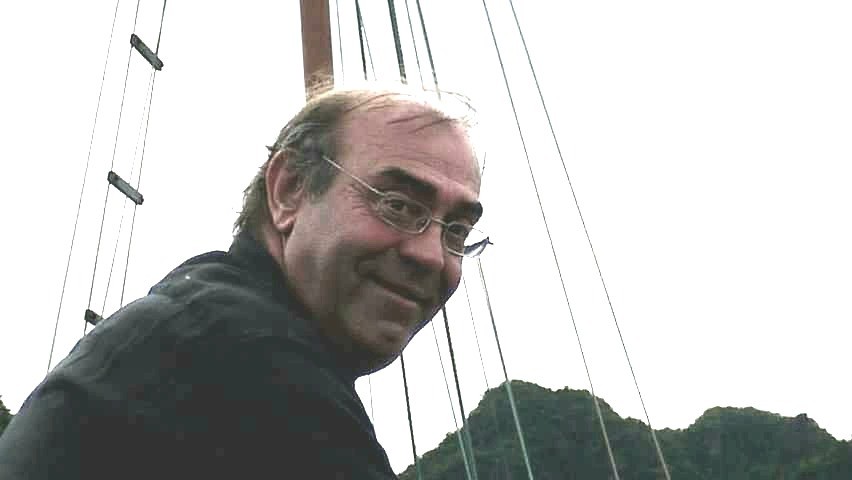 Film director André Van In during his time in Vietnam (Photo: Baoquangnam.vn).
André Van In - who played an important role in the founding of The Ateliers Varan in 1982 - directly taught and mentored students of the organization. From the courses taught by this organization, many Vietnamese filmmakers have been founded, their talents warre cultivated which produced quality Vietnamese documentaries and cinematographic works.
The Ateliers Varan is a non-profit-making association and a Non-Governmental Organisation. It is a member of CILECT (the association of the world's film and television schools). The association with about 40 film professionals, including directors, chief editors, producers, and sound engineers. It organizes film workshops in France and all over the world to pass on experiences and practices to trainees filmmakers. Founded with the support of The Ateliers Varan, Varan Vietnam is a group of independent documentary filmmakers who focus on direct cinema style
(Photo: ateliersvaran.com)
André Van In (1949 - 2022)
Born in Belgium in 1949, André Van In had been a documentary filmmaker and mentor at Ateliers Varan since 1981. He supervises and teaches Parisian and foreign courses, such as Mexico City (1982), Bolivia (1983), and South Africa (1988, 1994). From 2004 to 2014, he led the Varan workshop in Vietnam and accompanied the establishment of Varan Vietnam as a production and distribution company, as well as that of the first independent workshop supervised by former Vietnamese trainees.
André Van In's students included filmmakers Tran Phuong Thao (Giac Mo Lam Cong Nhan, Di Tim Phong), Nguyen Thi Tham (Xe Om, Chuyen Di Cuoi Cung Cua Chi Phung), Trinh Dinh Le Minh (Thua Me Con Di, Bang Chung Vo Hinh), Doan Hong Le (Dat Dai Thuoc Ve Ai, Loi Cuoi Cua Cha), Ha Le Diem (Nhung Dua Tre Trong Suong).
As the founder of Varan Vietnam with The Ateliers Varan Association in 2004 and teaching the first course with the Central Scientific Documentary Film Studio, André is known as the founding father of many Vietnam-based independent filmmakers. From 2006 on, he played a very important role in the operation of the organization. He went directly to Vietnam, looking for students, proceeding to connect and train the young talents, building up the nation's film industry. Under Mr. André Van In's instructions, aspiring directors are trained to improve their profession, and work ethics and also to have respect for the character and the audience.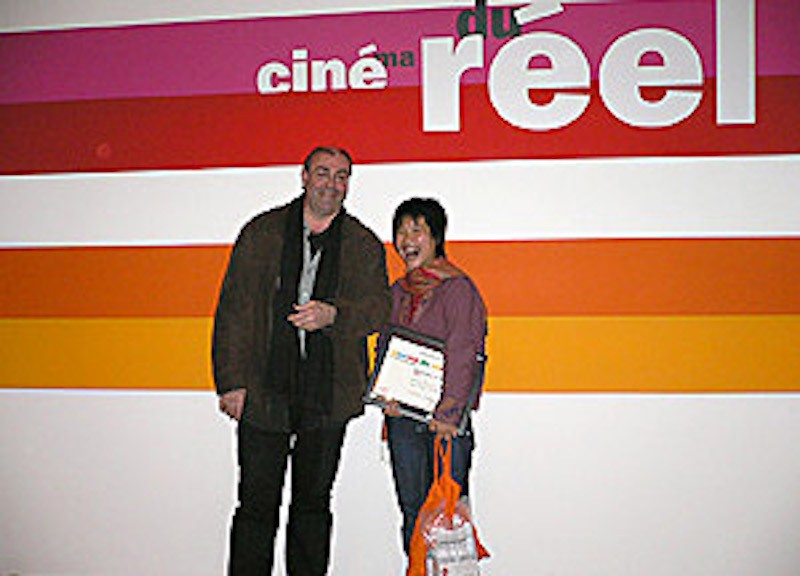 André Van In (left) and his student - award-winning director Tran Phuong Thao (Photo: soi.today)
"For many years, in many courses, he stayed in Vietnam 3 months each year to train students. He really loves Vietnam and really wants to live in Vietnam. Everywhere he goes, he accepts Vietnam in both its beautiful and ugly aspects, unlike many people who only accept the beautiful side, "- said former coordinator of Varan Vietnam Le Tuyet Nhung.
International award-winning director Ha Le Diem cherished the days she was André's student: "I have been studying in Varan since 2016, when Mr. André no longer taught directly, only indirectly. Varan Paris organization has many different lecturers in many different countries, but Mr. André especially loves Vietnam. Almost every year he comes to Vietnam once. I'm so sad [to hear he has passed away] that I don't know what to say."
Many of his students chose to publicly send online posts as parting messages to the late expat filmmaker, of which there are students from the 2000s who still looked up to the honorable teacher.
Director Vo Thach Thao wrote: "As a student of Varan Vietnam 2005, I would like to say goodbye to the devoted, loving, and patient teacher - André Van In. Thank you for the lessons, kindness, and inspiration you have given a generation of Vietnamese documentary filmmakers. I will always remember your warm smile and tight hug."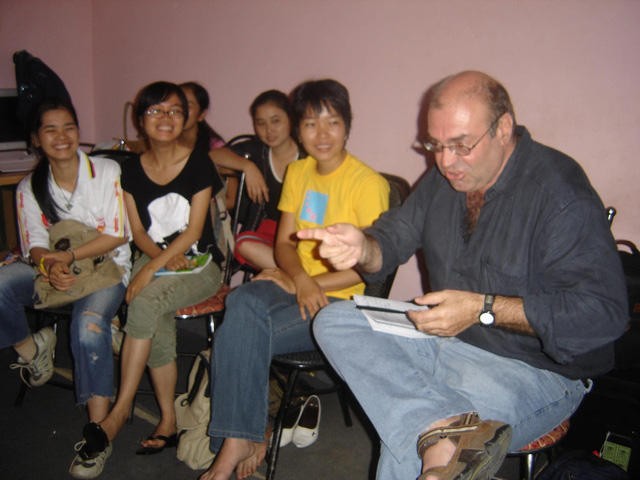 André Van In (right) and his Vietnamese students (Photo: Vo Thach Thao Facebook)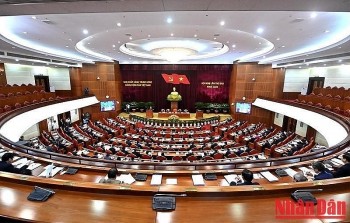 National
The 13th Party Central Committee discussed two important projects on October 4, the second working day of its 6th plenum.