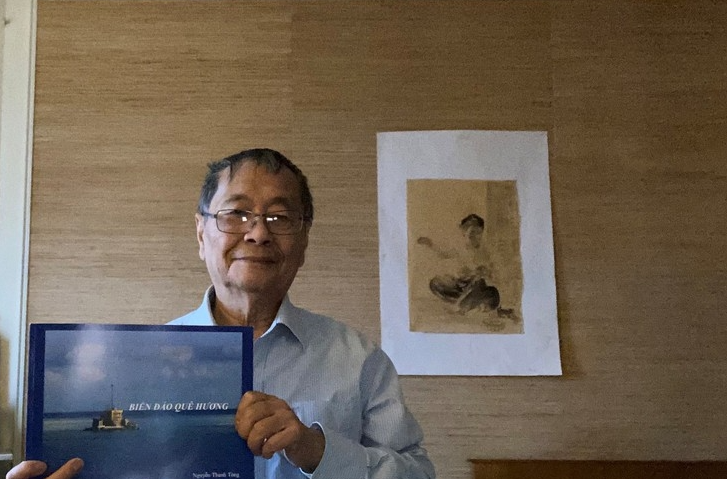 Mr. Nguyen Thanh Tong and his book"Homeland's Sea and Islands". (Photo: VOV5)
According to VOV5, the book named "Homeland's Sea and Islands", published by Mr. Nguyen Thanh Tong is divided into two parts. The first part aims to guide younger generations to visit the Spratly archipelago. In two days floating amid the ocean, in the middle of the vast sea between the clear blue sky, they reached Discovery Great Reef island - a cluster of rocks protruding.
After that, the author continued the journey to visit several floating rock islands such as Son Ca, Nam Yet, where a statue of Tran Hung Dao holding his hand toward the sea was built.
Sinh Ton Island is home to families whose children can go to school every day. Then the group reached Truong Sa Dong Island, and then Truong Sa Island, the capital of the archipelago, where many ancient trees shaded for tourists.
After saying goodbye to Truong Sa, the author continued to sail to the final point, the DK1 rig house. The house has 4 pins that go deep in the seabed on the southern continental shelf of the country.
For the second part of the book, the author collected historical documents about the two archipelagos of Hoang Sa and Truong Sa, which are under the sovereignty of Vietnam. The author gives easy-to-understand images so that readers acknowledge that Hoang Sa and Truong Sa are the sovereignty of Vietnam. The final part of the book provides international opinion on the Bien Dong Sea (Internationally called the South China Sea).
Valerie Mai