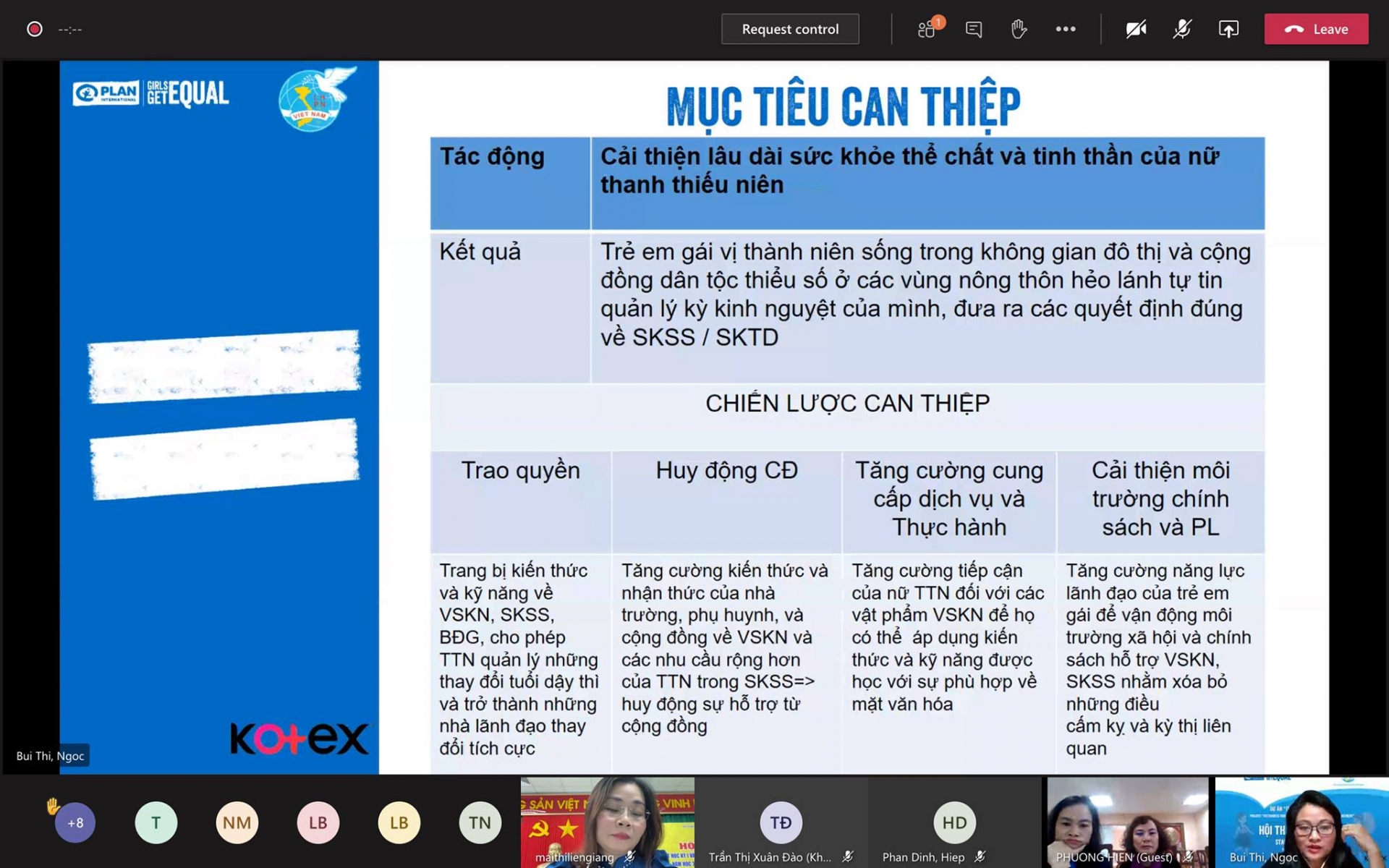 On February 2, "Vietnamese girl leadership on menstrual hygiene management" project was officially kicked-off by an online start-up workshop. Source: Plan International in Vietnam
The "Vietnamese girl leadership on menstrual hygiene management" project was officially kicked-off by an online start-up workshop.
Joining the workshop were 30 delegates who are representatives of Vietnam Women Union, provincial departments of Education and Training of Hanoi and Quang Binh.
In Vietnam, adolescent youth coming of age are a large and growing segment of society, comprising nearly 18 percent of the total population. In lower secondary schools, where adolescent girls (ages 10-19 years old) are experiencing menstruation for the first time, menstrual health management (MHM) and sexual and reproductive health (SRH) education has not been officially introduced into the curriculum and teachers are largely untrained in the subject in Vietnam. As result, one third of adolescent youth in Vietnam lack access to essential information on MHM and SRH. Adolescent girls are at greater risk for unwanted pregnancies, transmission of sexually transmitted diseases and infections of the reproductive tract.
Uninformed boys may show insensitivity to the challenges girls face in managing menstruation, thereby further contributing to misconceptions, stigma, and unhealthy behaviors. However, access to accurate information and materials addressing the stigmas surrounding menstrual hygiene and SRH can empower boys and men to challenge stigma and convince them of the need to be engaged to promote good MHM and SRH practices.
The project aims at empowering adolescent girls living in urban spaces and ethnic minority communities in remote rural areas so that they can confidently and comfortably manage their period, making informed sexual and reproductive health decisions. The project will focus on four key interrelated and reinforcing strategies: EMPOWER GIRL, MOBILIZE SCHOOL AND COMMUNITY, STRENGTHEN SUPPLY AND PRACTICE, ADVOCATE SOCIAL AND POLICY ENVIRONMENT.
More specifically, the project will build girls' knowledge and skills on MHM, SRHR and gender equality collaboratively by equipping them to be Leaders of Change (LOCs) in their schools.
School teachers and managers, parents and community leaders will be identified and trained on MHM. With improved knowledge and awareness, they will provide girls with support to practice their MHM changes in community and schools.
Not all girls have access to proper and qualified sanitation facilities, especially those who are living in poor ethnic minority communities in rural areas. Therefore, the project will mobilize support from schools, families, community leaders and government sector.
The project will help girls express MHM needs by amplifying their voices through media campaigns.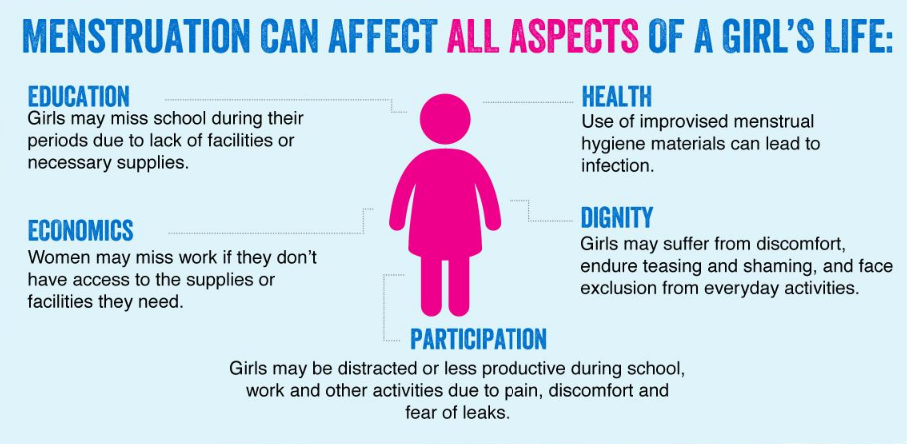 Menstruation affects multi aspects of girl's life. Source: Plan International
The project is implemented in Ba Vi district and some high schools in other districts of Hanoi, and in Dong Hoi city & Minh Hoa district, Quang Binh province. It aims to directly benifit 27.880 young people in 20 primary schools, 20 secondary schools, mother and daughter club in the community in Hanoi and Quang Binh.
The activities will be carried out through the model of Leaders of Change (LOCs) Clubs at school and Mother and Daughter in the community.
The 'Vietnamese girl leadership on menstrual hygiene management' project is funded by Kimberly Clark Corporation, Kotex brand through Plan International Vietnam with the main partner be the Vietnam Women's Union./.
Hannah Nguyen