At the event (Photo: VGP)
With the theme "Administrative Reforms: Key Role in Implementation of EVFTA", the dialogue attracted representatives from many Vietnamese ministries, the European business community, and the diplomatic corps in Vietnam, according to VOV.
At the event, participants discussed Vietnam's administrative reforms in order to take advantage of the European Union – Vietnam Free Trade Agreement (FTA), due to come into effect on August 1.
Speaking at the dialogue, EuroCham Chairman Nicolas Audier emphasized that it is important for Vietnamese authorities and the European businesses to implement solutions to ensure the effective implementation of EVFTA, including establishing EVFTA's Business Council. "The more important thing is that Vietnam makes efforts to implement administrative reforms and create an open investment environment for businesses", said Mr. Nicolas Audier.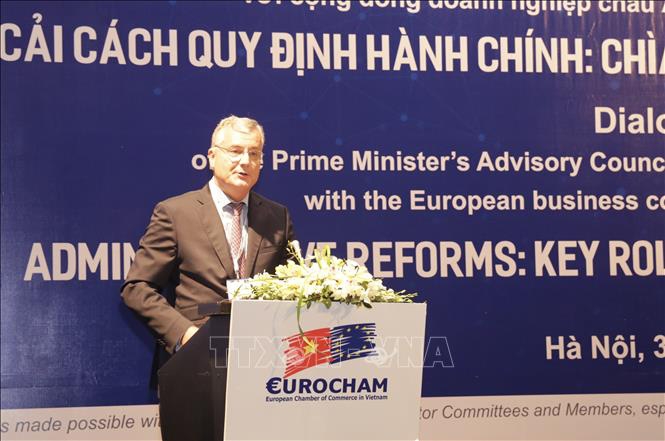 Eurocham Chairman Mr. Nicolas Audier speaks at the event (Photo: VNA)
EuroCham Chairman thanked Vietnam for the efforts in preventing Covid-19 and suggested that Vietnam could become a successful model in dealing with the pandemic. This is the right time to successfully deploy EVFTA because Vietnam is recovering from Covid-19 and EVFTA will help promote Vietnam and EU relation, reported by Worker.
Also according to the EuroCham Chairman, while other economies around the world are still struggling with Covid-19, Vietnam now has a golden opportunity to make the most out of EVFTA and attract foreign direct investment (FDI) from EU companies who are looking for an open, competitive and business-friendly market.
The Chairman of the Government Office Mai Tien Dung welcomed and acknowledged EuroCham's efforts in the publication of the 2020 White Paper and appreciated this year's theme of administrative reform. This publication has substantially reflected the aspirations of the European business community in promoting the business environment in Vietnam.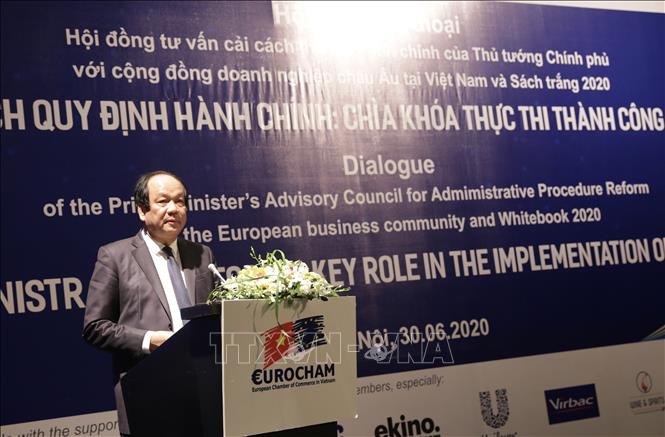 Chairman of the Government Office Mai Tien Dung speaks at the event (Photo: VNA)
Over the past time, the improvement of administrative procedures and public services through the single door mechanism has received positive feedbacks. Particularly, the National Public Service Portal has so far integrated and provided 725 online public services (up 90 times compared to the opening time, and 4.5 times compared to the previous three months). The total social cost saved when implementing online public services is about VND 6,490 billion (USD 278 million), of which, the National Public Service Portal alone contributes VND 3,036 billion/year (USD 130 million/year), informed VGP.
At the dialogue, representatives of businesses and government leaders discussed a wide range of issues, including EVFTA regulations, legal frameworks for investment activities, food safety inspection registration certificate, tariffs applied to functional food, e-commerce.
The dialogue was organized in conjunction with the launch of the EuroCham White Paper - 12th edition. This is the annual report of EuroCham, which summarizes important issues for the business community, and recommendations for the Government to improve business environment and enhance trade and investment with the European Union.
Candy Lee