Vietnamese in New York Hopeful For Return to Normal Life
New York City is revitalizing, with the number of new Covid cases plummeting in the past three weeks and 60% of New Yorkers fully vaccinated. For overseas Vietnamese, this marks the return to a life they before the pandemic.
The Vietnamese community living in New York, known as "the sleepless city" before the Covid-19 pandemic dealt its blow, are buzzing with anticipation for normal lives to come back as iconic destinations of New York, from Broadway theaters to its diverse collections of museums and concert halls, are gradually reopened.
Le Tuan Anh, a tour guide, said the Covid-19 pandemic had affected every people in New York and his family was not an exception.
Having a small child and working in the tourism sector, Tuan Anh's travel was extremely limited when the pandemic ravaged the city, leading to immense challenges in the past year.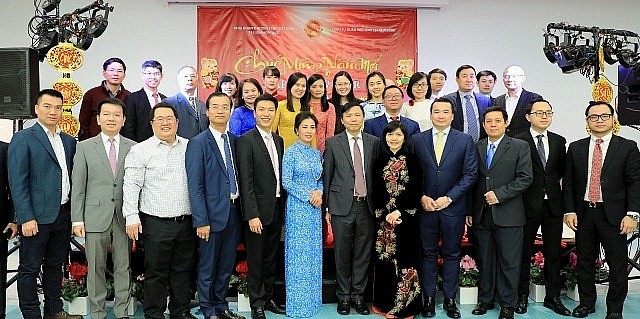 Vietnamese enjoy Tet holiday in New York in January 2020. Photo: Vietnam Times
However, Tuan Anh was elated to witness the recovery of New York, especially as the number of vaccinated people recently had risen significantly.
He believes just looking at the waves of people entering trade and service facilities is enough for New Yorkers to believe their beloved city will resurrect and soon return to the life they knew before Covid.
Nguyen Minh Hoang, another Vietnamese living in New York, acknowledged that the pandemic had affected everyone's life, including his family but he also believed the city had almost recovered from it.
Hoang vividly recalled the fear that covered New York when Covid first broke out in the city. By now, New Yorkers have accepted that living safely with the Covid-19 pandemic is perhaps better than running away from it. The key to survival is to not be afraid.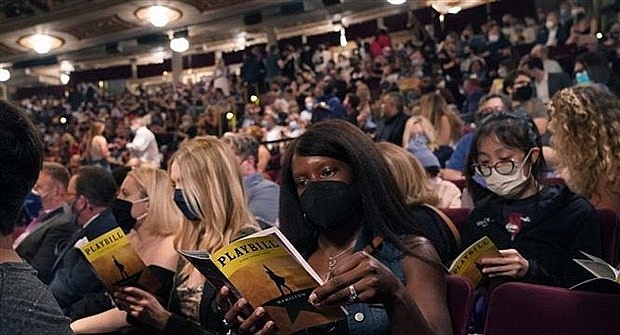 Audience enjoying the musical Hamilton in Broadway theater in New York City, the U.S. on Sept. 14, 2021. Photo: AFP/Vietnam News Agency)
Hoang believes this is achievable if people have a clear understanding of the pandemic, keep a safe distance from each other and protect themselves.
New York is revitalizing. The city is marking two milestones: the number of new Covid cases in the city has reduced visibly in the past 3 weeks and 60% of New Yorkers have been fully vaccinated with two Covid vaccine shots.
Broadway will soon show over 30 musicals until the end of this year, and the artists are excited to see how the audience will welcome their return.
Meanwhile, about 1 million students at public schools in New York have officially come back to school since mid-September.
Unlike other cities in the United States, New York does not allow students to continue studying online. It opts for making face-to-face classes mandatory so children can best develop their physical and mental health. About 300,000 public officials have resumed office work after being vaccinated.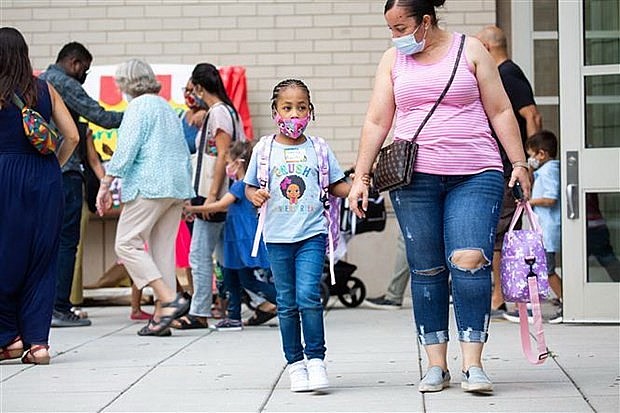 Students at a school in New York. Photo: Vietnam News Agency
But New York is encountering mounting challenges, with companies laying off employees and cutting down operational costs. The entertainment and art industries, which in nature rely heavily on tourists, are "holding their breath" to wait for the situation to improve positively.
In April, the New York administration announced it would invest US$ 30 million in a massive tourism marketing campaign to attract both domestic and international tourists to the city. Titled "NYC Awakens," the Big Apple's largest-ever tourism campaign drew its funds from federal stimulus programs and focused heavily on television advertisements and campaigns on social media.
For a city that for a major part depends on tourism and entertainment like New York, full recovery can only occur when the entire world can control Covid and tourists flock to the sleepless city like they used to.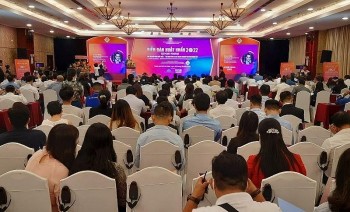 Focus
Vietnam News Today (Dec. 9): Vietnam - Singapore innovation centre helps firms transform production; HCM City among most searched destinations by travelers; Vietnamese digital technology industry's revenue estimated at 148 billion USD in 2022; Two Vietnamese films up for consideration at Oscars.