Vietnamese in Russia gives free "Pho" to Covid-19 doctors
 A restaurant chain owned by Vietnamese people in Moscow has offered free "pho" for COVID-19 frontline medics and healthcare workers at neighboring hospitals and health centers even though his businesses have been hit hard by the pandemic.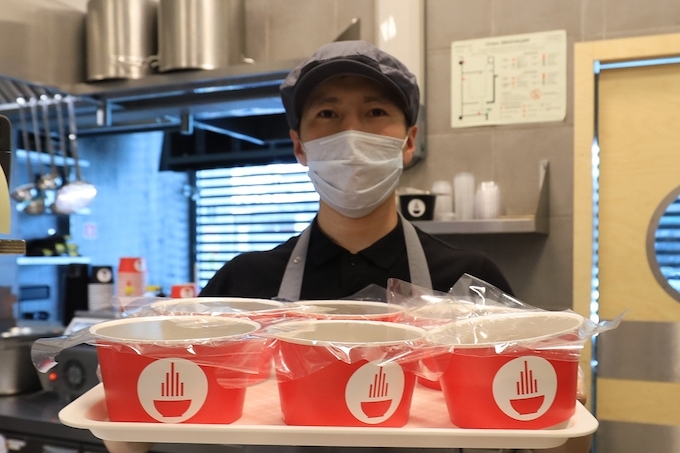 Meals are being prepared to be delivered to the hospital for doctors. (Photo: Nhan Dan)
According to Nhan Dan, during the last days of May, the city of Moscow was still at the peak point of the Covid-19 epidemic. The city government was still enforcing mandatory self-isolation and closing the operation of high-risk commercial establishments such as restaurants, entertainment facilities, and commercial centers.
Vietnamese in Moscow, mainly engaged in markets and restaurants, have been hit hard by the ban. But despite the difficulties, Vietnamese people have promoted the spirit of solidarity, organizing many assistance activities as well as helping Russian fellows during the epidemic.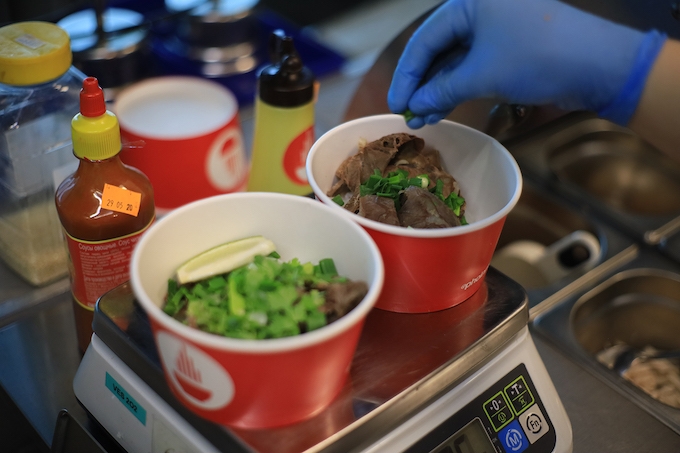 Pho with beef is served in the set (Photo: Nhan Dan)
The movements including help homeless people find places to eat and live during the pandemic, support Vietnamese people in medical examination and treatment, provide masks and protective gear for Vietnamese people and Russian among others. And over the past few weeks, several groups in the community have taken the initiative to offer meals to Russian doctors fighting the Covid-19 epidemic.
Van Anh, an active member of the Vietnamese Support Group in Russia, joined her younger sister, Hong Anh, the owner of the restaurant chain "Pho", calling for meals for doctors. According to Van Anh, now many hospitals in Moscow serve as treatment facilities for Covid-19 patients. The intensity of doctors working in these facilities is enormous, but due to the limited budget, many doctors are not provided meals during working hours.
Therefore, when she learned that her younger sister had an idea to coordinate with the city's volunteers to bring food to the doctors, Van Anh was very supportive. She urged people in the community to join and support this meaningful activity.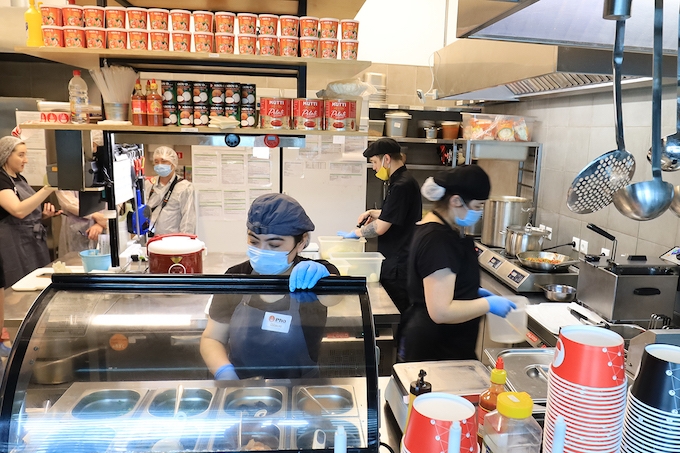 The staff are hurrying to prepare the meals. (Photo: Nhan Dan)
Everyone will donate financial support based on the meals and Hong Anh's restaurant will be responsible for cooking and then transfer to the doctors. The call quickly received enthusiastic support from the majority of the Vietnamese community. No matter how much they manage, everyone wants to contribute a little bit to motivate doctors who are struggling to take care of patients during the pandemic.
Each set is prepared including a hot dish, a cold dish and a drink, costing from 300 to 350 rubles. The menu is mainly beef pho and Vietnamese dishes. However, the restaurant has also started to cook Russian dishes to create diversity. Once the food is ready, staff from volunteer organizations will pick it up and transfer it to hospitals. Meals will be sent to doctors at Medvedkovo Veterans Hospitals, Varsavskoe Hospital, Miklyxo Maklaya Hospital, Klylatskie Kholmy Hospital and a number of other hospitals.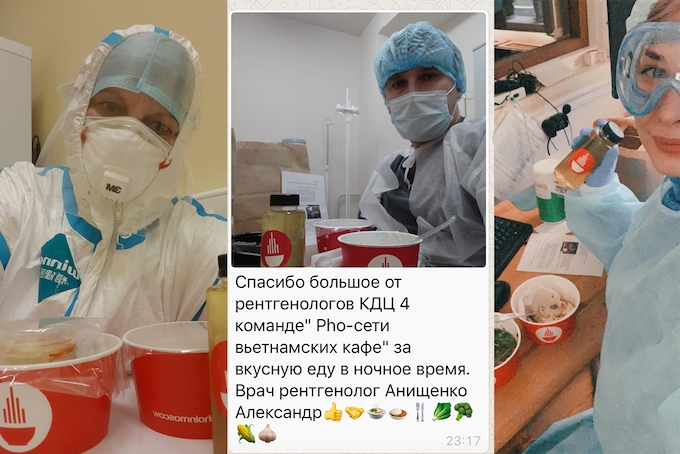 Doctors are happy to receive their meals and express their thanks. (Photo: Nhan Dan)
According to the original plan, it is expected that the meal donation activity for the doctors will be conducted until June 15. However, Ms. Van Anh expressed her hope to continue to receive the support of the Vietnamese community to increase the number of meals and continue this meaningful activity.
With thousands of doctors participating in anti-Covid-19 in Moscow, a few dozen meals a day is a very small number. But for the Vietnamese community, it is a whole heart of gratitude for the tireless efforts of Russian doctors on the front line against the epidemic. And that shows social responsibility to the local communities of the Vietnamese people.
The restaurant owner Pham Hong Anh said that since the middle of last month, her family's restaurant started providing lunch for 40 healthcare workers in their neighbourhood, reported by CafeBiz.
However, 40 meals were not enough, she said, adding that she and her husband decided to raise funds through their website phoinmoscow.ru.
The restaurant is now able to provide 80 free lunches for frontline healthcare workers in neighbouring hospitals and healthcare centres.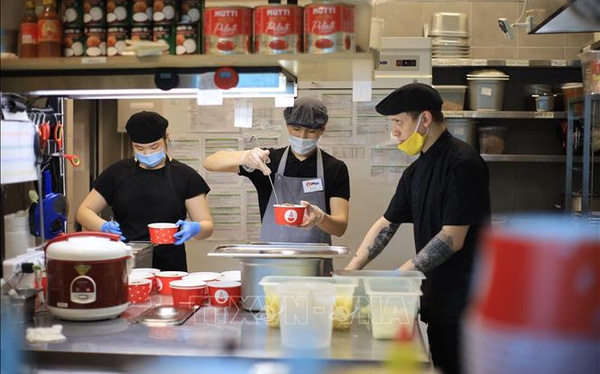 The restaurant is now able to provide 80 free lunches for frontline healthcare workers (Photo: VNS)
On May 14, Viet Nam's Embassy to Russia established a network of Vietnamese to fight against COVID-19.
The network attracted Vietnamese people, both living in Russia and Viet Nam, including doctors, healthcare workers, students and post-graduates.
Leading doctors in Viet Nam offered consultation to treat COVID-19 patients in Russia via online meetings, telephones or other apps.
In Russia, doctors and post-graduates helped examine patients, identify suspected cases, and offer at-home treatment for those with light symptoms, which helped reduce the burden for the local healthcare sector.
Meanwhile, Vietnamese people also handed out free face masks for local residents.
Vietnamese people in Sadovod in Lyublino were reportedly making face masks and giving them out free of charge, reported by VNS.