344 Vietnamese citizens repatriated from Australia and New Zealand
Over 340 Vietnamese citizens have been repatriated from Australia and New Zealand after a Vietnam Airlines plane carrying them landed safely at Ho Chi Minh City-based Tan Son Nhat International Airport on June 2 morning.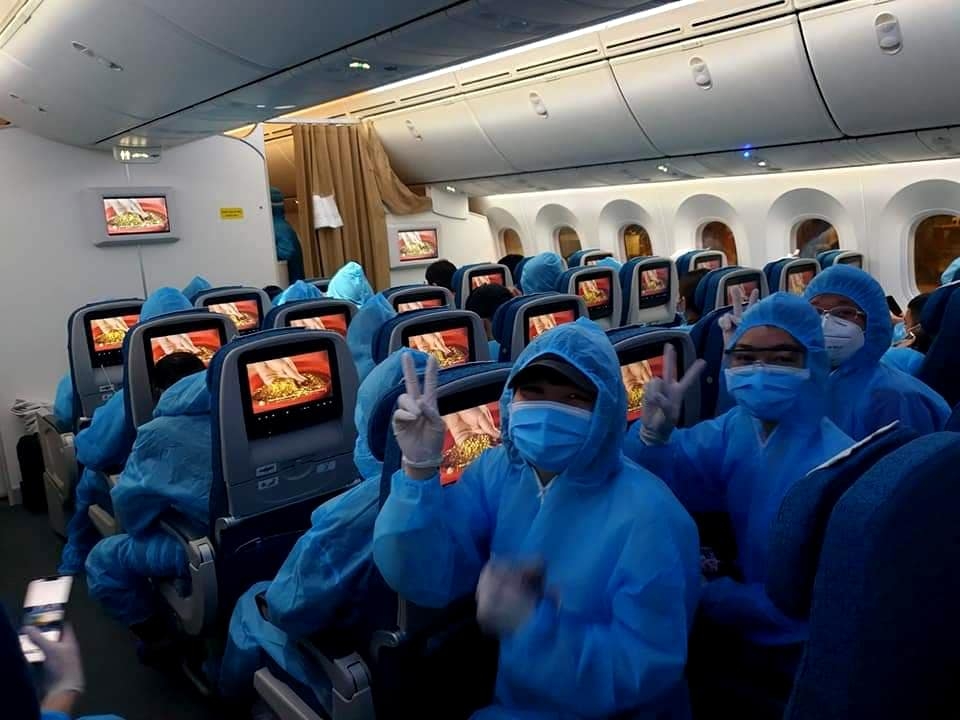 Passengers were required to wear face masks for the entirety of the flight. Photos: Vietnamese Embassy to Australia
Earlier, the flight from Vietnam on May 31 also brought foreign nationals home as well as 50,000 antibacterial masks to the Vietnamese Embassy in Australia.
The total flight lasted about 30 hours carrying 344 Vietnamese citizens including 243 from Australia and 101 from New Zealand.
According to VOV, due to travel restrictions and border closures in Australia and New Zealand caused by the COVID-19 pandemic, the plane was arranged to land in Sydney and Auckland to pick up the citizens.
The passengers consisted of mostly children under 18, adolescents, elderly people, sick people with underlying illnesses, pregnant women, guestworkers whose labour contracts had expired, students without accommodations, and those who were on a business or holiday with expired visas.
The arrangement of this flight required thorough coordination and enormous efforts among the Vietnamese state agencies, local authorities and Vietnam Airlines.
Vietnamese officials and Ambassadors also came to the airports to assist the citizens with necessary procedures before they boarded the plane.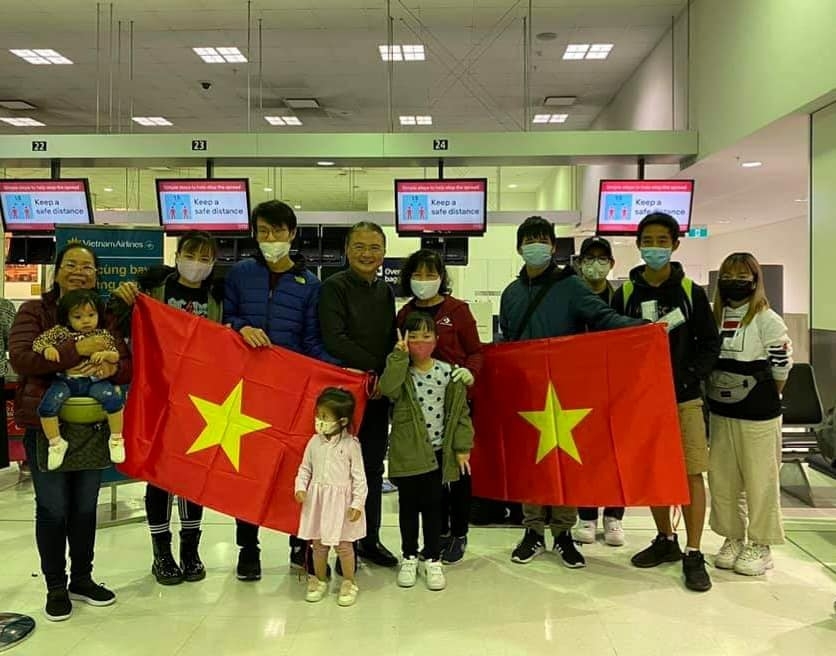 Vietnamese Ambassador to Australia Ngo Huong Nam came to the airports and said goodbye the citizens before they boarded the plane.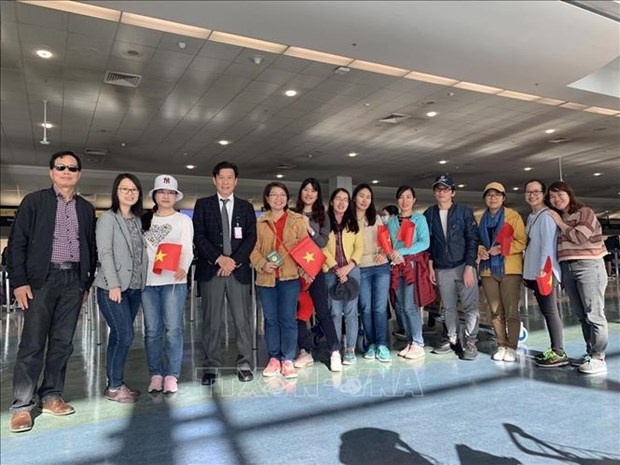 Vietnamese Ambassador to New Zealand Ta Van Thong posed for a photo with the citizens at Auckland Airport. Photo: VNA
Onround and in-flight service delivery strictly complied with regulations on pandemic prevention and flight safety. The flight crew was equipped with complete medical protective gear, and their communication was restricted during the service delivery. Passengers went through pre-boarding temperature screening and were required to wear face masks for the entirety of the flight.
After landing in the Tan Son Nhat International Airport, all crew members and passengers underwent medical check-ups and were taken to centralized quarantine are as per the regulations.
In line with the Prime Minister's instructions, Vietnam's authorities, overseas representative agencies, and domestic airlines have organized repatriation flights for Vietnamese citizens with special circumstances in France, UAE, Canada, the UK, Italy, Japan, and the US, etc.
More such flights will be conducted in the next time based on people's wishes, the quarantine capabilities of cities and provinces, and the pandemic's development for a continuity of lights bringing Vietnamese nationals back home./.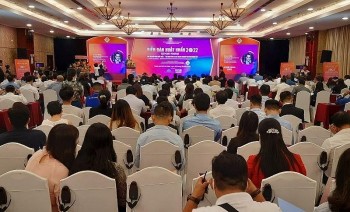 Focus
Vietnam News Today (Dec. 9): Vietnam - Singapore innovation centre helps firms transform production; HCM City among most searched destinations by travelers; Vietnamese digital technology industry's revenue estimated at 148 billion USD in 2022; Two Vietnamese films up for consideration at Oscars.