Vietnamese In Ukraine Receive Continuous Support Of Associations
Vietnamese associations abroad have pledged to work closely in citizen protection and support for the Vietnamese community in Ukraine.
Vietnamese associations in Ukraine, Poland, the Czech Republic, Romania, Slovakia, Germany, and Hungary have pledged to work closely in citizen protection and support for the Vietnamese community in Ukraine.
According to Vietnam Plus, the statement was made by representatives of the Vietnamese community in some countries during an online working session on March 8 with leaders of the Foreign Ministry's State Commission for Overseas Vietnamese Affairs (SCOV); the Vietnamese embassies in Ukraine, Poland, the Czech Republic, Romania, Slovakia, Germany, and Hungary; and the union of Vietnamese associations in Europe.
Vietnamese Embassy and community in Hungary welcome and support Vietnamese from Ukraine (Photo: VNA)
Addressing the event, Deputy Foreign Minister Pham Quang Hieu, head of the SCOV, expressed his joy when most of the Vietnamese in Ukraine have been evacuated, stating that the Party and State have always paid due attention to and given early direction to ensure the safety of lives and assets of the Vietnamese community in Ukraine.
Accordingly, the first flight operated by Vietnam Airlines repatriating 287 Vietnamese people evacuated from war zones in Ukraine landed at Noi Bai International Airport in Hanoi at noon on March 8.
The Deputy FM stressed the need to roll out more realistic measures to support Vietnamese expats in Ukraine, as well as strengthen connection and coordination among Vietnamese associations abroad in this work.
According to the deputy head of the SCOV Ngo Trinh Ha, with the spirit of initiative, urgency, and efficiency, the Ministry of Foreign Affairs and relevant ministries and sectors, and the Vietnamese representative agencies abroad have been focusing on a number of measures to support and protect Vietnamese people in Ukraine.
Minister of Foreign Affairs Bui Thanh Son had phone talks with his counterparts and ambassadors of related countries on the work, he said.
Meanwhile, direct liaison channels between the SCOV and Vietnamese associations abroad have been established, providing guidance, information, and support and organizing evacuation, he added.
Ha expressed his belief that with the solidarity of the Vietnamese community abroad, and efforts made by agencies inside and outside the country, Vietnamese people in Ukraine will soon overcome difficulties.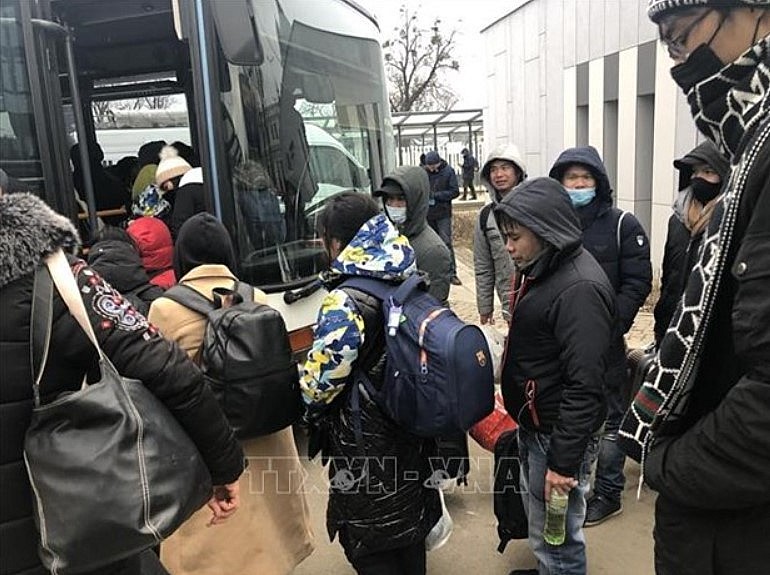 The Government has approved the policy to arrange flights to bring Vietnamese people from Ukraine home (Photo: VNA)
The Vietnamese community in Slovakia greets their compatriots who have evacuated from Ukraine. — VNA/VNS Photo
On the occasion, as Customs News reported, the Vietnamese association in the Czech Republic donated 10,000 EUR each to the Vietnamese embassies in Poland and Romania to help Vietnamese evacuate from Ukraine.
A representative of Sun Group in Ukraine said that the business is ready to contribute and support the Vietnamese Government in organizing flights to bring Vietnamese home.
According to Vietnam News, a committee was established by the Embassy of Vietnam and the association of Vietnamese people in the Czech Republic to help evacuate Vietnamese citizens fleeing Ukraine.
The committee is regularly updating the regulations and instructions of the Czech government, neighboring countries, and the European Union (EU) on entry from Ukraine. Announcements are published on the official website of the Vietnamese Embassy and social media, to help those fleeing better understand local rules.
The committee has so far raised nearly CZK600,000 (US$25,700) in cash for the evacuees and received EUR20,000 ($21,830) from the association of the Vietnamese people in the Czech Republic, which will be spent on food, medicine, and other necessities for those fleeing to Poland and Romania.
Additionally, it has collected donations of food, drinking water, blankets, clothes, and medicine from local people. Many expats have voluntarily driven Vietnamese people from the border with Ukraine to temporary shelters in the Czech Republic, while others are providing accommodation and food.
The Vietnamese ambassador to the Czech Republic, Thai Xuan Dung, said as the country's immigration and entry rules are very strict, the embassy has focused its efforts on giving support on legal issues to Vietnamese people.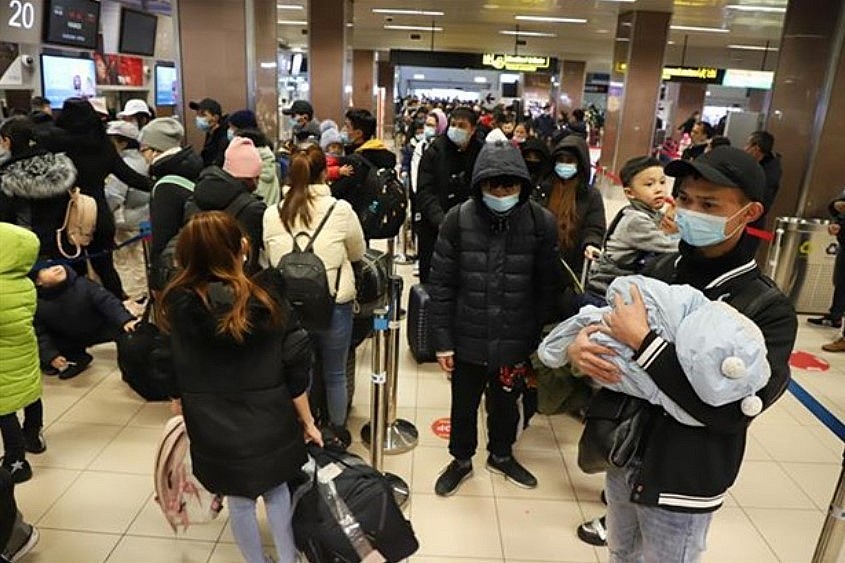 The majority of the Vietnamese people in Ukraine have been safely evacuated from war zones. (Photo: VNA)
Vietnamese expats in Slovakia have been arranging accommodation and travel from the border for their compatriots from Ukraine and providing them with food and other necessities. Vietnamese associations in Kosice, near the border with Ukraine, have sent rescue teams to the border gates day and night to offer them help.
As soon as hostilities occurred on February 24, the Ministry of Foreign Affairs (MOFA) focused on implementing measures to protect citizens and support the community. The Vietnamese Embassy in Ukraine regularly contacts and exchanges information with the Vietnamese community in Ukraine to understand the situation, and is ready 24/24 to give timely support.
On February 24, the State Committee for Overseas Vietnamese sent a letter to the Vietnamese community and associations in Ukraine on official information channels to provide recommendations and give guidance to Vietnamese, reminding them to prepare necessities, find safe centers, and maintain contact with associations and agencies.
Nearly 7,000 Vietnamese are living, working, or studying in Ukraine, mostly in big cities such as Kiev (800 Vietnamese), Kharkov (3,000), Odessa (3,000), and other cities such as Kherson and Donetsk.
Since the fighting broke out, one of the top priorities of the Party, State, Government, and Vietnam Fatherland Front is to guarantee the safety of overseas Vietnamese citizens and businesses.
The majority of the Vietnamese people in Ukraine have been safely evacuated from war zones, and authorities will continue working to have appropriate plans, according to Deputy Minister of Foreign Affairs Pham Quang Hieu.
MOFA and overseas Vietnamese representative agencies have committed to making every effort to protect citizens and support the community to overcome difficulties. The spirit of solidarity, mutual love, and mutual affection of Vietnamese compatriots in Ukraine and other countries shows precious Vietnamese traditions.
Vietnamese in Ukraine Flee to Poland

The work of supporting and helping Vietnamese people fleeing from Ukraine to Poland is being carried out by the Vietnamese Association in Poland.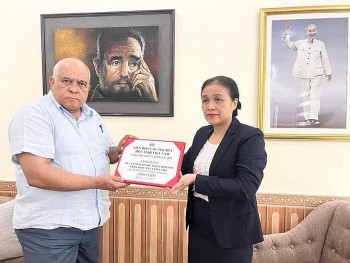 Focus
According to Cuba's News Agency Prensa Latina, on August 16, President of Vietnam Union of Friendship Organizations Nguyen Phuong Nga said that Vietnamese people will always stand by and support Cuba no matter what difficulties our friend is facing.