Vietnamese Language Classes Open in Ukraine, Netherlands
The Vietnamese Embassy in Ukraine and a Kyiv high school have launched a Vietnamese language class for 20 students, mostly Vietnamese nationals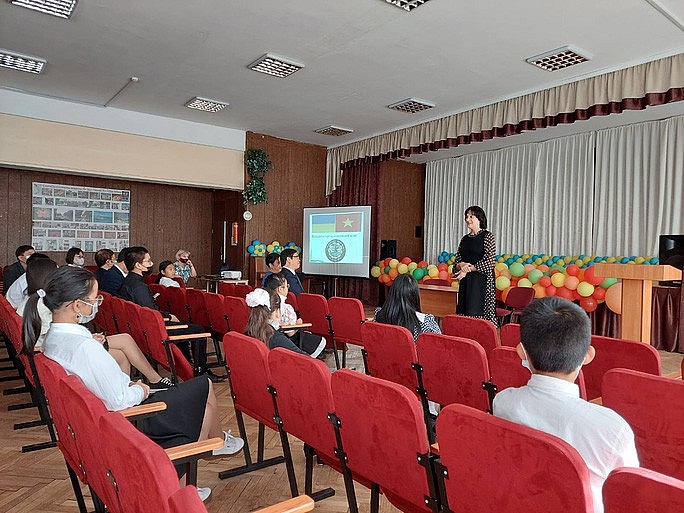 Larisa Panteleivna, principal of a Kyiv-based high school named after President Ho Chi Minh, addresses a class opening ceremony. Photo courtesy of the Vietnamese Embassy in Ukraine
Vietnamese Ambassador to Ukraine Nguyen Hong Thach said teaching Vietnamese language for Vietnamese children in Ukraine was extremely important.
"Learning their mother tongue will help them communicate with relatives in Vietnam, contributing to preserving and promoting the Vietnamese language and culture in Ukraine. More importantly, the Vietnamese language will also improve their career opportunities if they want to return to Vietnam to work or live in the future," he said. "For these reasons, the embassy pays attention to teaching Vietnamese and is ready to create favorable conditions for the children to learn the language."
Vietnamese Ambassador to Ukraine Nguyen Hong Thach delivers a speech at the class opening ceremony on September 15. Photo courtesy of the Vietnamese Embassy in Ukraine
He said he wished teachers and students of the class would achieve good academic results.
Larisa Panteleivna, principal the high school, expressed pleasure over the joint efforts of the school and the embassy in overcoming difficulties posed by the pandemic to open the class at the beginning of a new school year.
"The launching of the class is such a meaningful event after the embassy and the school signed a co-operation agreement in the 2021-26 period", she said.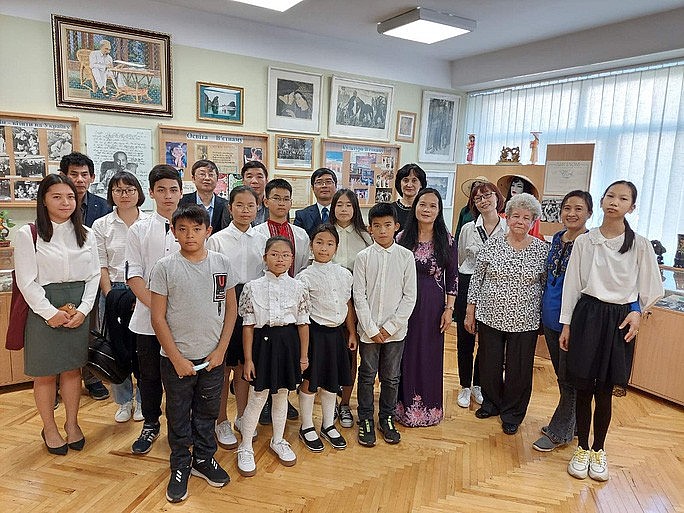 Students and members of the embassy visit the school's exhibition room after the opening ceremony. Photo courtesy of the Vietnamese Embassy in Ukraine
Vietnamese language class in Netherlands
The Vietnamese Embassy in the Netherlands recently opened a Vietnamese language class for Vietnamese children and Dutch men married to Vietnamese women.
Pham Viet Anh, Vietnamese Ambassador to the Netherlands, came to talk in Vietnamese language to children and their families living in La Haye about the experience of late President Ho Chi Minh in eradicating illiteracy in Vietnam after the August Revolution.
He thanked voluntary teachers from the embassy and the community for helping preserve the Vietnamese language.
The ambassador expressed his wish that Vietnamese people in the Netherlands would connect with community members more widely, as well as share and learn from the experience of the Vietnamese language classes that have been operating in the Netherlands, with the aim of preserving the language for future generations.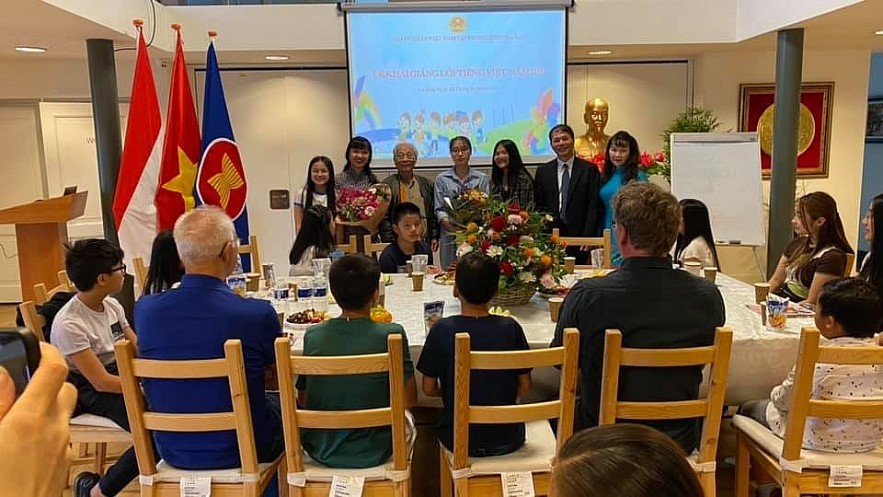 The opening ceremony of a Vietnamese language class. Photo courtesy of the Vietnamese Embassy in the Netherlands
Last year, despite difficulties due to the pandemic, Vietnamese language classes in the Netherlands were still maintained, switching from face-to-face to online. The number of students also increased. The class has operated for five consecutive years.
Families of the students thanked the embassy for taking care of their children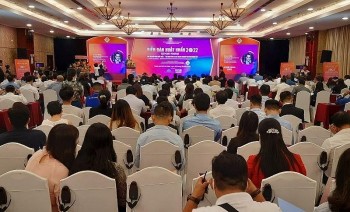 Focus
Vietnam News Today (Dec. 9): Vietnam - Singapore innovation centre helps firms transform production; HCM City among most searched destinations by travelers; Vietnamese digital technology industry's revenue estimated at 148 billion USD in 2022; Two Vietnamese films up for consideration at Oscars.