Vietnamese Language Classes Open in Ukraine
The opening ceremony of the Vietnamese language class for Vietnamese children was held last weekend at the cultural house of Staritskogo village, Odessa, Ukraine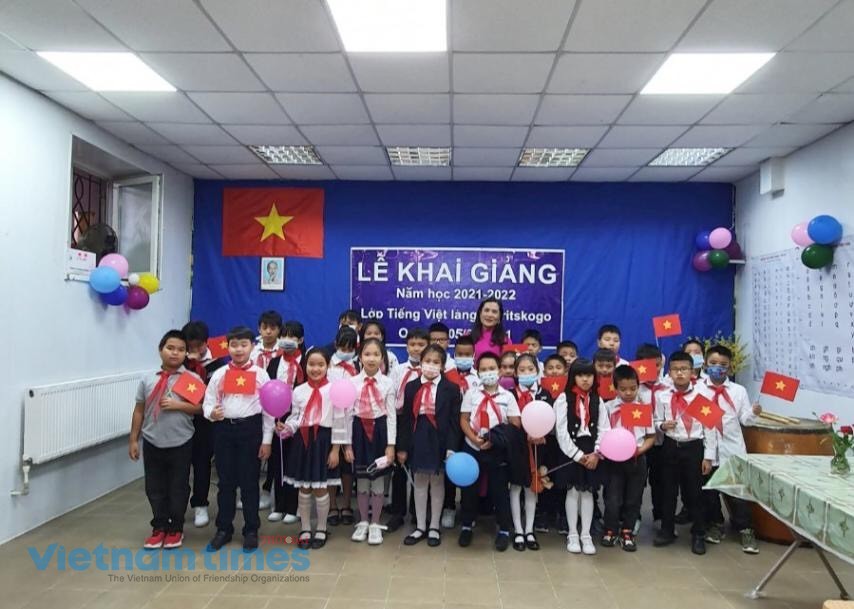 The Vietnamese language class in Staritskogo village has nearly 40 students. Photo: Vietnam Times
The language class opens annually, teaching Vietnamese students living in the host country, Ukraine. Each class normally has 20 students, but this year's total is nearly 40. Teacher Vu Thi Thom, who is in charge of the class, said the increasing number of students is a good sign, showing overseas Vietnamese families are more caring about their children's mother tongue.
"Many Vietnamese parents in Ukraine hire locals to take care of their children during their working time. The children don't speak Vietnamese and can't communicate well when they return to Vietnam and visit their grandparents. They are strange to everything," Thom told Vietnam Times.
"However, Vietnamese parents in Ukraine are now more concerned about their children's command of Vietnamese. They find language classes for them," she added. "Our classes offer a great environment for them to practicing Vietnamese."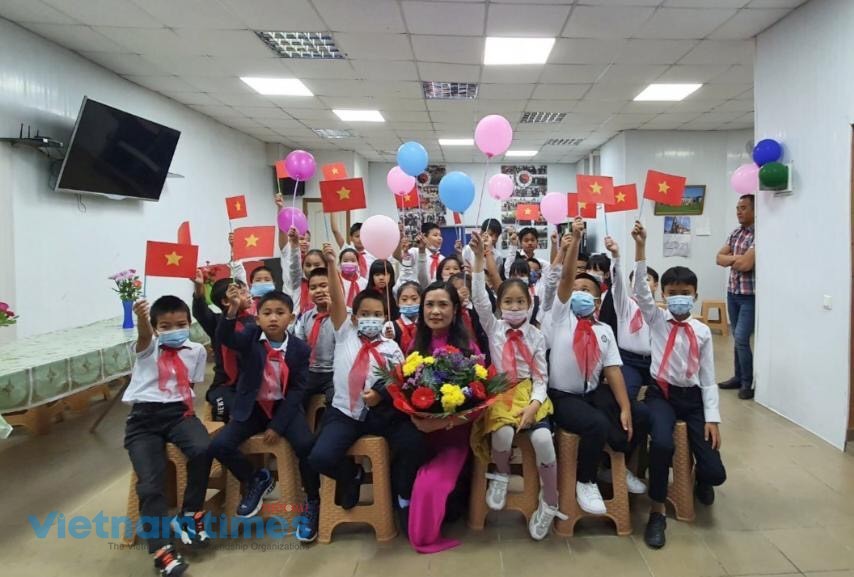 Photo: Vietnam Times
Students in each class are divided into three groups. They are scheduled to study for about two hours every Saturday and Monday. Course books follow the curriculum in Vietnam.
The opening ceremony took place in a joyful and exciting atmosphere with good wishes from guests and community leaders.
Nguyen Trung Van, father of one student, said he will help with the printing of textbooks for the class. He also expressed his wish that all the teachers and students strictly follow anti-pandemic rules, including wearing face masks, sanitizing hands and checking the body temperature before entering the class.
Ambassador Nguyen Hong Thach has earlier directed the Party Committee and Executive Committee of the Vietnamese Association in Ukraine to prioritize teaching Vietnamese language to Vietnamese children, and restore Vietnamese classes in residential clusters.
In case the Covid-19 situation does not improve, he suggests classes move online for health and safety.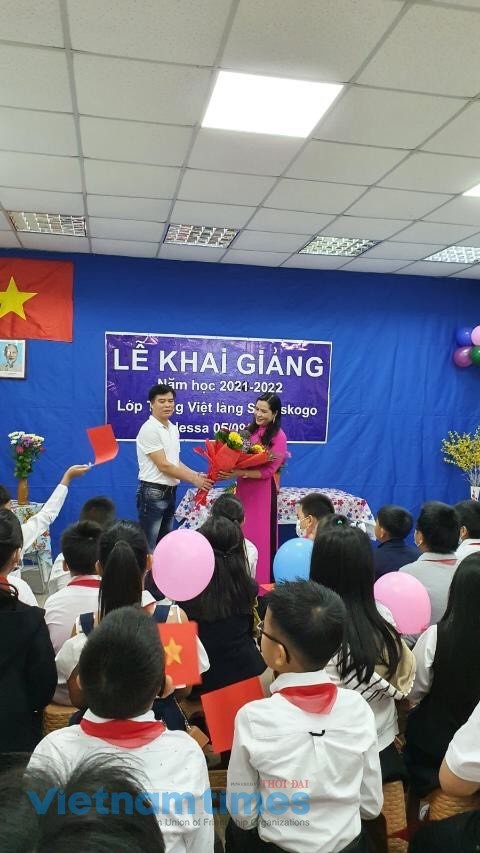 Head of Staritskogo village Nguyen Van Yen presents flowers on the occasion. Photo: Vietnam Times
The Vietnamese Embassy and the Vietnamese Women's Association in Austria last year also opened a
Vietnamese language teaching class
for overseas Vietnamese children in Vienna city.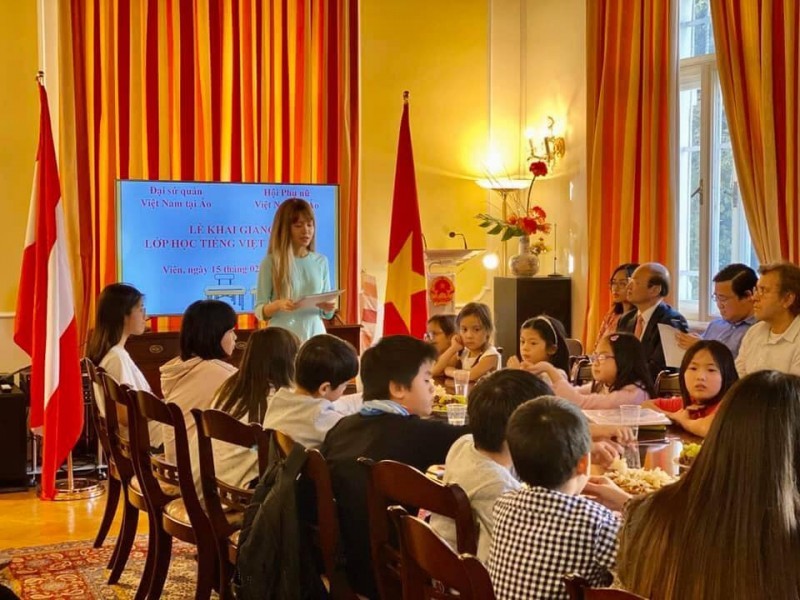 Vietnamese Ambassador to Austria Le Dung attended the inauguration ceremony of the Vietnamese language teaching class for overseas Vietnamese children. Photo courtesy of Vietnamese Embassy in Austria
According to Vietnamese Ambassador Le Dung the class helps Vietnamese children in the host nation learn Vietnamese language and understand more about Vietnamese culture.
The class also facilitates communication and enhances understanding of the language and nourishes the love for family and the homeland in the young generation's heart.
Special Vietnamese class in Laos

Hundreds of students in Savannakhet province (Laos) have been taking Vietnamese lesson everyday under the instruction of teachers from Quang Tri province.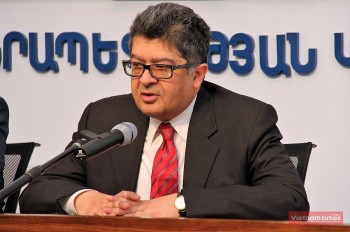 Friendship
On the occasion of the 30th anniversary of the National Day of the Republic of Armenia (September 21, 1991-September 21, 2021), in an interview with Vietnam Times, Ambassador Extraordinary and Plenipotentiary of the Republic of Armenia to Vietnam Vahram Kazhoyan said it was time for two countries to cooperate in tourism and education.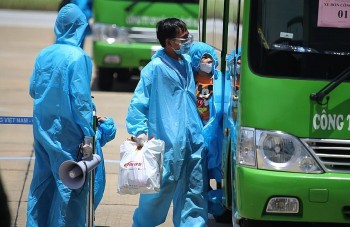 National
The country has to date logged 695,744 Covid-19 cases, ranking 47th out of 222 countries and territories worldwide in terms of infections per one million people.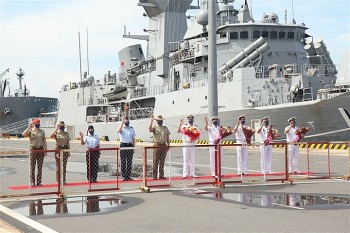 Friendship
Australian warships, amphibious assault ship HMAS Canberra, missile frigate HMAS Anzac and tanker HMAS Sirius, arrived in Vietnam as part of the Indo-Pacific Endeavour 2021.