Vietnamese Leaders Meet Ambassadors of The UK, Uruguay, Finland And Austria
Vietnamese President welcomed the Ambassadors of Uruguay, Finland and Austria who came to present their credentials on Sep. 30. On the same day, the Prime Minister has a meeting with the British Ambassador.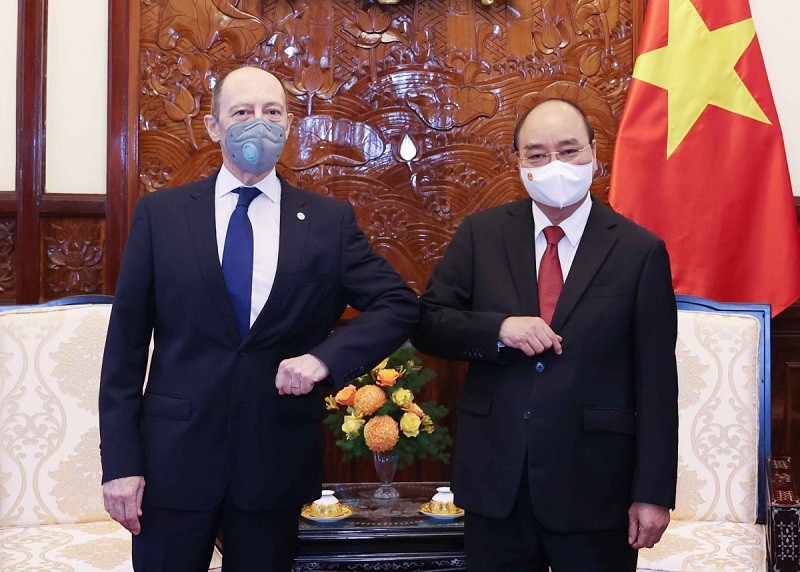 President Nguyen Xuan Phuc (R) and Ambassador of Uruguay Raul Juan Pollak Giampietro. Photo: VOV
President Nguyen Xuan Phuc on Sep. 30 hosted separate receptions for the Ambassadors of Uruguay, Finland and Austria who came to present their credentials, while Prime Minister Pham Minh Chinh received British Ambassador to Vietnam, reported VNA.
Receiving Ambassador of Uruguay Raul Juan Pollak Giampietro, President Phuc affirmed that Vietnam treasures its partnership with Uruguay and wished that the two countries would further strengthen cooperation and facilitate the exchange of all-level delegations.
Giampietro vowed to do his best to lift bilateral ties and hoped that two-way trade will double the current figure.
Uruguay also wants to cooperate with Vietnam in climate change, poverty reduction and other fields, he said, adding that he hoped Vietnam will consider opening an embassy in the South American country.
President Phuc, for his part, said Vietnam will soon open its embassy in Uruguay suggested both sides create favourable conditions for Vietnam's products to access the Uruguay market.
He also proposed Uruguay assist Vietnam in penetrating the MERCOSUR market and affirmed that Vietnam is ready to help Uruguay access the Association of Southeast Asian Nations (ASEAN) and markets in which Vietnam join.
The State leader proposed offering all possible support for the two countries' business communities to explore business and investment opportunities as well as maintaining mutual support and coordination at multilateral forums.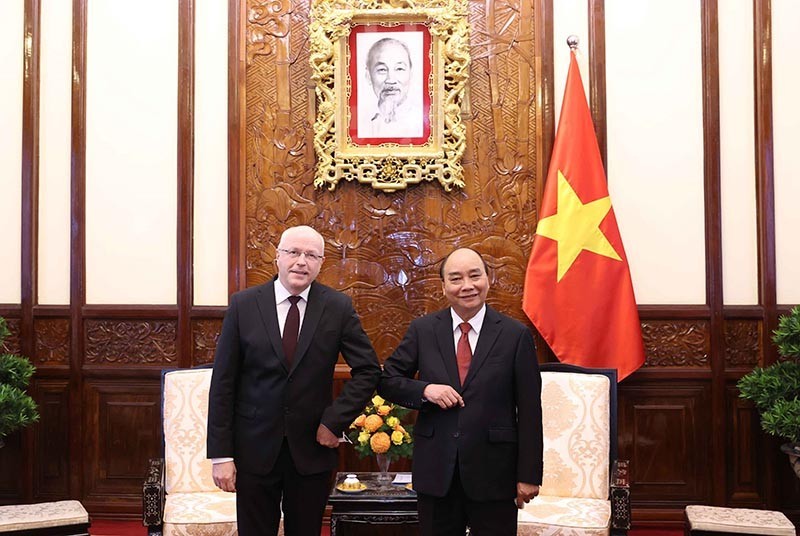 President Nguyen Xuan Phuc receives Ambassador of Finland Keijo Ensio Norvanto (L). Photo: VNA
Meeting Ambassador of Finland Keijo Ensio Norvanto, President Phuc affirmed that Vietnam attaches importance to ties with Finland.
He suggested Finland fully tap trade and investment opportunities from the European Union – Vietnam Free Trade Agreement (EVFTA), soon approve the EU – Vietnam Investment Protection Agreement (EVIPA), and urge the EU to remove of yellow card warning against Vietnam's seafood.
The President expected Finland to increase investment in hi-tech, telecommunications, digital economy, renewable energy and environment in Vietnam. He also asked the ambassador to convey his invitation to the Finnish President to visit Vietnam soon.
National Assembly Chairman Vuong Dinh Hue just had an official visit to Finland on Sep. 10 – 11. His visit was the first by a Vietnamese NA head to Finland after 28 years.
Bilateral economic ties, especially Finland's investment in Vietnam, remain modest below the potential and the two countries' strength. Finland's valid investment in Vietnam at present stands at only USD 23.63 million.
There are at present 2,500 Vietnamese students in Finland.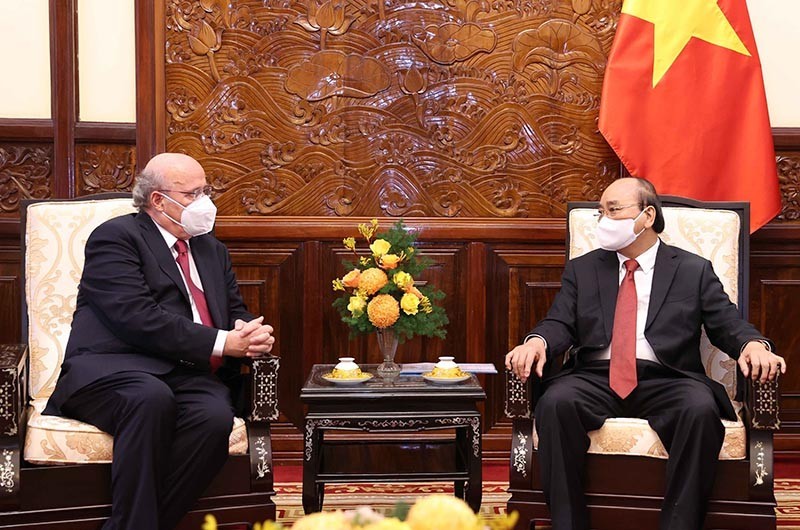 President Phuc receives credentials from Ambassador of Austria Hans-Peter Glanzer (R). Photo: VNA
In his meeting with Ambassador of Austria Hans-Peter Glanzer, the President said Vietnam always treasures traditional and multifaceted collaboration with Austria.
He held that both countries need to boost two-way trade and suggested the European country soon ratify the EVIPA. The State leader also thanked the Austrian Government for providing official development assistance for Vietnam over the past years.
On the occasion, President Phuc conveyed his invitation to the President and the PM of Austria to visit Vietnam when conditions allow.
In September, Prime Minister Pham Minh Chinh also held talks on the phone with Chancellor of Austria Sebastian Kurz, during which he affirmed that Vietnam hopes to further deepen the close and trustful ties with Austria in all fields.
The Austrian Chancellor said that Vietnam is a trustworthy and important partner of Austria in Southeast Asia, and underlined the high potential for the development of the Vietnam-Austria partnership.
Both sides agreed to resume the exchange of delegations and high-level meetings soon, while reinforcing cooperation mechanisms, including the Vietnam-Austria Joint Committee on economic and investment cooperation, heading to the celebration of the 50th anniversary of bilateral diplomatic ties in 2022.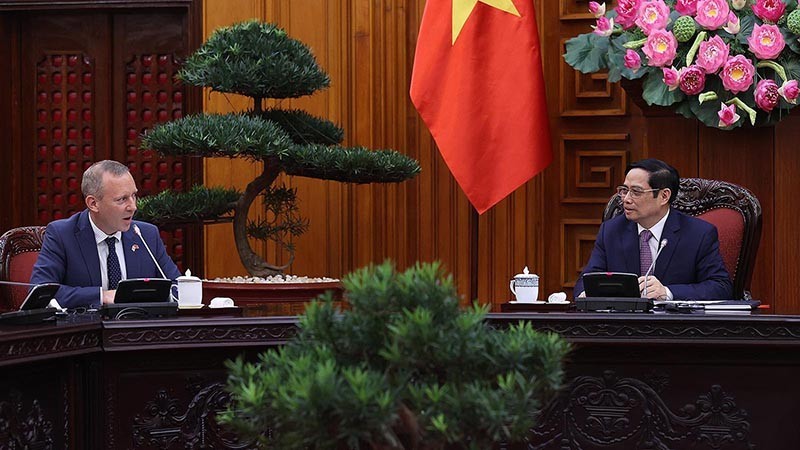 Prime Minister Pham Minh Chinh (R) and British Ambassador to Vietnam Gareth Ward at the reception. Photo: VNA
Prime Minister Pham Minh Chinh affirmed that the UK is among leading economic partners of Vietnam in Europe while receiving British Ambassador Gareth Ward on Sep. 30.
Expressing his delight at the recent strong growth of the Vietnam – UK strategic partnership in different fields, PM Chinh hoped the two nations would coordinate closely to deepen the partnership.
The PM recommended the two countries cooperate more closely to make the most of opportunities brought about by the UK - Vietnam Free Trade Agreement (UKVFTA).
He suggested the UK further open its market for Vietnamese exports, encourage British businesses to expand investment in Vietnam, and continue to support and create favourable conditions for Vietnamese expats and students in the UK to do business, study and live.
Appreciating the UK Government's donation of 415,000 doses of AstraZeneca Covid-19 vaccine for Vietnam, PM Chinh expected the two countries to continue stepping up medical cooperation. He proposed the UK further donate vaccines and medical equipment and consider transferring vaccine production technology and providing Covid treatment drugs for Vietnam
Ward lauded Vietnam's prevention and control efforts and stressed that the UK Government considers Vietnam an important partner in the region.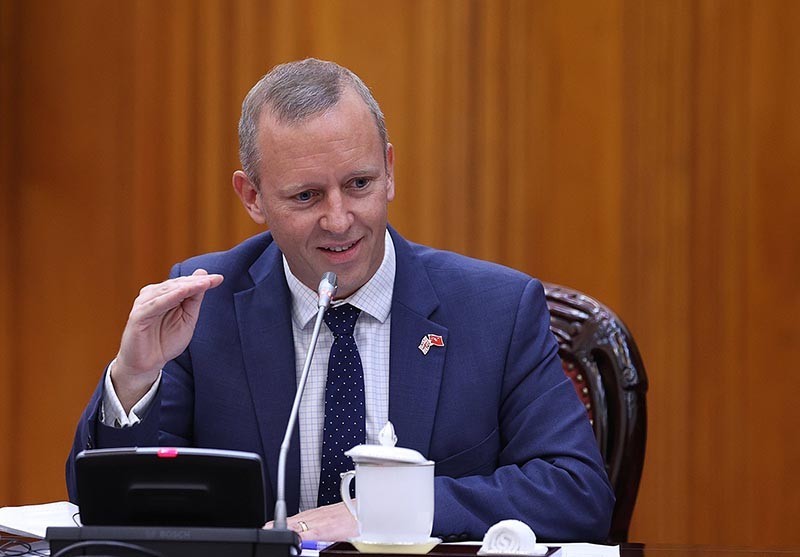 British Ambassador to Vietnam Gareth Ward. Photo: VNA
Having praised the collaboration between the two nations at multilateral forums, he express his gratitude to Vietnam for its support for the UK to become a full dialogue partner of ASEAN.
The ambassador said he will coordinate with competent agencies to encourage British businesses to expand their investment in Vietnam.
The UK is willing to cooperate with and support Vietnam in switching to clean energy and accessing green finance to develop renewable energy projects, he stressed.
Agreeing with the PM's proposal to strengthen bilateral cooperation in education-training and public administration, the diplomat affirmed that the UK will continue to assist Vietnam in high-quality human resources development, increase its government scholarships for Vietnamese students, and intensify joint programmes on research, teaching, and digital transformation in education.
Regarding the 26th UN Climate Change Conference of the Parties (COP26) hosted by the UK in November, PM Chinh stated that Vietnam supports and will cooperate closely with the UK to contribute to the success of the event.
Ward affirmed his willingness to work with Vietnam and the international community in protecting water sources and biodiversity, and ensuring livelihoods for people in the Mekong Delta.
On the Bien Dong Sea issue, the British ambassador emphasised the importance of ensuring freedom of navigation and overflight, security, and peace in the sea as well as the peaceful settlement of disputes in line with international law, particularly the 1982 United Nations Convention on the Law of the Sea (UNCLOS).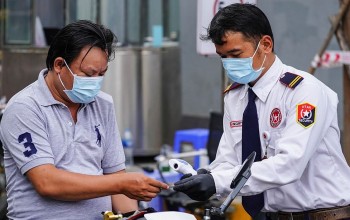 National
More than 1.12 million vaccine doses were administered in Vietnam on October 24. The country has now inoculated more than 74 million doses of vaccine to date, with over 21.46 million people fully vaccinated.