Vietnamese lychees hit Singapore shelves
Lychees grown in Thanh Ha district, Hai Duong province, have arrived at supermarkets in Singapore from June 3
Singapore importers said that Vietnamese lychees would be sold at all 230 FairPrice's supermarkets, instead of only being sold at its hypermarkets or major trading centers last year.
Vietnamese's lychee exports to the Singaporean market are expected to hit 100 tons this year.
The lychees in Singapore this year will be sold at a higher price than last year. During the promotion time, the price was at VND 105,000 per kg (US$ 4.53) but will be raised to VND 120,000.
The Vietnam Trade Office in Singapore said although Singapore was a small market with a population of fewer than 6 million people, it had a high and stable demand for lychees. The Southeast Asia country believes that lychees bring good luck. The fruit eaten on important occasions and at large parties.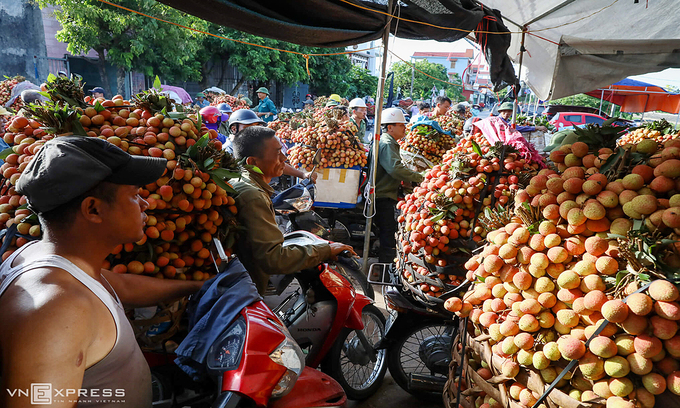 Lychee farmers in northern Hai Duong Province take their produce to market. Photo: VnExpress
The trade office has organized a series of activities to promote lychees such as posting articles introducing the history of the lychee and its pharmacological and beautifying effects. In addition, it invited a Singaporean expert, who has more than 10 years of working with Vietnamese lychee farmers, to talk about the differences between lychees grown in Vietnam with ones in other regions, Vietnamplus reported.
Singapore imports more than 2,000 tons of lychees from China, Vietnam, Thailand, Australia, South Africa, Madagascar and Mauritius every year.
As a country without agriculture, Singapore exports nearly 400 tons of fruit, both fresh and canned, or about 20% of its export volume.
Singapore mainly re-exports fresh lychees to Malaysia, Indonesia, Brunei and the Philippines, while canned lychees are re-exported to ASEAN countries such as Maldives, Barbados, Fiji, Papua New Guinea, Kenya and Seychelles.
Tran Thu Quynh, head of the Vietnam Trade Office in Singapore, said that this was both a challenge and an opportunity for Vietnam's lychees.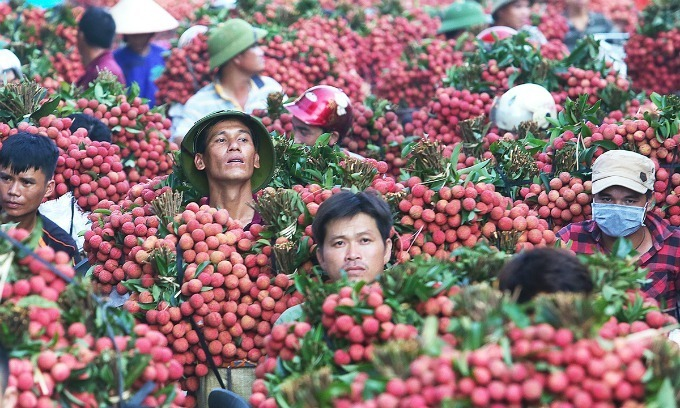 Lychee traders rush to deliver the seasonal fruit to wet markets. Photo: VnExpress
Both Vietnam and Singapore are members of various major free trade agreements such as the Comprehensive and Progressive Agreement for Trans-Pacific Partnership and the Comprehensive, Progressive Agreement for Trans-Pacific Partnership and Regional Comprehensive Economic Partnership.
In particular, the stamping of traceability and geographical indication on export packages is a great effort of the Ministry of Industry and Trade as well as Hai Duong province to strengthen the brand recognition of Vietnamese lychees.
Quynh also said that in spite of the small export value, the efforts of the managing agencies and determination of businesses in expanding markets abroad was a demonstration of Vietnam's capacities in supply, post-harvest preservation and logistics. This was also key for other Vietnamese products to be exported overseas.
Forty tonnes of fresh lVietnamese ychees are set to arrive in Australia in the coming days, according to the Vietnamese Trade Office in Australia.
At present, the initial shipment of 26 tonnes of fresh lychees has already departed for a port in Australia, while an 14 tonnes has been packed into containers and is poised to leave the country.
The Vietnamese Trade Office in Australia had previously introduced Bac Giang lychees in Bankstown, a suburb of Sydney and a hub for Vietnamese and Asian people, within the framework of a brand marketing and lychee consumption promotion program, according to VOV.
Tran Ba ​​Phuc, chairman of the Vietnam Business Association in Australia, said the association was committed to promoting Vietnamese fresh lychees, with a specific focus on Bac Giang lychees ahead of the arrival of the shipment in Melbourne.