Hanoians 'rescue' Bac Giang pandemic-hit lychees
In spite of hot weather, Hanoians flocked to street-side lychee selling points over the weekend to rescue lychees grown by farmers of pandemic-hit Bac Giang province.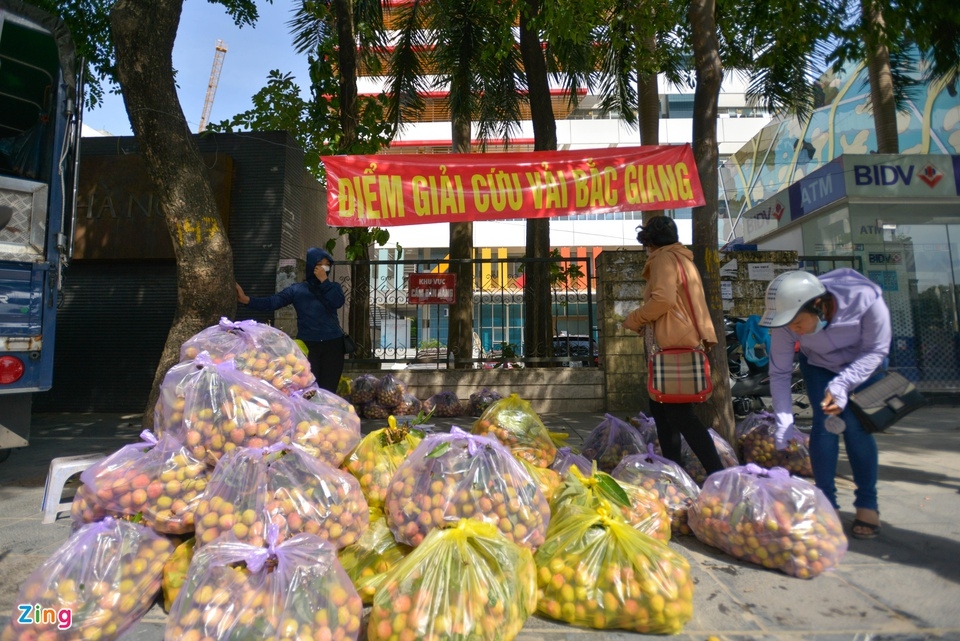 A lychee selling point in Hanoi. Photo Zing News
Bac Giang, the largest lychee growing area of Vietnam, is in the harvesting season. It is estimated that with the growing area of more than 28,000 ha, the lychee output for this summer crop is about 180,000 tons. However, the pandemic that hit the province since late April has seriously affected the consumption.
Lychees have been brought to Hanoi streets for sale at a low price of VND20,000 (US$0.9) in recent days in order to call for help of domestic consumers.
At 12 noon on Saturday, a street-side lychee selling point on Vu Trong Phung street, Thanh Xuan district, was full of people. Most of them saw the selling counter and stopped by the road to buy lychees.
A woman named Ha, who is a trader of Bac Giang's lychees, said she and her friends had called on everyone to give a hand to 'rescue' the lychees, hoping to help her hometown overcome the pandemic.
The lychees are transported by trucks at 11.30am everyday to the sites opposite to 85 Vu Trong Phung street, 80 Nguyen Chi Thanh and next to the Architect University. All of the trucks have been disinfected when running through COVID-19 checkpoints.
Ha has been selling lychees on Vu Trong Phung street for four days.
"On the first day, I sold 11 tons. This is a big and good-looking variety of lychee. About 80 to 85 percent of them are sweet so many customers like it. They often buy lychees for gifts or for ancestors' worship," she told Vietnamnet.
The lychees are sold at VND200,000 for a bag of 10kg. Ha said her group sold about 7 to 12 tons per day. On some days they sold out at 5pm.
Most of customers buy 10 to 20 kg per time. Many companies buy up to 100kg at one time, she said.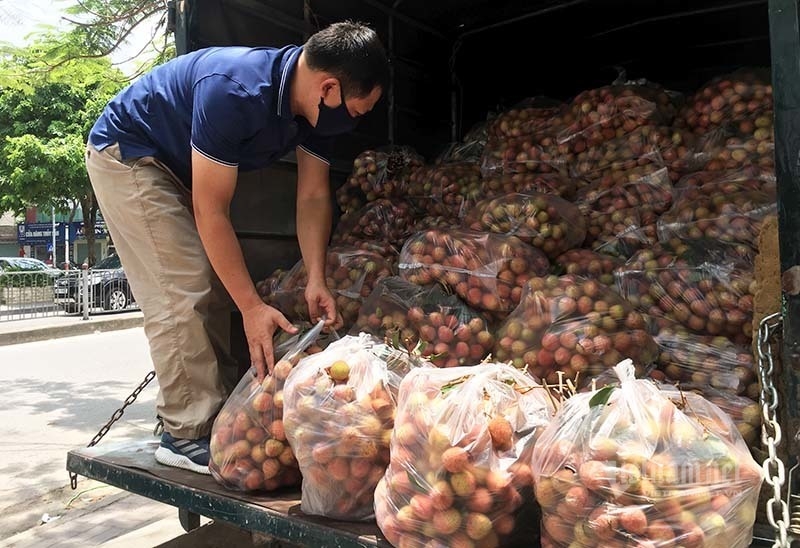 A truck selling Bac Giang lychees parks on a street side in Hanoi. Many people have flocked to selling sites to 'rescue' lychees grown by pandemic-hit Bac Giang province. Photo Vietnamnet
Tran Minh Thu, who bought 10kg of lychees at a selling point on Quang Trung street, Ha Dong district, said she wanted to support Bac Giang's farmers although 10kg was too much for a family of two people like hers. She would share the lychees to her relatives and friends.
Lychees are sold at VND30,000-35,000 per kg online, she said, adding that VND20,000 per kg is such a good price compared to the market. She will call on her friends and neighbours at her apartment building to buy lychees to support Bac Giang farmers.
In February, people in Hanoi rescued farm produce like tomatoes, potatoes, onions, eggs and chickens for farmers in Hai Duong province which was once Vietnam's Covid-19 epicenter.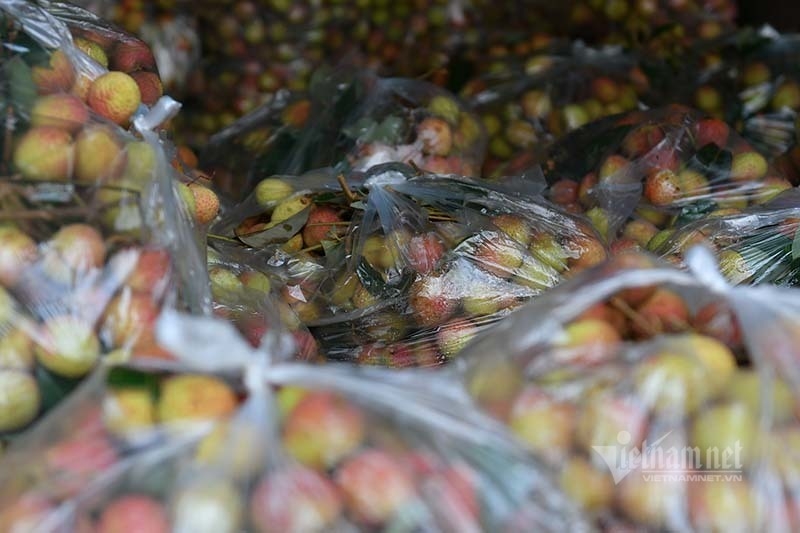 Lychees are sold at VND200,000 for 10kg available in a plastic bag. Photo Vietnamnet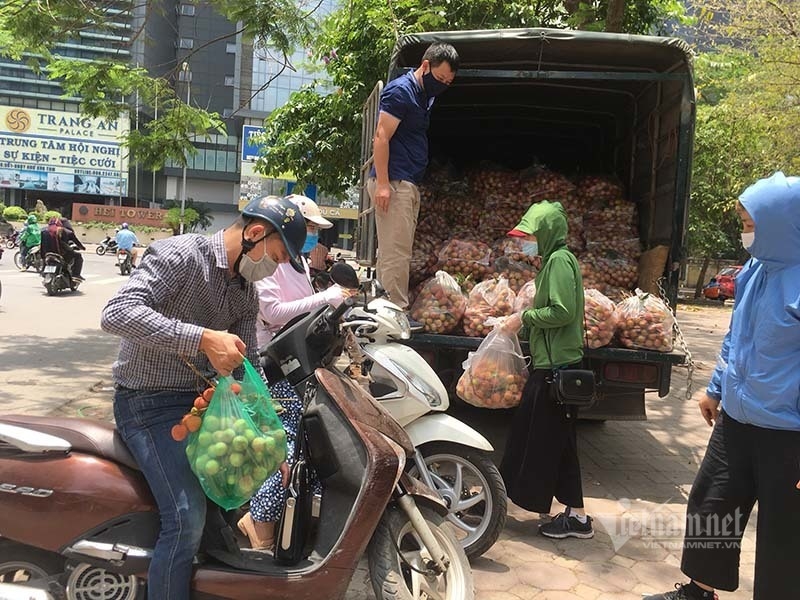 In spite of hot weather, many Hanoians flock to the streets to 'rescue' lychees. Photo Vietnamnet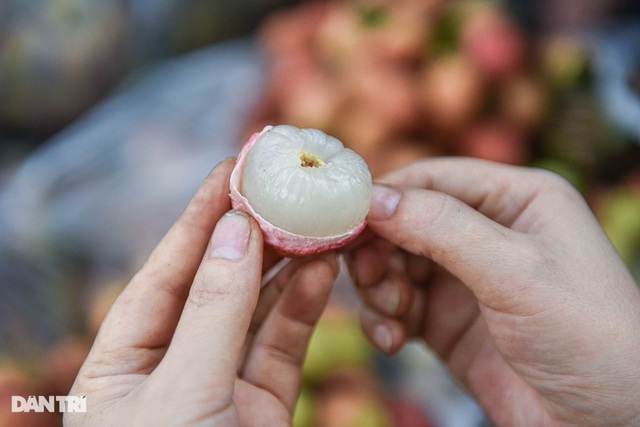 Juicy lychees are sold at VND20,000 per kg, cheaper than online market and fruit stores. Photo Dan Tri
Many people buy several bags of lychees and share them to relatives. Photo Vietnamnet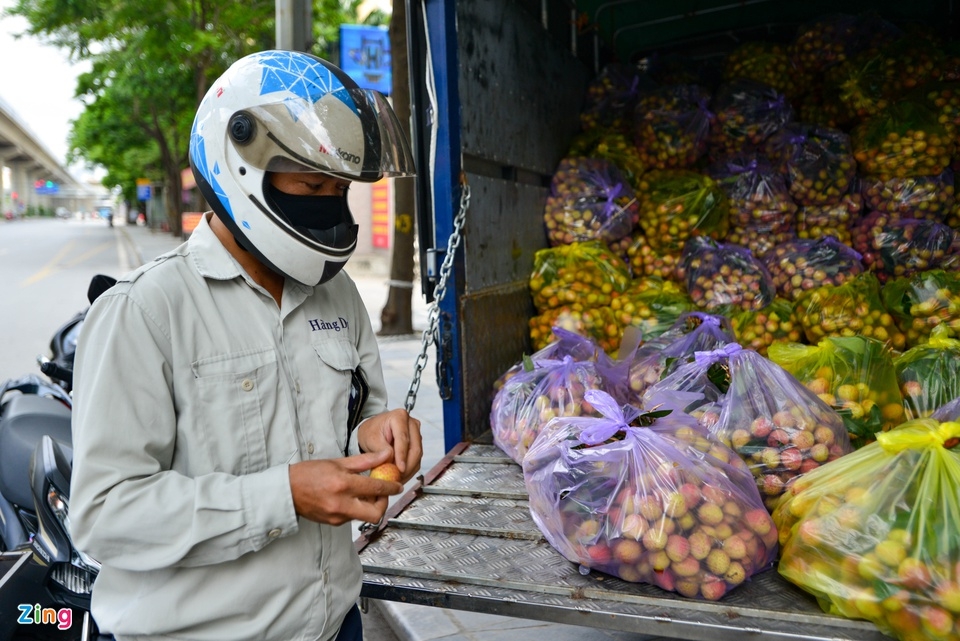 "I saw the lychee truck when I was on the way back home from work so I stopped in to buy some to support farmers. The lychees are very juicy. It's best to enjoy it on hot days like this," Tran Viet Hung, a 54-year-old customer in Ha Dong district told Zing News. Photo Zing News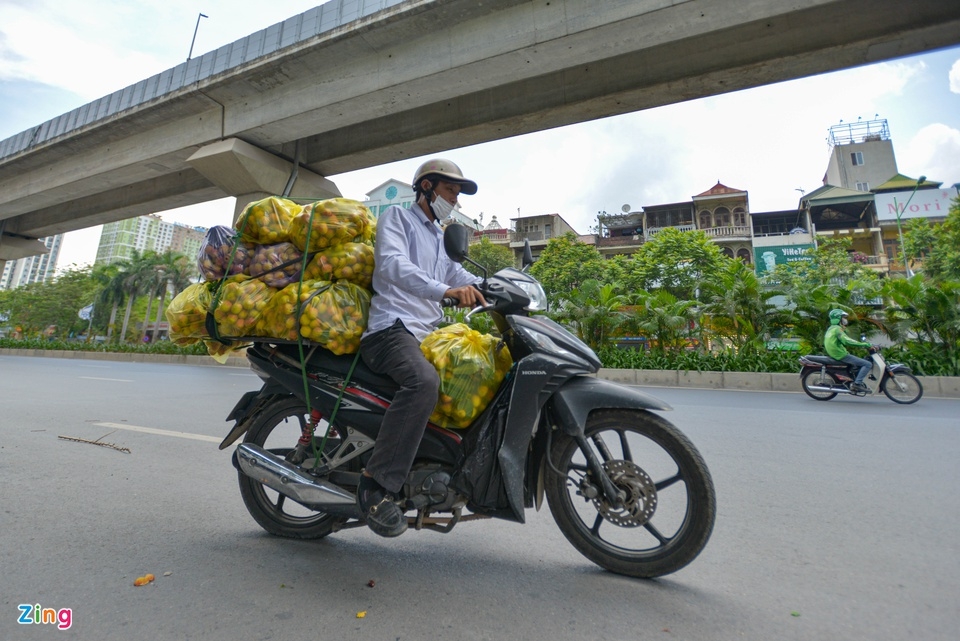 Since local authorities asked Hanoians to refrain from going out unless necessary, fewer people are seen on Hanoi's streets. The lychee delivery service is available for customers who stay at home. Photo Zing News
Prime Minister Pham Minh Chinh has tasked the Ministry of Industry and Trade with removing difficulties in the consumption of agricultural products, especially lychee, for Bac Giang province that is now the country's Covid-19 hotspot.
Accordingly, the ministry will hold working sessions with the northern province, dubbed as Vietnam's "lychee kingdom," to set forth plans on lychee purchase and consumption.
At the same time, it needs to step up activities to boost domestic consumption and export, while closely coordinating with relevant ministries, agencies and localities to facilitate the circulation of the fruit.
Covid-19 prevention and control regulations must be always observed, the PM stressed.
Amidst the pandemic, China - one of Bac Giang's major lychee buyers - finds it hard to enter the locality.
Bac Giang has decided to establish two groups in charge of supporting lychee export at border gates in the northern provinces of Lao Cai and Lang Son.