Vietnamese Girl Promotes Traditional Clothes in South Korea
Thanh Tam, an international student in Korea, promotes Vietnamese traditional costumes in a very unique way. Last November, she wore a traditional Vietnamese outfit to record at KBS - a prominent Korean TV station.
From Bac Ninh to South Korea
Nguyen Thi Thanh Tam (born in 1998, in Bac Ninh) is currently a student at the Department of Digital Video Cultural Content at Hanshin University, Gyeonggi, South Korea.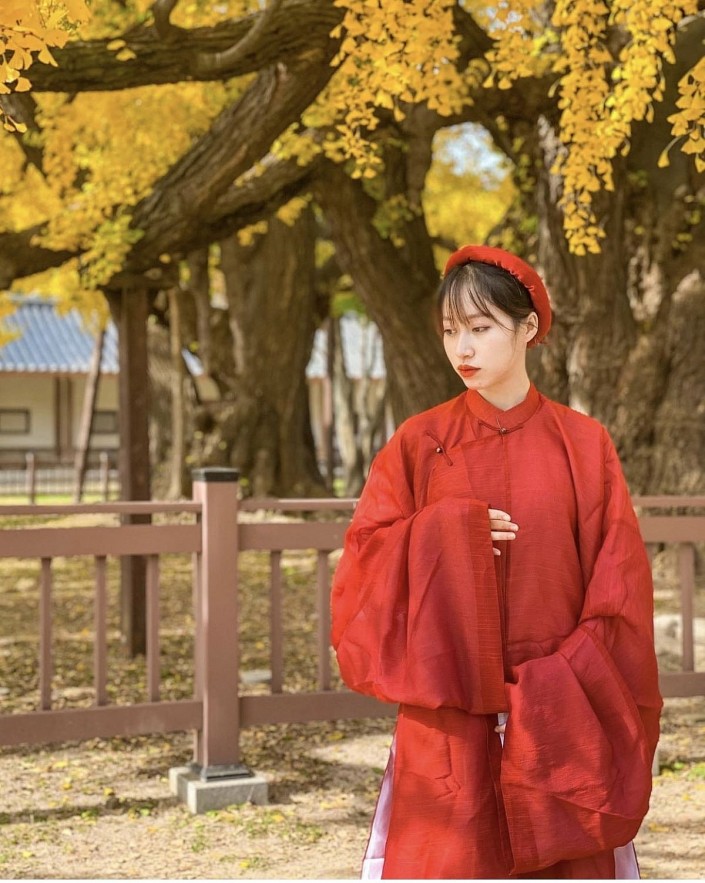 Thanh Tam at Sungkyunkwan University, Korea, wearing Ao Dai.
"In the last two years, I started to learn about traditional Vietnamese clothes. Before that, I only wore ao dai on important occasions. The more I learn, the more I love traditional Vietnamese costumes," she said.
Thanh Tam and her mother wore Vietnamese clothes while in Vietnam.
She believes that not only ao dai but all Vietnamese clothes have a very unique beauty and can attract foreigners. Since then, Tam came up with the idea of ​​wearing Vietnamese clothes to concerts and fan meetings to promote them to international friends.
"Wearing Vietnamese clothes to the concert made people know and curious about Vietnam. Not only Vietnamese people but also international friends are also very impressed and excited by these costumes, and they would like to take pictures with them to commemorate their trip to Korea. Many people also praised the traditional costumes of Vietnam. Through that, I can promote Vietnam to international friends. Additionally, my idols will also feel happy and proud because they have fans from many different countries."
Get noticed by the Korean press
From the performances, fan meetings, videos, and photos of Minh Tam wearing Vietnamese clothes, the Korean press, and many people have noticed. The image of a girl wearing Vietnamese clothes gradually appeared in Korean newspapers. Last November, she accepted an invitation to interview and record at KBS (Korean Broadcasting System) - the most influential TV station in the land of kimchi.
This female student recorded for the "Story from Seoul," a Vietnamese-language radio program that is broadcasted weekly on Korea International Radio (KBS World Radio).
The program tells the stories of the Vietnamese community living in Korea, the Vietnamese and Korean people who have contributed to the friendly relationship between the two countries, as well as cultural and economic exchange events. special politics between the two countries.
Coming to the interview with excitement and nervousness, Minh Tam carefully prepared to appear with the most perfect image. She wore a blue shirt inspired by the KBS logo and a Chimmy stuffed animal (the mascot of Jimin - a member of BTS) was added with a small Vietnamese conical hat.
When she first came to KBS, the female student was impressed by the friendliness of the station staff. Especially the Korean editor who was extremely good at Vietnamese. They were dedicated to guiding and helping her to make her feel much less shy. She was very proud to be promoting Vietnamese costumes on international television.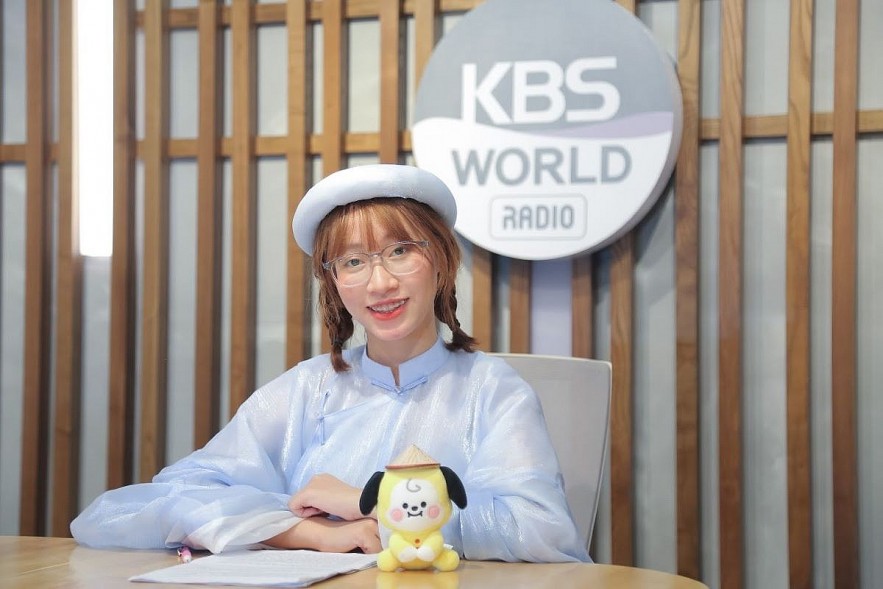 Thanh Tam at the KBS TV station.
Desire to promote Vietnamese culture to international friends
When studying in a country with strong media, Minh Tam found that Korea did a great job of promoting the country to the world through K-Pop and movies. Idols, actors, or directors always try to incorporate cultural elements into their products.
Therefore, Minh Tam thinks it would be great if more and more celebrities bring Vietnamese identity to international friends. As singer Orange used to wear an innovative Ao Dai to perform at international awards ceremonies in Korea, singer Quang Hung Master D wore conical hats for Thai fans at the airport and on stage. Tam realizes that promoting culture through the media is the fastest way to bring Vietnam's image to the world.
Minh Tam revealed her upcoming plans.
"Currently, I have about 20 sets of Vietnamese costumes of all colors and designs. In the future, I will collect more traditional Vietnamese clothes to surprise my friends at home and abroad."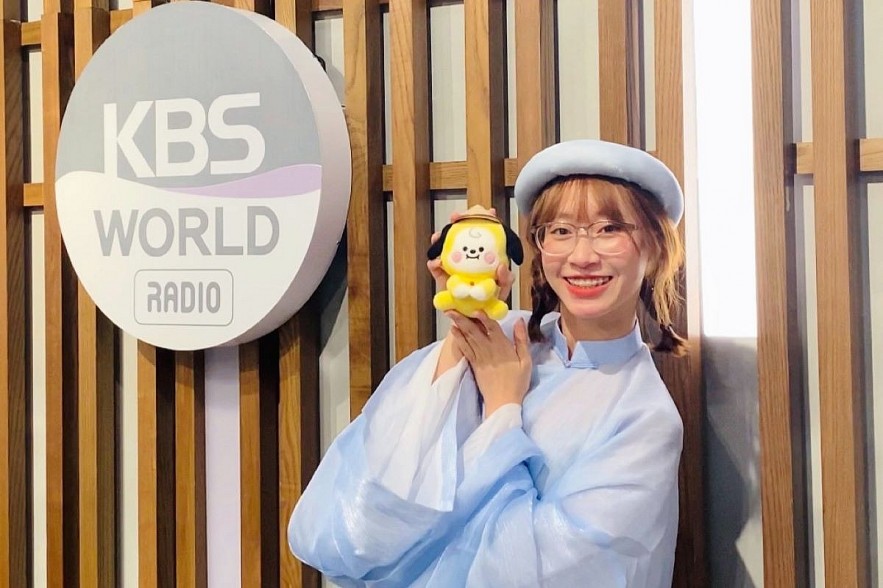 Thanh Tam at the KBS TV station, promoting Vietnamese culture to the world.