Vietnamese Nurse in Japan Wants to Pass on her Knowledge for Homeland Students
Wanting to take care of her parents when they get old, Pham Thi Hoa came to Japan to learn nursing skills and elder care.
Pham Thi Hoa (31 years old, born in Thai Binh) came to Japan to learn nursing skills to apply in her hometown. Last March, she passed the national certificate of nursing in Japan. She works at Well Care Haruka Special Nursing Home, Yamatokoriyama, Nara Prefecture.
Before moving to Japan, she worked as a medicine delivery staff for six years. Understanding that her parents will need a person with good nursing skills to take care of them when they reach old age, she became interested in nursing. She decided to go to Japan as an intern to increase her income and learn more about the profession. Japan is a leading country in nursing care, she said.
She came to Japan in 2019. After two months of training, she started working at a nursing home in Nara city. When she started, she had difficulty memorizing nursing terminology. She had no experience taking care of patients with dementia. Even so, the patients were still kind to her. Her colleagues enthusiastically helped and guilded her in her work. Last May, she set her sights on getting a nursing license. "I want to see where my level is after three years coming to Japan," she said.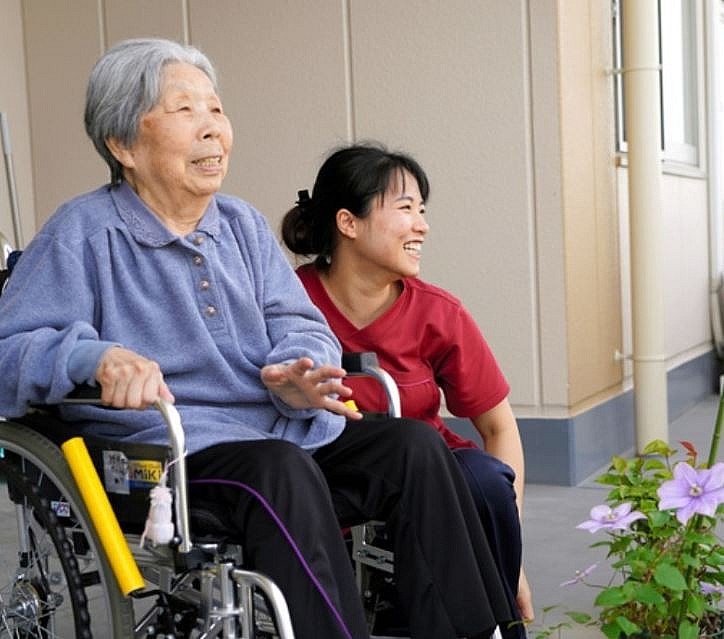 Hoa (right) and Imada at the Well Care Haruka Nursing Home in Yamatokoriyama, Nara Prefecture, Japan (Photo: Asahi Shimbun).
The written exam for nurses is in Japanese, covering 13 areas from basic nursing to knowledge about disability and dementia. She attended intensive classes during the holidays. In March, she finally passed the exam. Owning the certificate, she will have a temporary resident card as a nurse and can stay in Japan for a long time.
From January 2022, she worked at Well Care Haruka Nursing Home. Her daily work is to wake patients up at 6:30 am, helps them eat breakfast, exercise, and bathe. In the evening, she takes care of patients who are injured or in poor health. Imada, 90 years old, has been in a nursing home since October, 2022. "Hoa is a nice girl who speaks Japanese well. She spends a lot of time talking to me," she said.
Hoa still wants to learn more about nursing in Japan, such as how to communicate with patients. "In a few years, I will return to Vietnam and pass on the nursing skills I learned to students in my hometown," she said.
According to the Nara Provincial Labor Department, (Japan), as of October 2022, 7,072 foreigners worked in the province, the highest number ever. The province is facing a shortage of Japanese human resources.
Among foreigners working in the province, Vietnamese make up the largest community with 2,751 people, followed by China (1,160 people) and Philippines (589 people). 34.6% of foreign workers have the status of residence as trainees, 26.2% has work visa, and 19.6% has relative sponsor visa.
Nara has 1,454 establishments employing foreign workers, an increase of 1.6 times compared to 2018. Expats mainly work in the fields of manufacturing, healthcare, wholesale and retail.