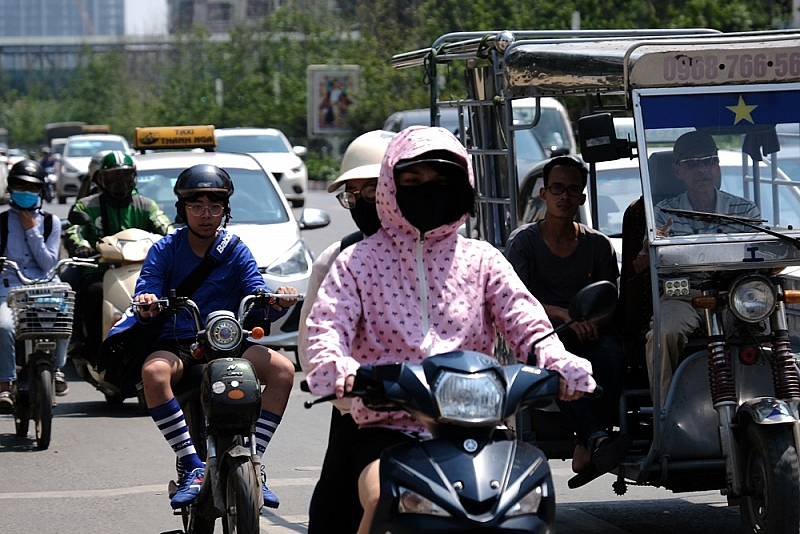 High temperatures stir up daily life in Hanoi. Photo: vnexplorer.net.
As The National Center for Hydro-Meteorological Forecasting (NCHMF) said, the Foehn wind, caused by the impact of the southeastern edge of the western hot low-pressure area, was developing and causing hot weather across the northern and central regions, with temperatures ranging from 37 to 40 degrees Celsius, and even higher in some places.
This summer, some parts across Vietnam would see heat climbing up to 39-40 degrees Celsius, and the temperatures at some points may hit record levels. In Hanoi, over the past two days, the average heat reached 38 degrees Celsius at 11 a.m, even peaked at 50 degrees Celsius in some roads, causing water mirage. The outdoor temperature was about 5 to 7 degrees Celsius higher due to urban effects, Zingnews.vn reported.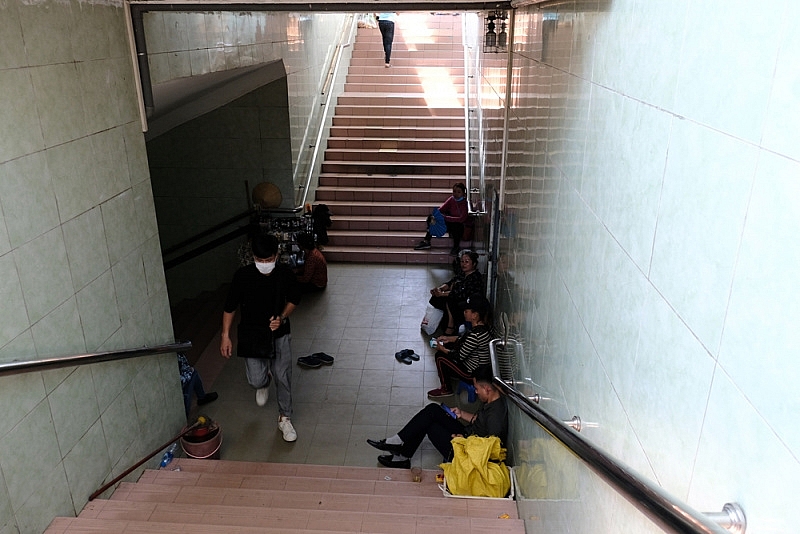 Many people take shelter from the hot sun in a pedestrian tunnel on Pham Hung street. Photo: vnexplorer.net.
The heatwave significantly affected Hanoians' daily routines. Motorbike commuters wrapped themselves in thick hoodies, face masks and sunglasses. Outdoor workers have to take a rest every 15 minutes under the trees' shades while street vendors hide under pedestrian tunnels and locals minimize outdoor activities. Even when the sun completely sets at 19 p.m, the atmosphere was still very uncomfortable and hot with temperature measured at 34-35 degrees Celsius, according to vnexplorer.net.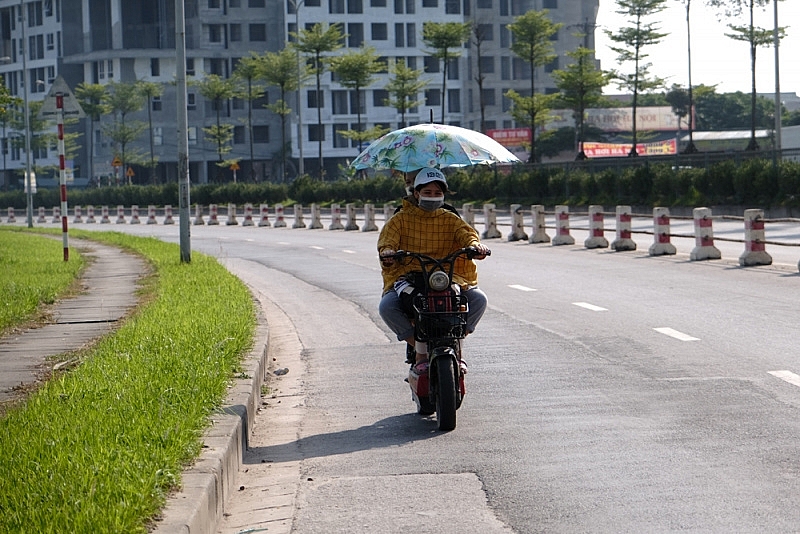 Workers have to cover themselves with umbrellas to avoid the heat on Hoang Sa street, Dong Anh district. Photo: vnexplorer.net.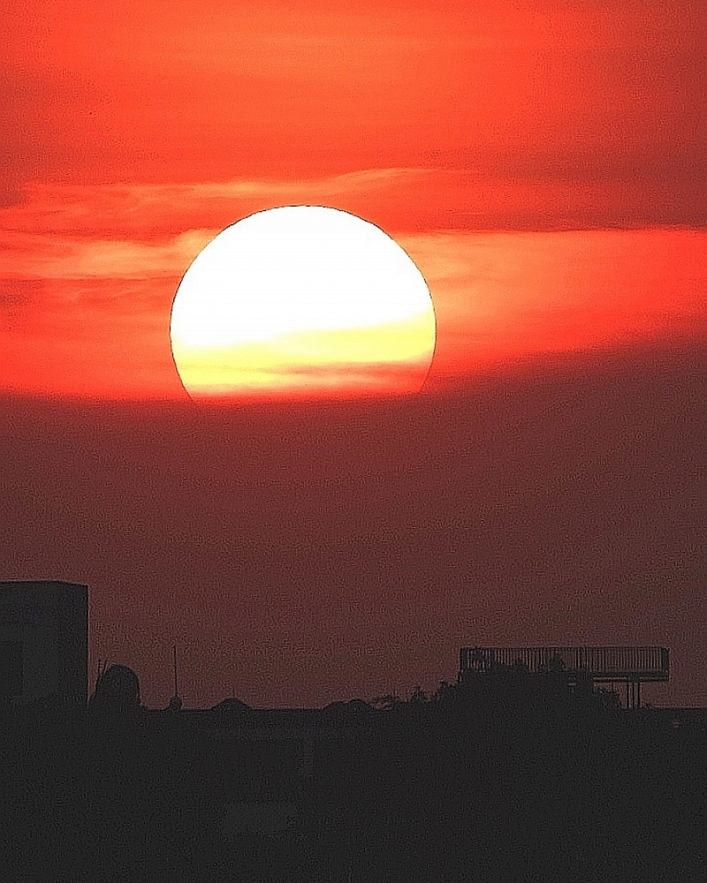 The sun is bright red on West Lake. Photo: vnexplorer.net.
Precautions measures
With the UV index in Hanoi city measured at the dangerous levels of 8 and 10, posing a high risk of skin damage, including skin cancer, for people exposed under the sun for a long time, NCHMF's experts recommended to apply SPF 30+ sunscreen, wear a shirt, sunglasses and a hat. People shoul take proper diet to enhance the immune system, drink enough water and avoid any outdoor activities from 11:00 a.m to 4:00 p.m – the period make the most destructive.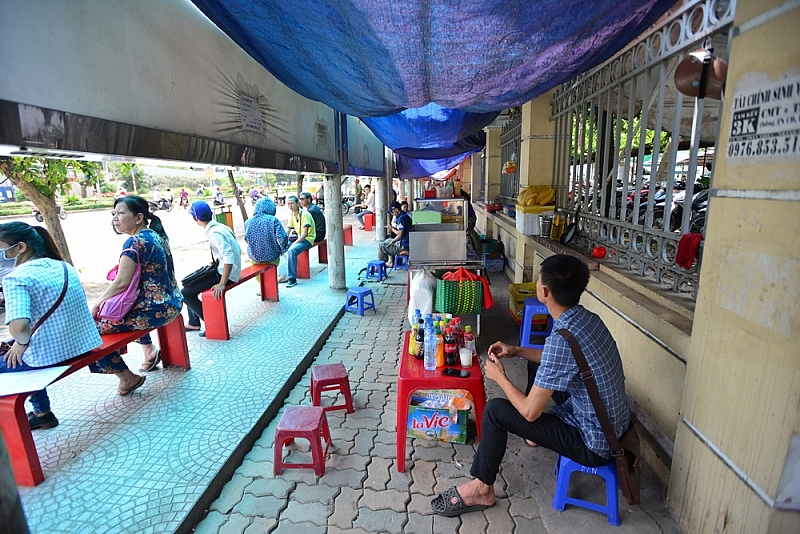 Sidewalk tea shop becomes a place for workers to cool down with a cup of ice tea. Photo: vnexplorer.net.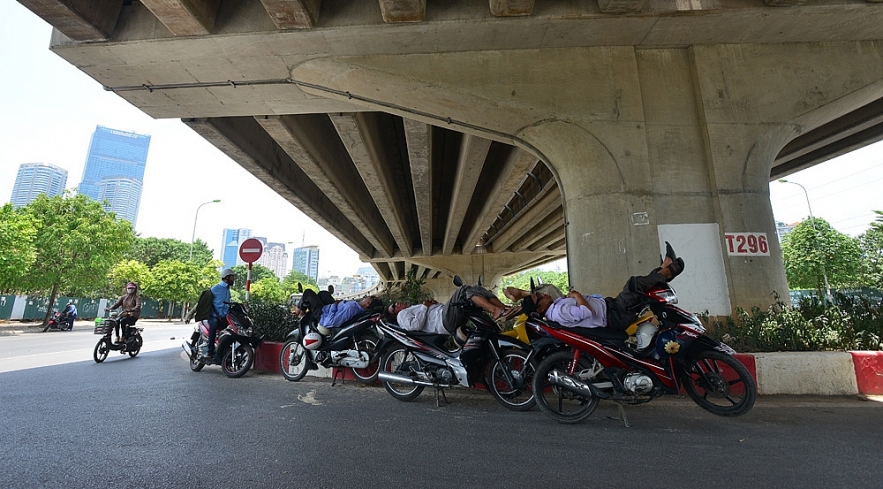 Motorbike drivers take refuge from the sun under the overpass of Belt Road 3. Photo: vnexplorer.net.
Impacts by climate change
Vietnam is among the most vulnerable nations to climate change impacts according to a recent International Panel on Climate Change report. The country's diverse geography means it is hit by typhoons, landslides, flooding and droughts.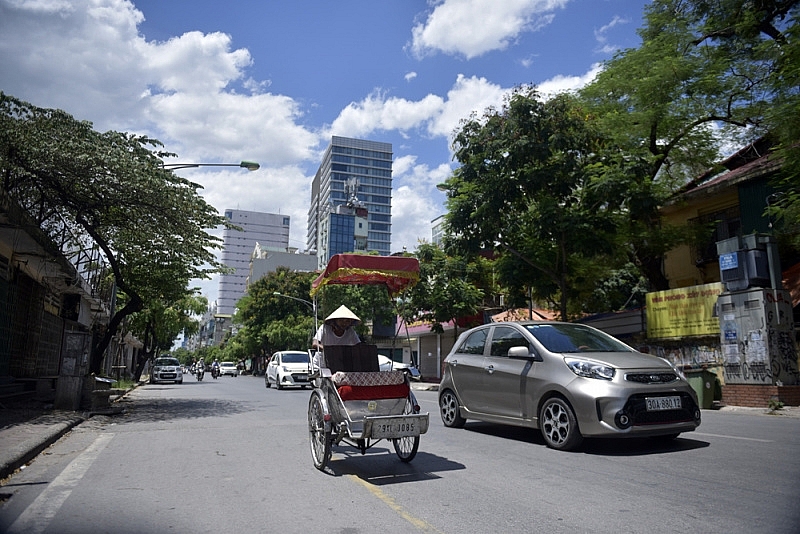 A cyclo driver struggles under the hot sun. Photo: vnexplorer.net.
Ho Chi Minh City, Vietnam's largest urban area and economic engine, is of particular concern. A recent study has identified Asean cities Jakarta (Indonesia) and Ho Chi Minh City as among the world's major metropolitan areas on the brink of sinking as a result of rising sea levels and extreme weather caused by climate change, the Sun reported.
While much of the information regarding climate change in Vietnam is dire, there is reason for hope. Lai explained that UNDP studies have found that the country retains massive potential for renewable energy, the development of which could help offset damage caused by greenhouse emissions.
The heat in Northern Vietnam will be calmer from the evening on May 22 followed by thunderstorm accompanied by lightning and strong winds, occurring in Hanoi and many other neighborhoods. Today will be the last hot day in the North. From May 23, scorching shall stop and the weather was forecast to turn into heavy rain.
The rain coming shall cool down the average heat, however, NCHMF warned that people need to prepare for the risk of extreme weather after scorching.
Ruby Lee