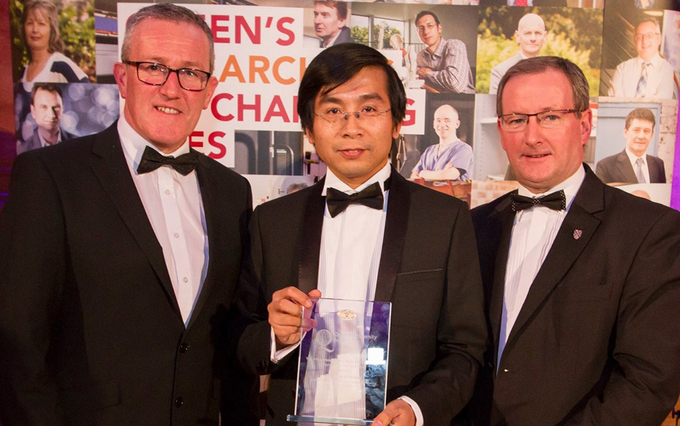 Prof. Duong Quang Trung (M) received Vice-Chancellor's Research Prize in 2016.
Photo courtesy of University Queen's Belfast.
Professor Duong Quang Trung from Queen's Belfast University (UK) has recently been appointed the Research Chair on issued related to the 6G telecommunications network, the UK's Royal Academy of Engineering announced on its official website, VNExpress reported.
Professor Trung will assume the role of managing research focusing on combining 6G with wireless media, data transmission, radar, and images, make use of the advantages of broadband and near-zero load to contribute to serving remote diagnostics and surgery, health care, self-driving cars, as well as virtual reality in education.
According to Professor Trung, unlike the previous generations of mobile communications, 6G not only concentrates on faster data rates for traditional services, but it also focuses on the massive connectivity capacity of automatic equipment. In addition, 6G is expected to address the specific demands of IoT devices by implementing two targets namely maintaining the 5G's ultra-high reliability (99,999%) and minimizing the slow connection between the time of transmitting and receiving data.
"Our rapidly changing world is currently undergoing a fourth industrial revolution that is currently being driven by 5G communications and cyber-physical systems," Trung was quoted as saying in a statement published on the RAENG's announcement.
"My driving passion is to take that revolution forward into the next decade and for 6G to enable a future that benefits all of society," Trung said.
Professor Duong Quang Trung, 42 years old, was born in Quang Nam, central Vietnam. He completed his doctorate in 2012. In 2018, he was appointed as Associate Professor without the need to pass the Senior Lecturer level. Last July, he was appointed Full Professor after six years working at the Queen's University of Belfast.

As an outstanding researcher in the field of telecommunications, he has won multiple prestigious awards, most notably the Newton Prize given by the UK government in 2017.
Malie Nguyen