Vietnamese researcher to be recognized at AIDS 2020 for promoting community-led HIV services
A Vietnamese researcher was highly recognized at the 23rd International AIDS Conference (AIDS 2020) for his contribution to the widely successful roll-out model of community HIV testing service across Vietnam.
A recent statement by the international organization PATH announced that at the 23rd International AIDS Conference (AIDS 2020), Mr. Vu Ngoc Bao had received one of the International AIDS Society/Merck Sharpe & Dohme Prizes for Operational and Implementation Research in Differentiated Service Delivery in recognition of his outstanding research in differentiated service delivery.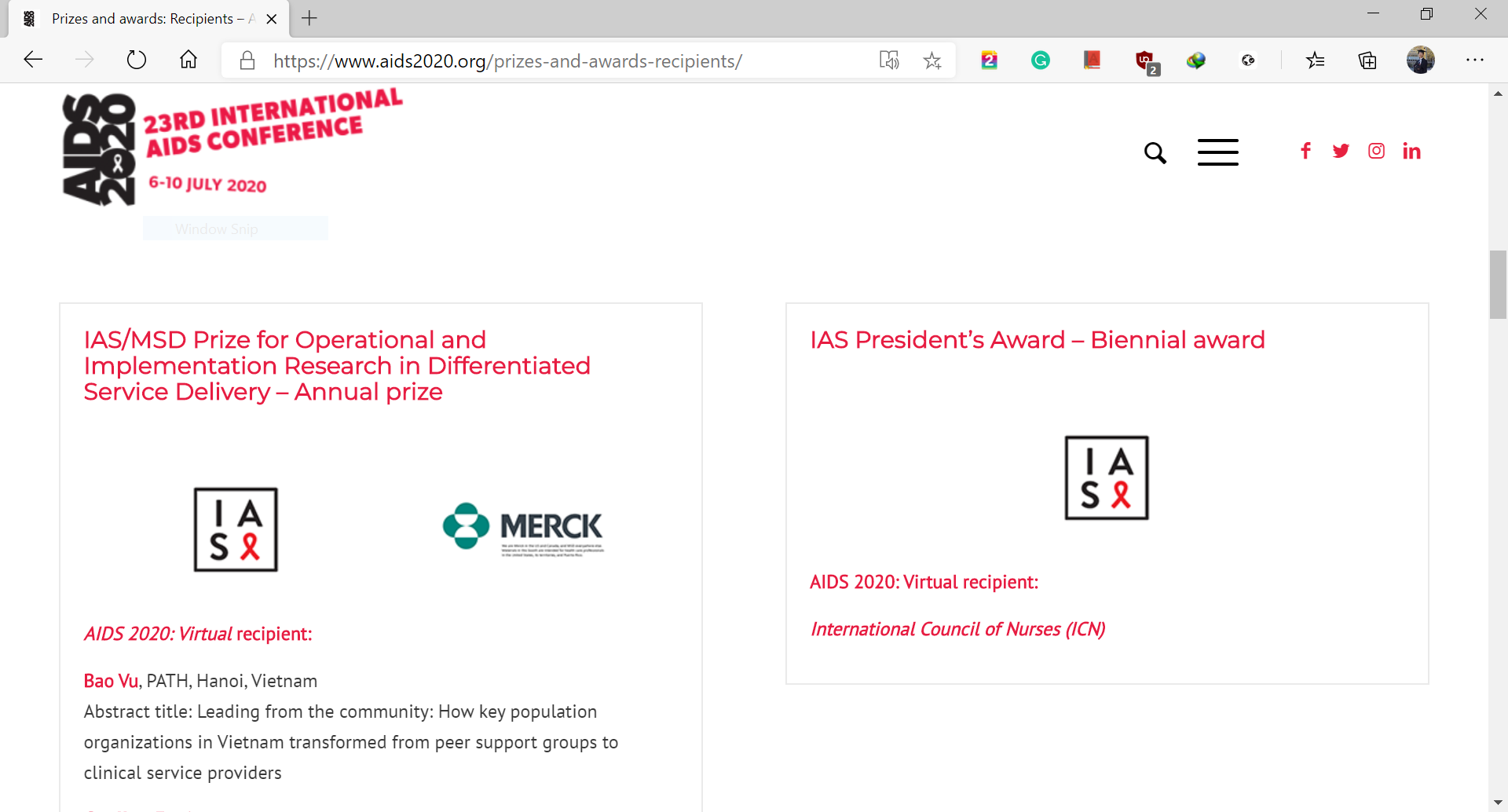 Dr. Vu Ngoc Bao and his research were recognized on the official website of AIDS 2020
Mr. Vu Ngoc Bao was awarded the prize for his work to pilot and scale peer-led service delivery models under the US Agency for International Development (USAID)/PATH Healthy Markets project in Vietnam. Programmatic results show that key population (KP)-led lay HIV testing services were more successful in reaching first-time and infrequent testers and that clients preferred pre-exposure prophylaxis (PrEP) services delivered by KP-led organizations. These results were used as a tool to advocate with the Vietnam Ministry of Health for nationwide scale-up for community HIV testing in 33 provinces and PrEP in 26 provinces, out of a total of 63 provinces.
"I am honored to receive this award on behalf of the USAID/PATH Healthy Markets team in Vietnam", said Bao.
"There is a strong preference among key populations in Vietnam to seek services from KP-led organizations, social enterprises, and businesses, and scaling KP-led HIV services is a promising strategy to boost service access among KPs. We've worked hard to create an enabling environment for KPs to increasingly take a leadership role in delivering a range of HIV and other health services", added Bao.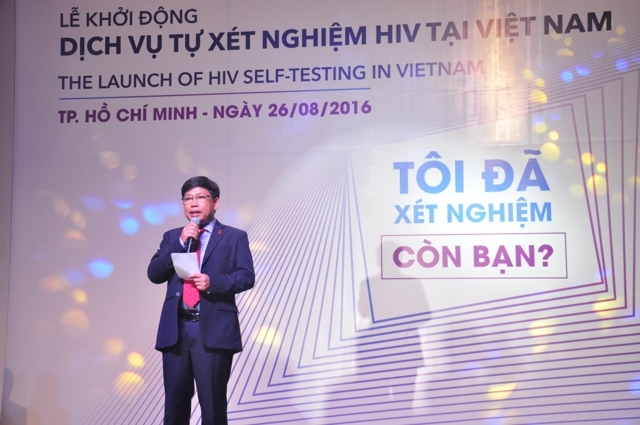 Dr. Vu Ngoc Bao gave a speech in an event in 2016. Photo: VAAC
The International AIDS Conference is the premier global platform to advance the HIV response. As the world's largest conference on HIV and AIDS, it sits uniquely at the intersection of science, advocacy and human rights, bringing together scientists, policy makers, healthcare professionals, people living with HIV, funders, media, and community. Since its start in 1985, the conference continues to serve as an opportunity to strengthen policies and programmes that ensure an evidence-based response to HIV and related epidemics.
The 23rd International AIDS Conference – known as AIDS 2020 – was held virtually on 6-10 July 2020 due to the COVID-19 pandemic with the theme, "Resilience". AIDS 2020 gathered over 20,000 participants from more than 170 countries across the globe.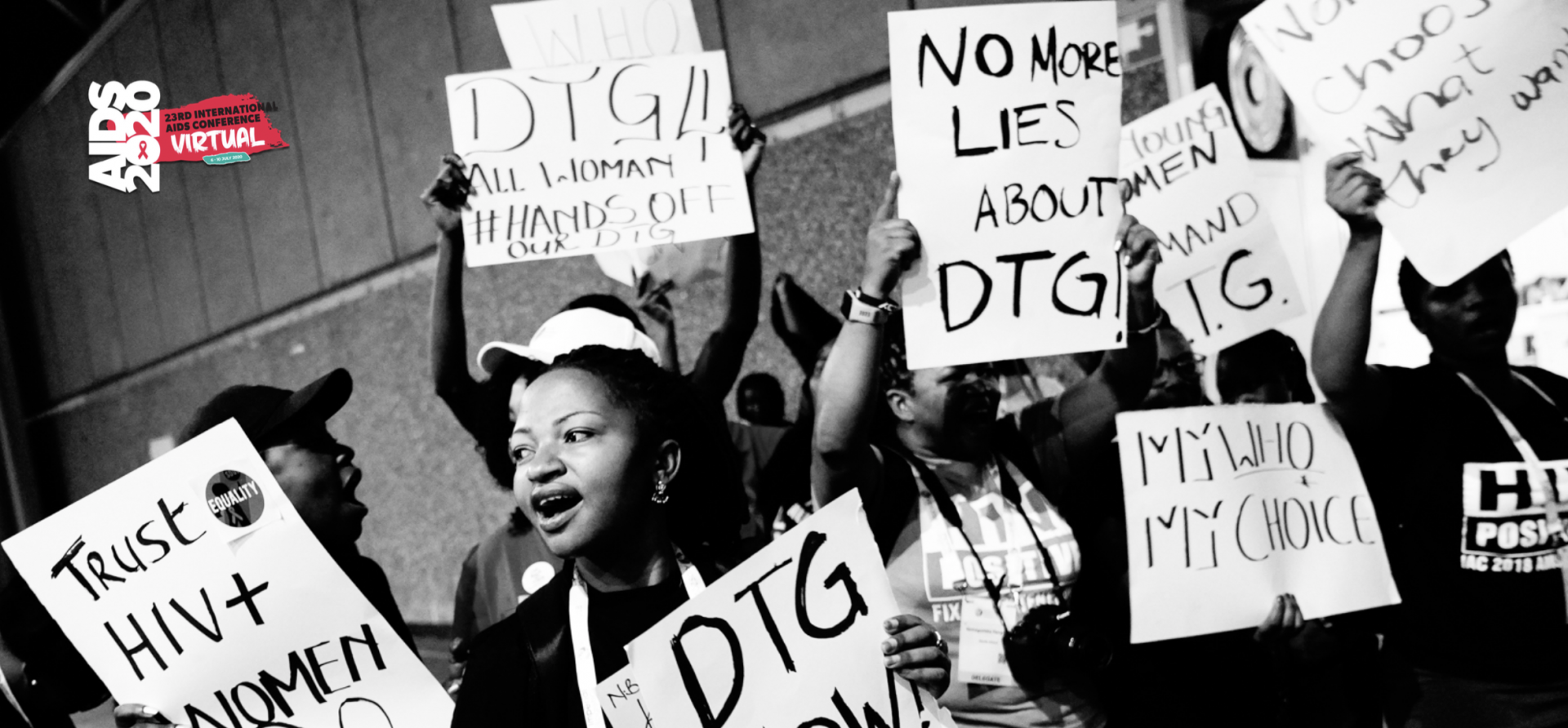 AIDS i2020 is the global campaign to advance the HIV response. Photo: WHO
PATH's work in Vietnam began in 1980 with an early focus on improving local condom manufacturing capacity and reproductive health. The organization introduced KP-led HIV services in Vietnam in 2015, starting with supporting KP community-based organizations to pilot and scale HIV lay and self-testing and then shifting to KP-led partner notification services and HIV pre-exposure prophylaxis (PrEP).
Since 1987, PATH has worked to reduce the impact of HIV, partnering across 32 countries to test more than 10,923,000 people for HIV, enroll more than 281,300 individuals on treatment, and deliver HIV prevention services to more than 11,184,000 at-risk individuals.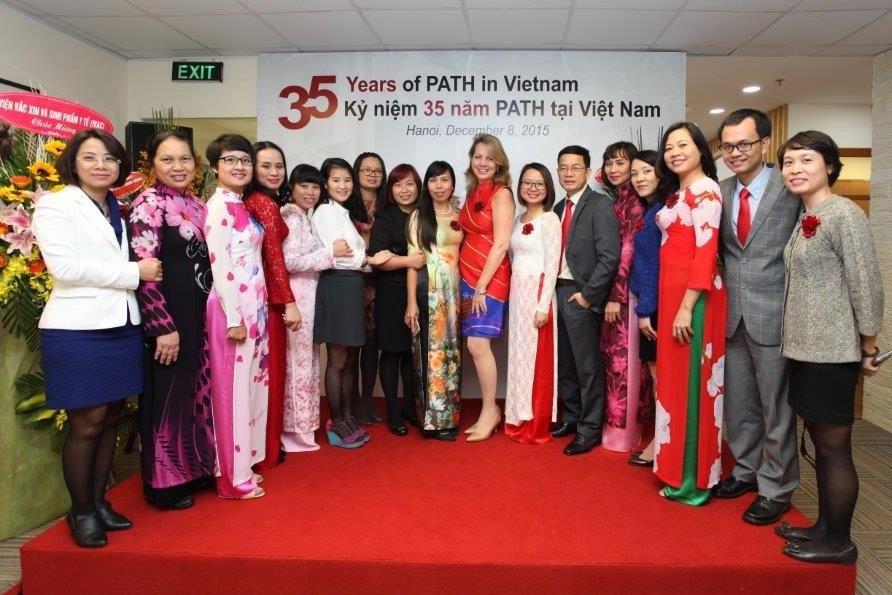 PATH celebrated its 35 years of operation in Vietnam in 2015. Photo: PATH
Japan helps Vietnam control HIV/AIDS

The National Hospital of Tropical Diseases and the Japan International Co-operation Agency (JICA) signed a record of discussions for a cooperation project to set up ...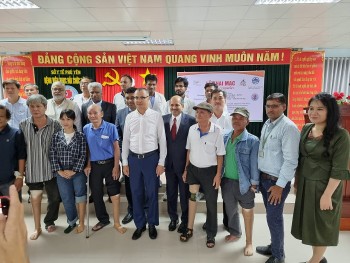 Friendship
This is the 5th time the Jaipur Foot Artificial Limb Fitment Camp has been held in Vietnam since 2018 by the Indian Ministry of Foreign Affairs, Indian agencies and organizations.