Vietnamese Singer Faces Scandal for Using Footage of Messi in Newly Released MV
Entrepreneur Pham Ngoc Quoc Cuong, who helped singer Jack meet Lionel Messi, said there was no signed document between the parties about Jack's use of Messi's image in his music video.
Businessman Pham Ngoc Quoc Cuong - one of the two people to whom young Vietnamese singer Jack apologized in the September 3 statement - on September 4 discussed the information regarding the fact that Jack met and used the image of football superstar Lionel Messi in his music video titled 'Tu noi toi sinh ra' (From Where I Was Born).
Request to delete the MV or delete the scene with Messi
Earlier, on the afternoon of September 4, Cuong also shared a social media post from a friend, Nguyen Quoc Anh, about the claim that Cuong said that Quoc Anh was one of the two people (along with Cuong) who took Jack to meet Messi.
In the post, Quoc Anh confirmed that the two sides had agreed that the photos and videos were for keeping as a souvenir photo and could be posted on Facebook. Therefore, the fact that Jack made an MV and held a press conference made Quoc Anh feel "arbitrary" and "disrespectful".
Besides, Quoc Anh also confirmed that Messi's side did not know who Jack was and that Messi had not agreed to make an appearance in the MV with him. He asked Jack to delete the MV or delete the scene with Messi in the MV, and at the same time correct the truth to the press.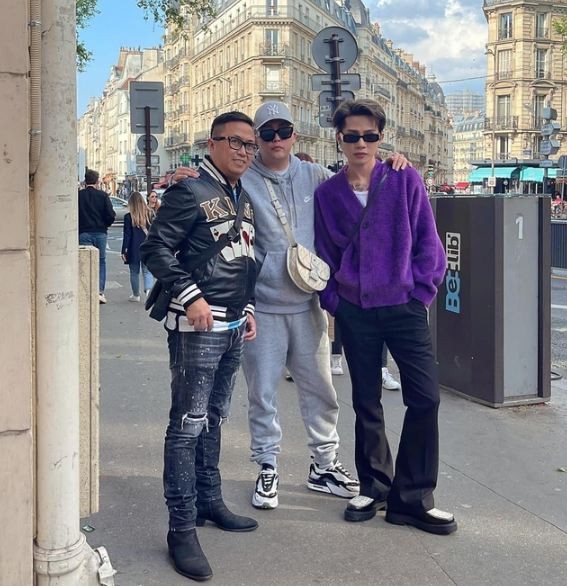 Entrepreneur Quoc Cuong (far left) is not satisfied with Jack's handling of the case Messi appeared in Jack's MV. Photo from FB
There is no agreement to use Messi's image
Cuong - who appeared in Jack's apology post about the scandal of using Messi's image in his newly-posted MV - has just shared about the incident on his personal page with more than 29,000 followers.
In the article, Cuong tells about the journey that took Jack to meet Messi in France. He said that because this was a difficult appointment, he asked very carefully until he received the consent of the football star, he was about to leave.
After receiving confirmation from friends in France, businessman Quoc Cuong invited Jack to join. Talking about the reason, he said, "Through a close friend, Jack met me to tell stories and talk about his passion for football and his desire to regain the glory. At that time, my initial impression was that he was also passionate and aspired to succeed, so when the opportunity came, let Jack tag along."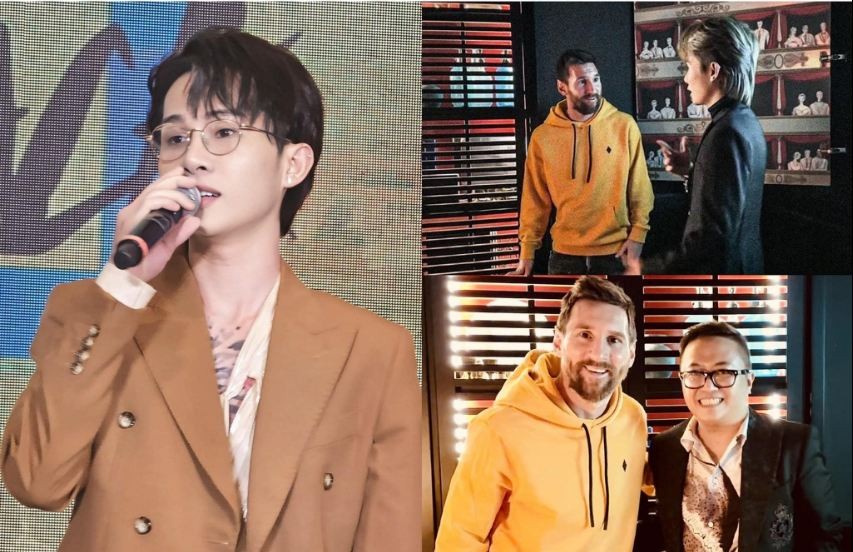 Before that, Jack once spoke out against the rumor of spending 60 billion for Messi to appear in the MV 'Tu noi toi sinh ra'.
According to businessman Quoc Cuong, Jack mentioned filming and using it for the MV. At that time, Cuong was frank about it, "How much money do you think you can ask Messi to put in an appearance in the MV?"
The businessman further revealed, "I asked my friends and family, and they all said that no one dared to tell Messi, but if it's made as a documentary to keep and there's absolutely no commercial, or monetization of the product, it doesn't matter, this is also clearly stated."
Regarding this viral incident, Cuong shared further, "I was too nice but mistook that person - a deceitful, stubborn person, so now my responsibility is to be clear up [the misleading declaration] so that everyone will understand and there is no speculation or ambiguity on the internet."
Talking to Thanh Nien newspaper, businessman Quoc Cuong said the post was his opinion. After the uproar, the businessman said he regretted taking Jack to meet Messi.
Before that, the fact that Messi appeared in the MV 'Tu noi toi sinh ra' attracted the attention of everyone. At the same time, there was information that the singer spent VND 60 billion (USD 2.4 million) to invite the football superstar to participate in this project. In a press release published on September 9, Jack's side denied the rumors.
At the same time, Jack's side apologized to relevant organizations and individuals, including businessman Quoc Cuong, for slow handling and indirectly affecting his reputation and honor. "I think social networks' scale is too vast, the false rumors are impossible to control thoroughly. With all humility, I hope everyone will deeply sympathize," Jack wrote on a Fanpage with more than 2.3 million followers.
Before that, at a press conference on August 31, when asked about whether Messi had given permission to use the image or not, Jack replied that Messi's "broker" said the MV should not mention political or national issues and not be commercially promoting Messi's image, so Jack's crew did not turn on monetization on his YouTube channel and did not call for sponsorship.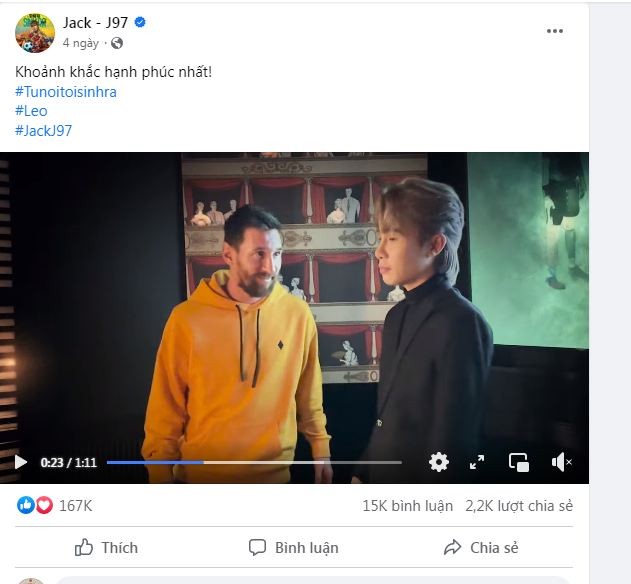 Messi appears in Jack's MV. Snapshot from Jack's Facebook page.
Cuong disagreed and said that Jack's statement was "fabricated", saying "when I mentioned Jack's wishes to the connector (don't call them a broker), they said that if they working in the media industry, they should understand the use of images. During the press conference, she said it was a documentary and not for commercial use.
He continues stressing that "I haven't judged if it's right or wrong, but to the extent that he did a music video and a press conference, even if he turns off monetization, he's still top trending. I don't know if the other side can prove that he still makes money from it or not. I confirm 100% that there is no agreement with Messi, there is no signed document on an agreement with Messi."
The post of businessman Quoc Cuong quickly attracted public attention. Many people were unhappy with Jack's vague sharing about meeting Messi in Europe on the MV release day. Meanwhile, fans of the world's top soccer star are upset that the male singer took advantage of the image of the soccer star born in 1987 to attract views for the MV.
Singer with many scandals
Emerging as an internet phenomenon since 2019, Jack became one of the young singers loved and sought after by the audience at that time. However, in 2021, when he was famous, he was suddenly accused of dating many girls. Even the male singer was heavily criticized for leaving his girlfriend to give birth alone and not taking any action to care for his daughter.
Although he apologized, netizens still decided to boycott the male singer. After that, Jack disappeared from the entertainment industry for a while. In July 2022, he returned with the song Lonely Star. The male singer's MV quickly reached Top 1 trending on YouTube. However, just a few hours later, the song of the singer from Ben Tre was entangled in the noise of plagiarism.
Before this claim, the male singer kept quiet and did not speak up to explain anything. Besides, the return of Jack still made netizens angry. Many people expressed dissatisfaction, even boycotting, saying that the audience needs to be more strict with artists who have been involved in noise, not allowing them to easily return to showbiz after a period of silence. Currently, Jack's fanpage - J97 has 2.3 million followers who still update new images as well as entertainment activities of the male singer.