Vietnamese Students' Association in Italy holds first congress
The Vietnamese Students' Association in Italy (ASVI) aims to connect all Vietnamese students in the European nation via diverse activities.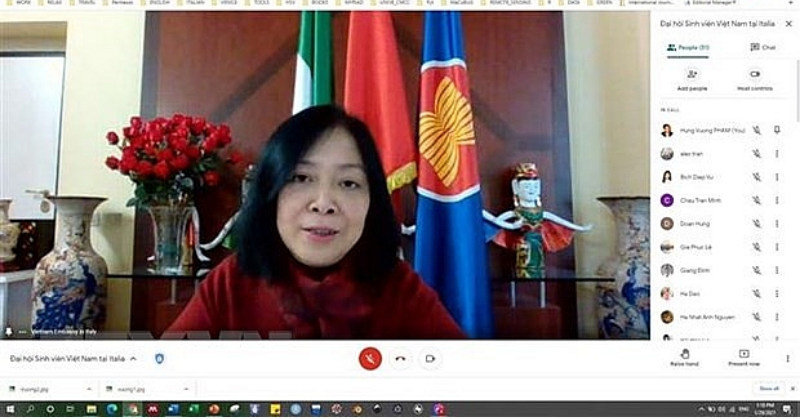 Vietnamese Ambassador Nguyen Thi Bich Hue speaks during the videoconferencing event. Photo: VNA
The Association convened the first congress for the 2021-2023 tenure in the form of videoconference on January 29, VNA reported.
At the event, participants reviewed activities of the ASVI and students campaigns in the recent past, as well as mapped out targets, orientations, tasks and action plans of Vietnamese youths in Italy in the new term.
In her remarks, Vietnamese Ambassador to Italy Nguyen Thi Bich Hue appreciated contributions by the ASVI, calling on the association to improve quality of its activities in a bid to fulfill the set targets, promote Vietnam's images and enhance Vietnam-Italy relations.
The ASVI aims to connect all Vietnamese students in the European nation via activities such as the Day of Vietnamese students in Italy, sporting events, exchange programmes, fairs and exhibitions.
In addition, it works to foster learning opportunities and support new students in finding accommodations, as well as completing administrative procedures and documents on scholarships. The association also connects students and businesses in Italy.
The congress held in the form of a videoconference. Photo: VNA
The two countries set up diplomatic ties 45 years ago and a strategic partnership five years ago, enhancing their cooperation in politics, economy, culture and education.
Two-way trade tripled within the past decade from 1.5 billion USD in 2009 to 5.3 billion USD in 2019. Vietnam is the biggest trade partner of Italy in the Association of Southeast Asian Nations (ASEAN) while Italy is the third largest trade partner of Vietnam in the European Union (EU).
Bilateral cooperation in other fields such as culture, education, tourism, and people-to-people exchanges has also been enhanced. Many localities of the two countries have forged connectivity in realms from education-training and environmental and urban management to smart cities and high-tech agriculture.
Italy is home to about 4,000 Vietnamese people, most of whom have Italian nationality while around 1,000 are Vietnamese students and apprentices. There are about 1,000 – 1,500 Vietnamese people and over 200 Vietnamese students living in Italy's hardest-hit regions, such as Lombardia, Veneto, Emiglia-Romagna and a part of Piemonte./.
Vietnam, Italy eye strong economic ties

Economic cooperation between Vietnam and Italy would develop further in the time ahead through new legal frameworks such as the EU-Vietnam Free Trade Agreement (EVFTA) ...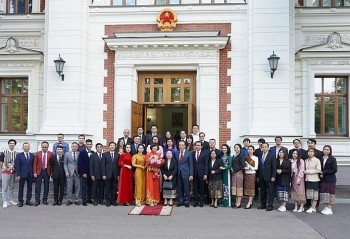 Friendship
The Vietnamese Embassy in Cuba will make efforts to consolidate and cultivate the special Vietnam-Laos relationship in the spirit of respect and support for mutual benefits.