Vietnamese Students In New York Celebrate Lunar New Year Together
Nearly 200 overseas Vietnamese students in the US gathered in New York on February 5 night (US time) to join a Lunar New Year festival with various traditional celebrations.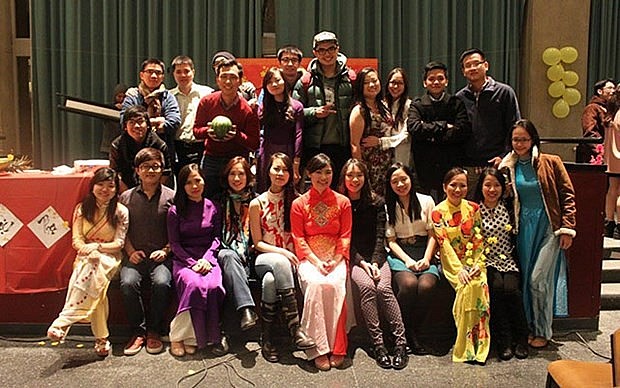 In spite of freezing cold weather, nearly 200 Vietnamese students in the US gathered in New York on February 5 night (US time) to celebrate Lunar New Year festival. Photo Bao Quoc Te
It was minus seven degrees Celsius in New York when 200 Vietnamese students in the US gathered at a restaurant to celebrate Lunar New Year together.
The festival themed "Bring Tet to New York" was held by the Association of Vietnamese Students In New York after two years of suspension due to Covid-19.
Le Hoang Bach, a sophomore at Fordham University, a member of the festival's organizing committee, said the event was held this year after two years of interruption because most of participants have been fully vaccinated. Another reason was they wanted to connect Vietnamese students in New York and other places to remind them of the homeland's traditions.
Participating students could learn Vietnam's Lunar New Year customs at traditional booths like countryside market, traditional games, calligraphy corner, red pocket folding corner or practicing drawing paper fans. The young people of the 5.0 era who are only used to computers and smartphones, could not hide their excitement to experience the ancient culture of their homeland.
Nguyen Quynh Huong, a graduate of Augustana University, said when she lived in Vietnam, she usually visited Temple of Literature to experience calligraphy on Lunar New Year occasion.
"It is such a strange and interesting experience to me when I can experience Vietnamese calligraphy in New York in a very Vietnamese atmosphere among Vietnamese-speaking friends," she said.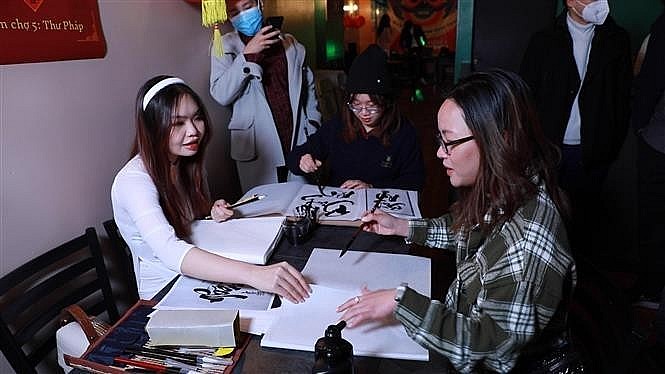 Vietnamese students in the US experience calligraphy writing at the festival. Photo VNA
The young participants, both Vietnamese and foreigners, were eager to try traditional dishes and participated in games that made them feel like they were being lost somewhere in Vietnam.
Evan Courtemanche, an American who attended the Lunar New Year for the first time with Vietnamese friends, said that he had just tried a few food and enjoyed the taste of Vietnamese dishes although he could not remember all the dishes' names.
At a book exchange corner, Phan Van Nhat Huy, a PhD student at Rutgers University, said: "Exchanging books at a Tet event like this is a great idea because each person has their own taste in books and when I exchange books I've read like that, I can learn about book interest of my own and other friends as well as expand my knowledge."
Le Minh Anh, one of the festival organizers, experienced sleepless nights over the past one month to prepare for the event.
She could not hide her happiness seeing lots of Vietnamese students coming to join.
She said the organizing committee had to experience lots of difficulties from inviting sponsors to promoting the event.
"Most of Vietnamese businesses in the US face difficulties in the post-Covid period so the Association of Vietnamese Students In New York found it hard to maintain activities over the past two years," she said.
Dang Hoang Anh, one of the festival organizers and a senior student of Baruch University said the event aimed to connect Vietnamese youth and students in New York and bring them New Year happiness.
'We also want to let them see that important holidays like Lunar New Year are still being held here, even though we are all far from home."
On February 4-5, Vietnamese Ambassador to Algeria Nguyen Thanh Vinh visited and offered New Year wishes to overseas Vietnamese and Vietnamese workers in the country, Vietnam News Agency reported.
He affirmed that the Vietnamese Embassy will continue creating favorable conditions for them to stay there or return home as they wish.