Vietnamese's good deeds to Nepal's COVID-19-stricken communities
"We need 400 bags of rice, 400 hearts and 400 good deeds to help the destitute locals in Nepal", the post calling for supports from the charitable program initiated by Vietnamese Napalese reads.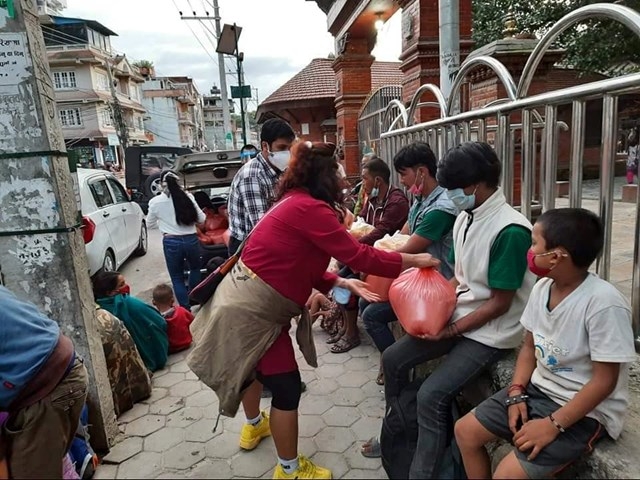 Poor Napalese get donated rice from Vo Thi Kim Cuong (Photo: Dai Doan Ket)
Accordingly, the needy Nepalese include those laid off from work, deprived of foods for daily meals, and left destitute by the COVID-19 pandemic.
"400 rice bags is equivalent to 10 tons of rice will be directly distributed to Nepalese in the capital of Kathmandu, Lumbini and some poor rural areas", the calling posted in the Facebook group named Himalayas Vietnam, continues. Himalayas Vietnam is a group of Vietnamese people who've been to Nepal and fall in love with the far-away country.
In Lumbini, there's a village with 60 households and hundreds of people living in deprivation. They really need food supports. Right on the outskirts of Kathmandu capital, lines of low-income laborers standing outside, waiting to receive free meal sets from our voluntary team, according to Nguyen Manh Duy, the founder of the charitable program.
"We've also been struggling a lot these days. However, we know that we're still far luckier than most local residents. We want to help them, without taking anything in return. This is also a way to pay gratitude to the philanthropists from Vietnam for helping Nepalese and Vietnamese community in Nepal as well", Duy said, adding that the charitable program would last to October 22 with donated money transferred to Nepal once every 15 days.
Earlier on October 4 afternoon, a batch of 100 bailout packages from "Pho 99 Kathmandu" - a Vietnamese restaurant in Nepal - had been handed over to the poor, homeless, or jobless in the country.
"Pho 99 Kathmandu is also suffering from a considerable disruption in this COVID-19 season, yet, we still donated 100 bailout packages, including rice and cooking oil for those in need, which we thought would mean a lot during this prolonged lockdown", Vo Thi Kim Cuong, owner of Pho 99 Kathmandu told Dai Doan Ket.
As of October 5, Nepal has over 86,600 COVID-19 cases, 535 have died.
The country is at the bottom of the international income bracket, with the healthcare sector already lacks medical equipment further stricken by the COVID-19 pandemic. Ventilator fees for COVID-19 treatment would cost US $1,700 a day, 170 times higher the average one-day income of a blue-collar worker. Thus, it's normal that many poor Nepalese had no choice but to refuse hospitalization. The bailout packages from Vietnamese communities would be a meaningful gift for the Nepalese to survive these difficult days.