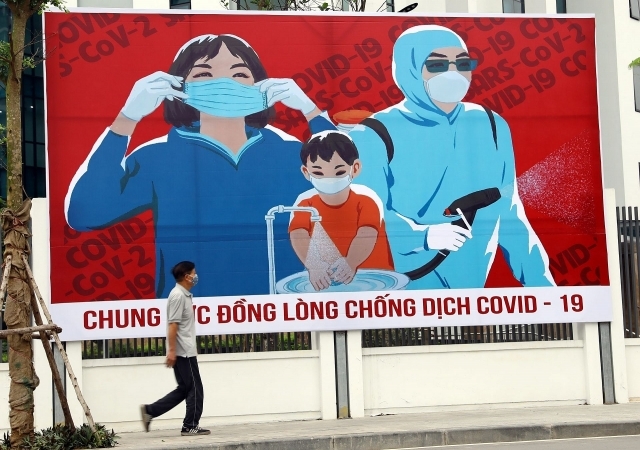 Vietnam is hailed one of the top countries in the COVID-19 fight worldwide (Photo: Thoi Dai)
"Put on face mask, wash hands often"
This is the recommendation the Ministry of Health (MOH) issued right after Vietnam recorded its first case of COVID-19 on January 23, 2020.
"Fighting against the pandemic like fighting against an enemy"
During the emergency meeting on COVID-19 prevention on January 27 afternoon (the third day of the 2020 Lunar New Year in Vietnam), Prime Minister Nguyen Xuan Phuc stated: "Fighting against the pandemic like fighting against an enemy".
The slogan is the guiding thought and the action motto to ensure the "war" against COVID-19 in Vietnam wins the fastest victory.
"14-day-long quarantine"
The 14-day-long quarantine decision was issued by MOH on February 7, 2020. All those having close contact with nCoV-infected persons, suspected cases and returnees from epidemic areas will have strictly abided by the 14-day medical isolation to prevent epidemics from spreading further.
"Lockdown"
The word "lockdown" slowly catches on after the northern province of Vinh Phuc issued the decision to blockade the entire Son Loi commune, Binh Xuyen district on February 13, 2020. Blockade helps localize, suppress, prevent and eliminate the sources of disease from spreading in the community.
"Contact-tracing at every lane, knocking on every door and looking for every object"
This is the request of Prime Minister Nguyen Xuan Phuc to the grassroots government in early March 2020 when Vietnam entered the second phase of the epidemic control.
"Social distancing"
From 0 o'clock on April 1, 2020, Vietnam complies with Directive 16 of the Prime Minister that started the 15-day social distancing.
"No one is left behind"
"No one is left behind" is the spirit throughout the fight against the COVID-19 pandemic, in which all levels of the government, socio-political unions always accompany the residents to win over the epidemic.
"The new normal state"
The Government decided to relax the social distancing order on April 22, 2020. "The new normal state" is the time when the whole country enters a new period of resuming its socio-economic life while all residents still thoroughly follow COVID-19 preventive measures.
"Staying at home is patriotism"
The slogan stems from the sentence Vietnamese artist Le Duc Hiep came up with and wrote on one of his paintings in a propaganda painting contest. The "Staying at home is patriotism" slogan encourages people to try to stay inside their home, avoid gathering to prevent the potential spreading of the novel coronavirus.
Jasmine Le