Vietnam's anti-pandemic measures remain unchanged
Vietnam will continue to rectify places showing signs of loosening or neglecting medical supervision as Covid-19 situations.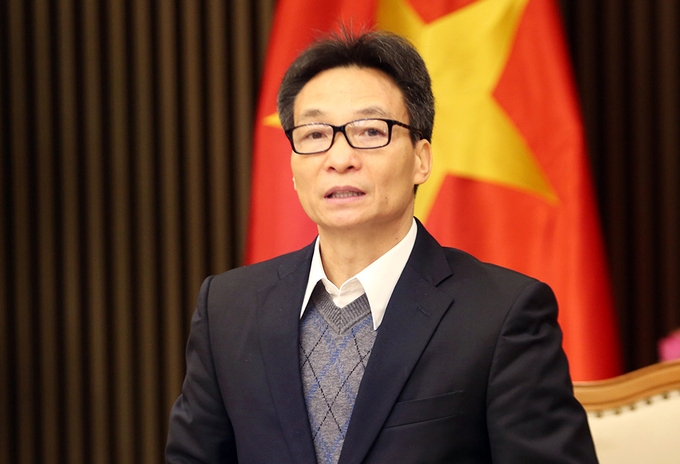 Deputy Prime Minister Vu Duc Dam (Photo: VNE)
At the meeting on January 7, the National Steering Committee for COVID-19 Prevention and Control (Steering Committee) agreed not to change its current anti-pandemic tactics while scientists around the world are studying the new COVID-19 variants. Keeping the pandemic under control has become more urgent as Vietnamese people are preparing for the biggest festival Lunar New Year, and the 13th National Party Congress is scheduled to start from January 25 to February 2.
According to Assoc. Prof. Tran Dac Phu, the current infection sources in other countries mainly stem from poor control over immigrants, lax isolation rules and lockdown measures.
He further stressed that every ministry, branch and locality in Vietnam must continue to implement epidemic prevention measures in a serious and drastic manner.
Along with strict control and prevention of illegal entry, local authorities and the police must keep full record of those families with members living abroad, especially ones that could walk overland to Vietnam.
"These families must encourage their overseas relatives not to return Vietnam illegally", Phu was quoted by VNE as saying.
According to Deputy Prime Minister Vu Duc Dam, "all regulations on prevention and fighting are put in place, but at times, in some places, they are not strictly implemented". Therefore, he stressed, the Ministry of Health must review all the processes, from receiving immigrants, quarantining to discharging that finished isolation and further medical monitoring at home.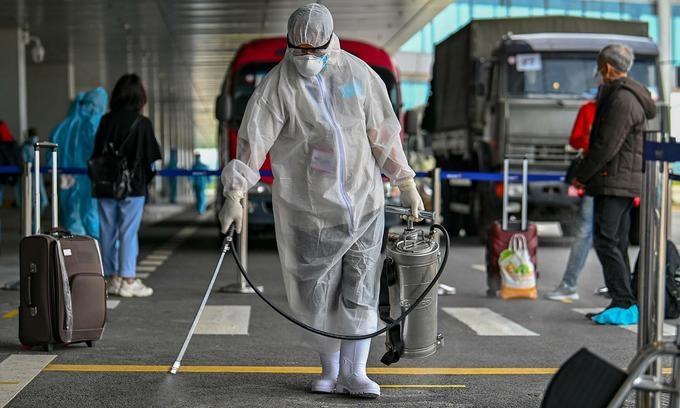 A medical worker sanitizing at the airport (Photo: VNE)
At the meeting, members of the Steering Committee and experts carefully analyzed the case of "Patient 1.498" who got an early discharge from Chuong My quarantine zone without second testing results.
Dang Quang Tan, Director of Preventive Medicine, said Chuong My Preventive Medicine Center was the first to blame for the early discharge. Quang Ninh's Centers for Disease Control (CDC) hasn't fulfilled its responsibility either as it let the patient drive home himself, and no further surveillance measures are adopted.
The Steering Committee, therefore, tasked the Ministry of Health and localities to tighten the hand-over and reception of those finished quarantining period.
Inbound flights from countries and territories where the new variants of the coronavirus are causing complicated developments will be suspended, so as to ensure safety inside the country. The military, medical, transport, and diplomatic sectors should review the capacity of quarantine facilities, with a view to gradually responding to the wish to return home of Vietnamese citizens abroad.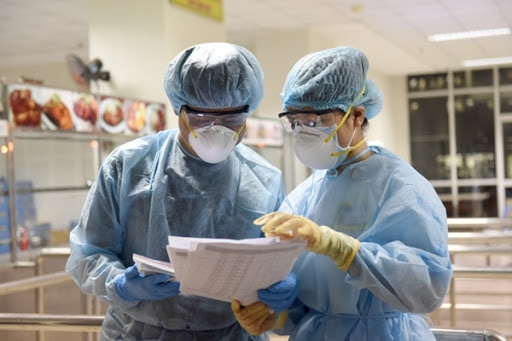 (Photo: Bao Thai Nguyen)
To date, Vietnam has gone 37 consecutive days without any local transmission, tallied 1,509 cases and 35 deaths.
The number of recovered patients reached 1,353. Among patients under treatment, 14 have tested negative for SARS-CoV-2 once, six twice and seven thrice. A total of 19,392 people who had close contact with COVID-19 patients or arrived from pandemic-affected regions are staying in quarantine nationwide.
Meanwhile, the world records a total of 88,503,304 cases, 1,906,747 patients have succumbed to the novel disease. The US, India and Brazil are the three hardest-hit nations worldwide.