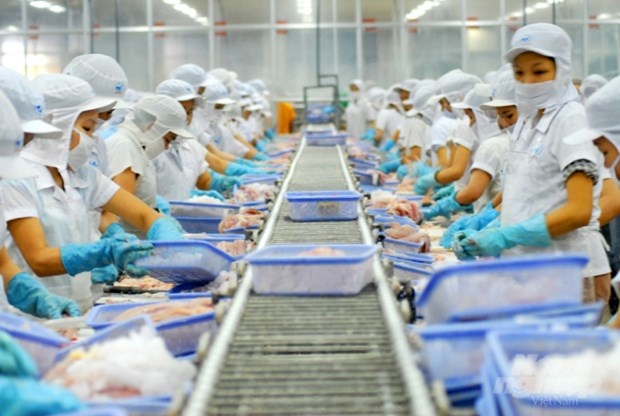 Vietnam's aquatic exports to Taiwan (China) rose sharply in the first months of this year, up nearly 66 percent in volume and 62.3 percent in value. Photo: nongnghiep.vn
According to the Ministry of Industry and Trade, breakthroughs have been seen in Vietnam's aquatic exports to Taiwan since the first months of the year.
In January alone, the Southeast Asian country delivered 3,100 tonnes of aquatic products valued at 10.1 million USD to Taiwan, increases of 66.4 percent in volume and 61.4 percent in value against the corresponding time last year.
Over the past two months when Taiwan's demand for aquatic products grew rapidly, Vietnam shipped 6,300 tonnes of the products worth 22.3 million USD to Taiwan, up 65.9 percent in volume and 62.3 percent in value year-on-year.
The hike was seen in the export of frozen shrimp, salmon and pangasius, along with surimi, frozen oysters, canned and frozen tuna, and frozen octopus, among others.
With diverse taste, Taiwan would a be promising market for the Vietnamese aquatic sector. Taiwan has also served as a gateway for Vietnamese aquatic products to penetrate European, American and East Asian markets.
Statistics from the Taiwan side unveil that Taiwan imported 36,500 tonnes of aquatic products worth 167.89 million USD in January, up 35.5 percent in volume and 20.6 percent in value.
Vietnam was among Taiwan's biggest suppliers of aquatic products in the month.
Nearly 700 Vietnamese firms eligible for aquatic export to Taiwan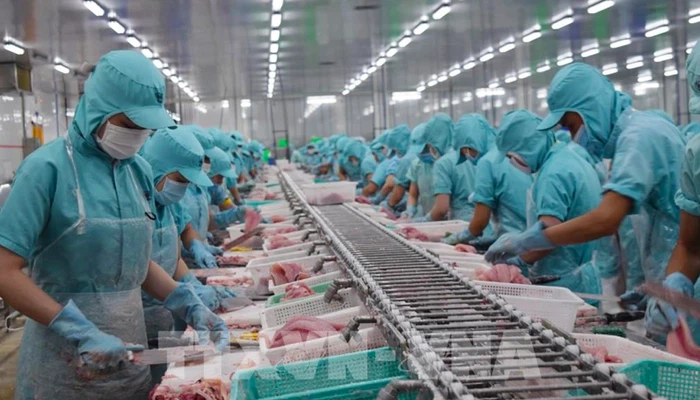 Nearly 700 Vietnamese firms eligible for aquatic export to Taiwan. Photo: VNA
The Taiwan Food and Drug Administration (TFDA) has recently announced a list of 697 Vietnamese fishery companies meeting the conditions for export to Taiwan.
This means that 59 more firms have been approved to enter the list since October 2019, the VNA said.
According to the Vietnam Association of Seafood Exporters and Producers (VASEP), Taiwan is not among the top ten importers of Vietnamese aquatic products, but records a stable annual turnover of more 100 million USD.
The value of aquatic products shipped to the economy accounts for about 1.3 to 1.8 percent of Vietnam's total fishery export revenue.
Vietnam's aquatic export value reached 405 million USD in February, pushing the figure in the first two months of 2021 to over 1 billion USD, up 2.2 percent over the same period last year, reported VASEP./.
Rosy Huong