Vietnam's Artistic Youth Reinterpret Traditional Music
Connecting tradition with modernity, these songs highlight the talents of Vietnam's musical past and future.
Young people in a session of Xam singing. Photo: Van Anh
Director Nguyen Anh Dung (Vietnam Television) said: "The audience still clearly feels the image of their village. However, with the new performance of young vocalists, it helps to approach the current trend of young audiences."
Young people with folk songs
Currently, many songs with Northwest influences, Northern, Central and Southern folk songs have been staged and remixed with the performance of young vocalists, creating a colorful picture of traditional music.
Composer Phan Huy Ha said: "Familiar folk songs will become different with new performances. Many young vocalists have innovated familiar songs with their new thoughts and feelings."
Singer Nam Giang said: "I believe that when I sing with love for music, when I drop my soul into each melody, the audience will receive it. Music is sharing with melodies and emotions."
Hoang Viet Anh (student at University of Law, Hue University) said: "I have loved folk songs since I was a child. The reason is probably because my mother was away from home, and my grandmother took care of me. I was lullaby by her, and I gradually love folk songs."
Viet Anh went to folk artist Dinh Thi Phuong Dong to learn. Currently, he can sing all the local folk songs. Viet Anh also sought out other artists in the region to learn to play musical instruments.
He also mobilized younger students in villages and communes to join in folk singing. Viet Anh's small house is the "headquarters" of the group.
Diversity of conservation forms
There is a project introducing to young people various types of art performances, typical folk festivals in regions, that currently attract viewers. A large number of young people on the social network expressed their interest in the information from the project about the origin and characteristics of 30 types of performing arts, and 6 traditional folk festivals across the country.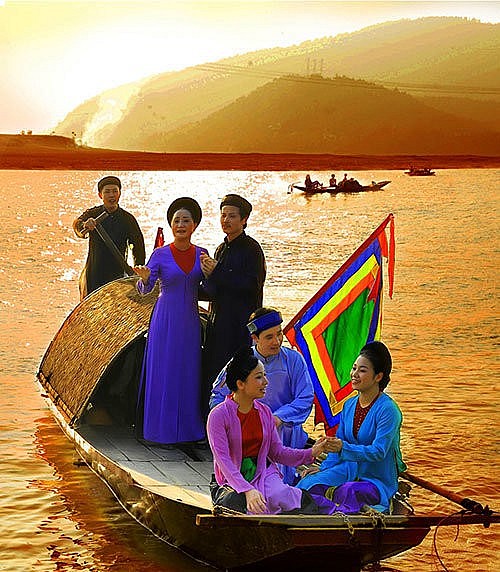 Singing on the Lam River. Photo: Sy Minh
In the project, you can listen to many types of music such as Xoan singing, Quan ho folk songs, water puppetry, and Xam singing of the North; Nghe Tinh's vi and giam folk songs, Hue's court music of the South.
The group of 40 young artists with the exhibition "Drawing about boi singing" also made an impression on the Ho Chi Minh City painting village. They spread their love of traditional art to young people with the language of modern art. They also bring classical opera performances and public interaction activities through applied classes and artist exchanges.
Nguyen Phuong Vy, a final-year student at the University of Fine Arts in Ho Chi Minh City, recently linked information about boi singing with stylized alphabetic characters based on details about characters and costumes.
Young people have worked hard to find new directions for traditional art forms that are in danger of disappearing. Their creative perspective helps the young public understand more about national art. It is also the way to preserve and foster cultural heritages in today's life.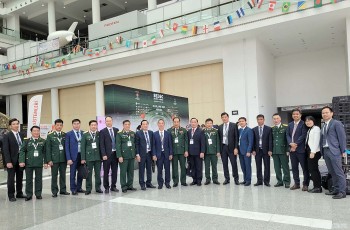 Friendship
Vietnam's presence at the security and defence exhibition SEDEC 2022 in Ankara has been seen as important initial steps to promote the Vietnam-Turkey cooperation.