Vietnam's 'coronavirus song' covered by American boy band
The song, originally penned by Vietnamese songwriter Khac Hung, gets a new breath in folk music style with English lyrics, covered by New York-based Indie Folk and Americana Band The Good Morning Nags. 
The song is renamed "Hand Washing Song", posted on the band's Youtube channel March 11. The lyrics is translated from "Ghen Co Vy" -the Vietnamese original song - with a few modifications to reflect the current situation in the U.S.
Not only sing the covered version beautifully, the boy band also excitedly dances to the trending "hand-washing" choreography which appeared on "Ghen Co Vy".
"With COVID-19 is reaching New York City, we wanna use the remix as a useful propaganda measure to contain the disease, just as Vietnamese artists did", said the Good Morning Nags.
Not long after published, the MV has proved a hit in different countries, including Austria, Germany, India, and on social networks as well. Vietnamese viewers left their comments on Youtube, praising the song has catchy music and great performance. "The English version does blow a new breath into "Ghen Co Vy", one audience comments.
Songwriter Khac Hung who couldn't hide his excitement shared the MV on his Facebook page with the caption: "Yeah, this version slaps! You guys nailed it!"
The hit "Ghen Co Vy" released on February 23 with Min and Erik performing, was a project initiated by Vietnam Ministry of Health to raise people's awareness about Covid-19 prevention.
The song gets media coverage worldwide after being broadcast on HBO's Last Week Tonight hosted by John Oliver earlier on March 2.
Audiences around the world loved the song. International media, including France, the U.S., South Korea and India also praised it. At the moment, Musicians Mew Amazing and Khac Hung are working on a separate English version of the song, which set to be released this weekend.
World leaders tested positive for nCOV

Globally high-ranking political figures have been added to the number of the novel coronavirus infectious cases on March 14-15, namely Indonesian Transport Minister Budi Karya Sumadi, ...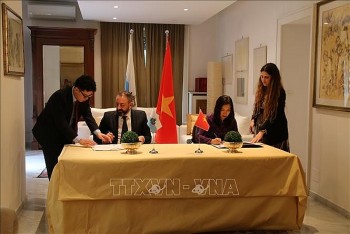 Friendship
The two countries will continue promoting cooperation to enhance growing ties between the two countries based on the good friendship since they established diplomatic relations in 2007.