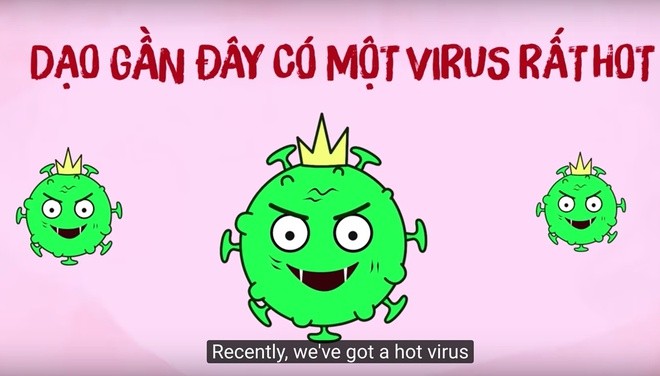 Screenshot from Ghen Cô Vy's video clip
According to Billboard, the governments of Vietnam, China and Mexico are among those attempting to take worried citizens' minds off the endless news updates through music.
In China, the nation where the virus originated, an all-star group of movie and music icons -- including Jackie Chan, Wang Leehom, Xiao Zhan and others -- have banded together for the soaring ballad "Believe Love Will Triumph." The song conveys message of belief, the side by side together to overcome difficult time.
Mexico's Mister Cumbia recorded "La Cumbia Del Coronavirus," which urges people to be careful, wash their hands and to not touch their faces. The song is so irresistible that a group of nurses in the country created a dance to go with the track.
Meanwhile, Vietnam's Ghen Cô Vy (Jealous Coronavirus) is commented a mix between humor and good information.
The pop song, a collaboration between musician and Vietnam's health ministry, has been viewed more than twelve million times on Youtube.
Music composer Khắc Hưng wrote the music and lyrics, and it is sung by popstars MIN and Erik. The song evokes the origin of the virus and good practices to protect against the disease like washing hands and not touching your face.
Besides, other songs mentioned by Billboard includes My Corona, Corona Virus, Torn, Don't Sneeze on Me Ye Gobshite (Coronavirus Song), Fight the Virus and Stupid Cough (parody of Lady Gaga's "Stupid Love").
VNF