Vietnam's Shortest and Most Mysterious River
The Vam Nao River (or Lao Vam) is a 6.5 kilometer river in An Giang Province, Vietnam. It's famous for being the shortest in Vietnam and being shrouded in mystery.
Vam Nao plays an important role for the Cuu Long River Delta in irrigation and transport by connecting the Tien River with the Hau River.
According to Southern folk language, "Vam" is the mouth of a small river that intersects with a large one. According to the old understanding, Vam is not called a river because it is not as large as a river. However, Vam Nao has a water width of 700 meters and a depth of more than 17 meters.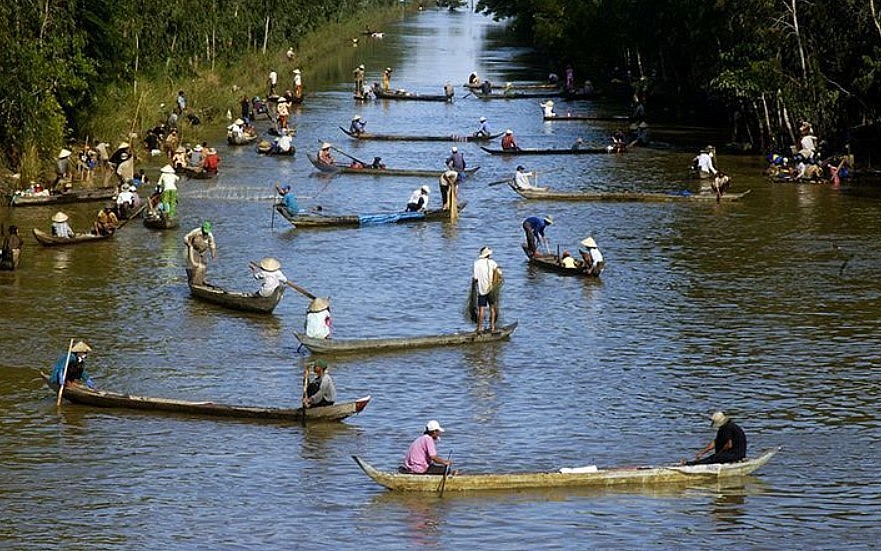 Photo: mytour.vn.
The 'monster fish' shelter
Most of the Vam Nao river belongs to Phu Tan district, and one bank is adjacent to Cho Moi district, An Giang province. It is considered an extraordinary river because it connects the Tien and Hau rivers, the two main streams of the Mekong River, flowing through the Mekong Delta.
Being wide and deep, the bottom of the Vam Nao river is also home to substantial freshwater fish such as catfish, pangasius, and freshwater stingray weighing more than 100 kg. Therefore, it is said to be a shelter of "monster fish" or "water monsters."
Having spent nearly a lifetime near the river, local Hai Ly, 80, said: 'The Vam Nao River has many deep places. The flow of water is fast, and the riverbed is deep with many cavities, so Vam Nao has dragged 'terrible' fishes, weighing hundreds of kilograms from the Mekong River to find shelters such as coral fish, catfish, flag fish, fish deer, manta rays, swordfish, sharks and crocodiles."
Tran Van Ky, 60, still fishes for halibut and reed cotton on the Vam Nao River.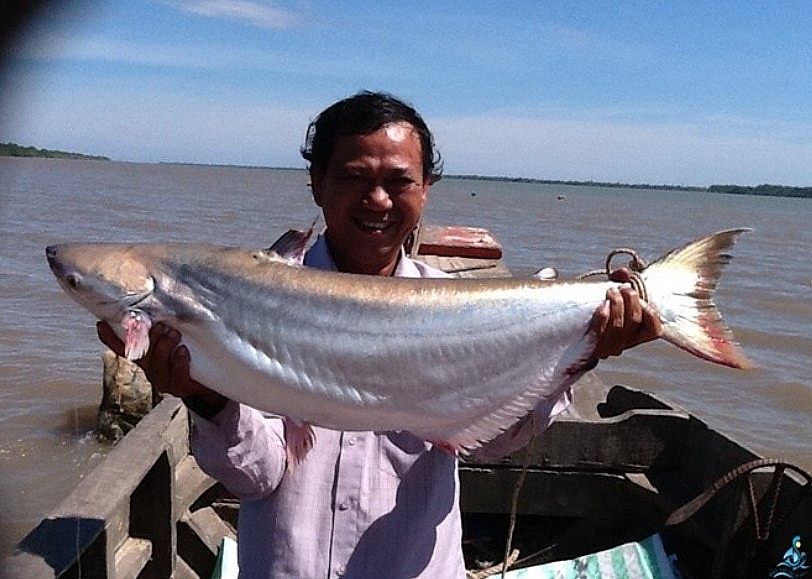 Yellow-tailed catfish is one of the speciality fish species of the Vam Nao river. Photo: science info
"Nearly 40 years in the profession hunting 'aquatic monsters' in the Vam Nao River, and I only caught a 104 kg giant barb. A few tens of kilograms of fish each cannot be counted. Strangely, the big fish and catfish often choose the deepest layer near the whirlpool to make a shelter. Therefore, to catch a big one, we have to make trade-offs and put our lives in danger," said Ky.
He also said though the Vam Nao river is still as aggressive as before, the giant fishes in the deep riverbed are increasingly absent and sparse. Sometimes he can only catch a few 5-10 kg fish, which is not bad but hardly monsters of the deep.
However, Ky is still determined to keep fishing on this special river until his hand is no longer strong enough to hold the oars.
Each trip to the sea brings both faith and hope that there will be better meals and money made so that the children can go to school. Each "night hunting" trip is something exciting to tell the grandchildren.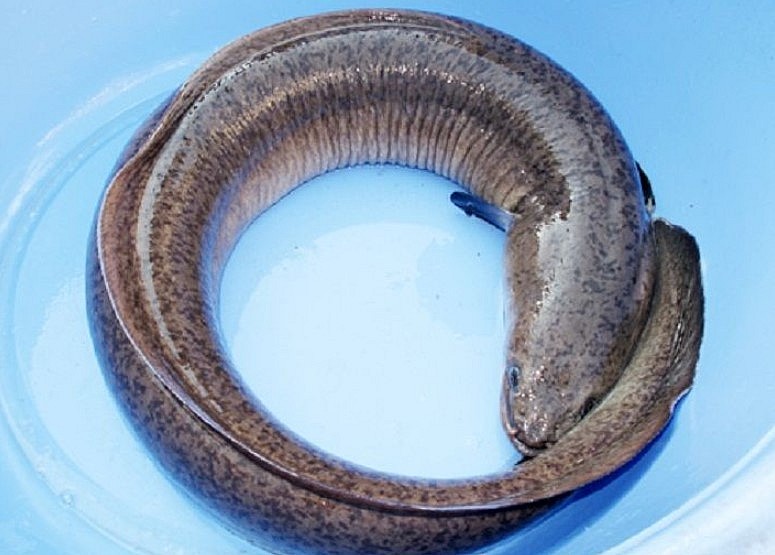 An eel weighing more than 8kg was caught by fishermen. Photo: mytour.vn.
The five-legged crocodile
Once upon a time, there was a water monster called Nam Cheo (a red crocodile with five legs). It was fed by a man called Dinh Tay who was a disciple of Buddha Tay An Doan Minh Huyen (the founder of the Buu Son sect).
The crocodile grew up fast, and one day it ran away to a residential area in Chau Phu district, to harass and harm others. Before allowing, Dinh Tay to go and collect the cruel animal, Buddha Tay An Doan Minh Huyen gave him five treasures, including two javelins, a trident, a rope, and a giant hook.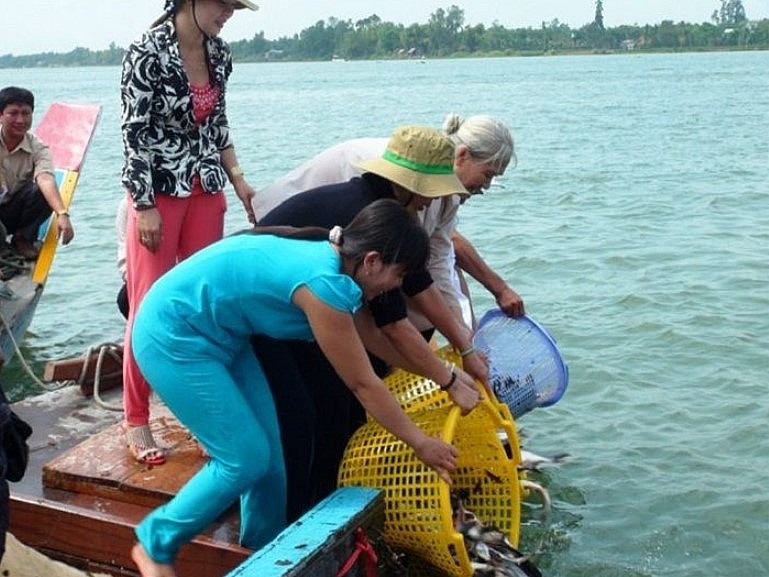 Small fish are put back in the river - Photo: mytour.vn.
Dinh Tay immediately went to the area whenever he heard that the crocodile had attacked people, but it had disappeared. Dinh Tay shouted: "Cruel animal, follow me to bear the sins, but if you repent and practice you can wait for the day of reincarnation, please do not harm good people."
From then, the Nam Cheo crocodile no longer harassed Lang Linh. But it is believed that it went to the Vam Nao River to hide. The crocodile's head is tilted towards the river mouth, so every time it moves, it creates whirlpools, swallowing boats passing through the river.
"My grandparents told me that the river is Vam Nao because when the flood season passes, this river junction looks like water flowing like a waterfall. Every boat is terrified and afraid of being overturned," said Hai Ly.
"So, there is a saying 'Who can find the Vam Nao boat'. In the Nguyen Dynasty, thinking the name sounded so sad, they changed its name to Thuan Giang, but it was still a dead river no matter what it was called. In the years of great flooding, many boats on the Vam Nao sunk, and every few days you could hear a cry for help."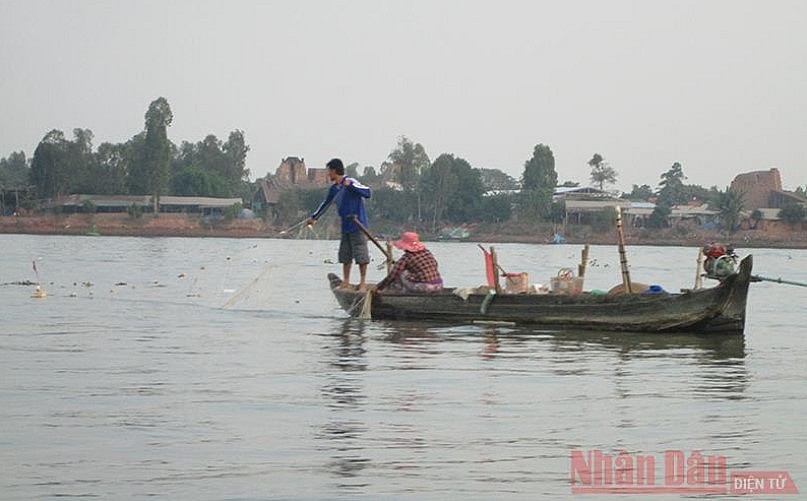 Drop nets to catch cotton fish on Vam Nao River (An Giang). Photo: nhandan.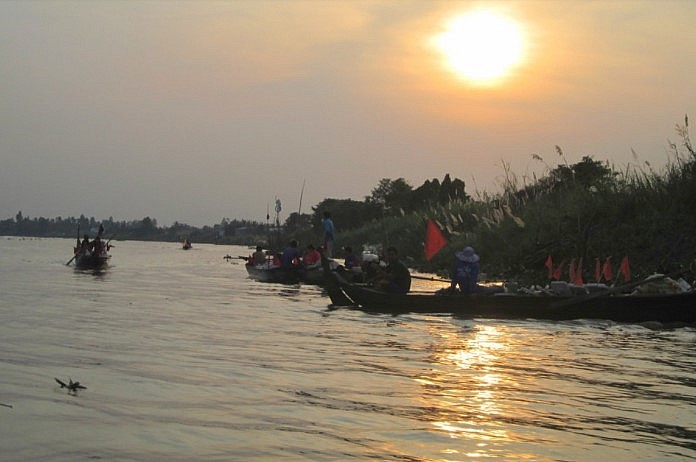 A corner of Vam Nao at sunset. Photo: THANH DUONG.
Due to the rapid water flow, the Vam Nao river banks often have horrifying landslides. People say it is the crocodile swinging its tail.
According to former fishermen in Vam Nao, when the water begins to turn from green to crimson, the current becomes more aggressive. This is also the beginning of the flood season in the upper Mekong River, which lasts until the 10th month of the lunar calendar. At that time, shipwrecks often occurred by the whirlpool where the Tien and Hau rivers meet.
What Is The Highest Mountain In Vietnam?

Mount. Fansipan, also known as the "Roof of Indochina", is the highest peak in Vietnam. It is one of the must-visit destinations, with a breathtaking experience ...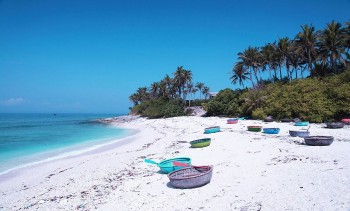 Travel
With more than 2000 miles of coastline, Vietnam brims with secluded coves, white sands, and waters fit for snorkeling. Crystal blue water, sandy beach, and bright sunshine, Vung Tau, and Nha Trang are voted among the most beautiful beaches by TikTok users.