Vietnam's socio-economic performance in Jan-May period
Four out of Viet Nam's eight major indicators witnessed year-on-year decrease, in which inbound tourism experienced the steepest fall of 48.8% in the first five months this year, official data shows.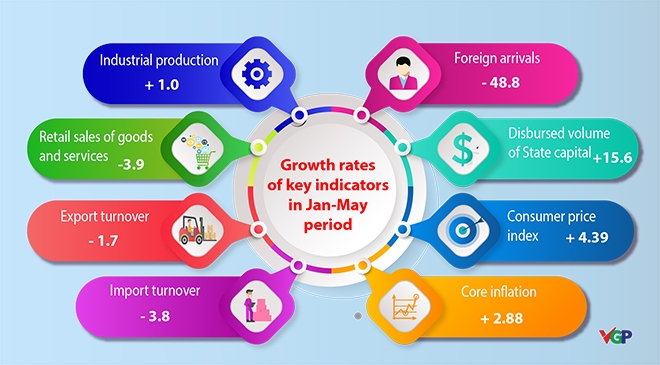 (Photo: VGP)
Of the total, 72.9% tourists were from Asia, down 51.4%. The fall was seen in almost all major markets, such as China (-57.2%), Malaysia (-53.9%), the Republic of Korea (53.4%), Japan (-48.2%), France (47.5%), the UK (-44.3%), and Russia (-23.2%). Tourism revenue was estimated at VND 8.3 trillion, down 54.1%.Due to the serious impacts of the COVID-19 pandemic, foreign arrivals to Viet Nam fell by 48.8% to 3.7 million in the reviewed period, the General Statistics Office said Friday.
Export-import
The GSO said export turnover reached US$99.36 billion, down 1.7%year-on-year. The domestic sector's export value was US$33.3 billion, up 10.4% compared to the same period last year, while the FDI sector's exports, including crude oil, were valued at US$66.06 billion, down 6.9%.
Commodities seeing strong growth in export value during the period included machinery, equipment, tools, and spare parts with 25%; computers, electronic products, and components with 22.1%; rice with 17.2%; coffee with 2.9%; and cashew nuts with 2.2%.
Those with declining turnover were telephones and components (8.8%), textiles (14.5%), footwear (4.6%), fruit and vegetables (10.3%), rubber (29.6%), and pepper (17.9%).
Meanwhile, import value reached US$97.48 billion, down 3.% year-on-year, the GSO said.
The US was the largest importer of Vietnamese goods in the period, with turnover reaching US$24.6 billion, up 8.2%. It was followed by China with turnover of US$16.3 billion, up 20.1%.
Viet Nam's exports to the EU and ASEAN fell 12% and 13.4%, with turnover of US$12.9 billion and US$9.4 billion, respectively.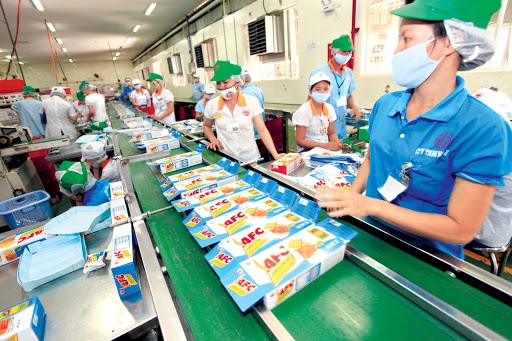 Export turnover reached US$99.36 billion (Photo: VietQ)
Foreign investment
The Southeast Asian country lured a total of US$13.9 billion in foreign investment, down 17% from the same period last year.
There were 1,212 newly-registered projects capitalized at US$7.4 billion, down 11.1% in number and up 15.2% in capital.
Among 58 countries and territories having new projects in Viet Nam, Singapore was the largest investor, with more than US$4.3 billion, followed by Chinese Taipei with US$743 million, China with US$694 million, Hong Kong (China) with US$500 million, and the Republic of Korea with US$441 million.
The disbursed volume of FDI decreased by 8.2% to US$6.7 billion as of May 20, of which over US$4.9 billion went to processing and manufacturing sector.
Consumer price index
The consumer price index in May shrank by 0.03% against the previous month but rose by 4.39% from the same period last year.
Four out of the 11 commodity groups experienced price reductions, with transport (2.21%), culture, entertainment and tourism (0.02%), post and telecommunication services (0.02%), and garment-headwear-footwear (0.01%).
Meanwhile increases were seen in prices of restaurant and catering service (0.34%); beverage and tobacco (0.25%); housing and building material (0.25%); other commodities and services (0.07%); household appliances (0.05%); and medicine and medical services (0.04%).
FDI in Vietnam bounces back in May

Due to travel restrictions, disbursement of FDI projects in Vietnam totaled US$6.7 billion in the first five months of 2020, while the FDI in May ...
chinhphu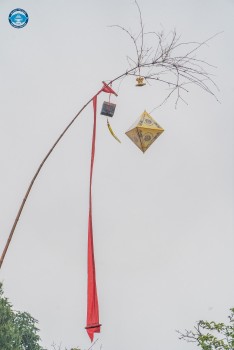 Viet's Home
In the past, the Neu pole (a tall bamboo pole with red garment strips used to ward off evil spirits during the lunar New Year) lowering ceremony at the royal palace of the Nguyen Dynasty was performed to mark the end of the New Year holiday and prepare to enter a new working year.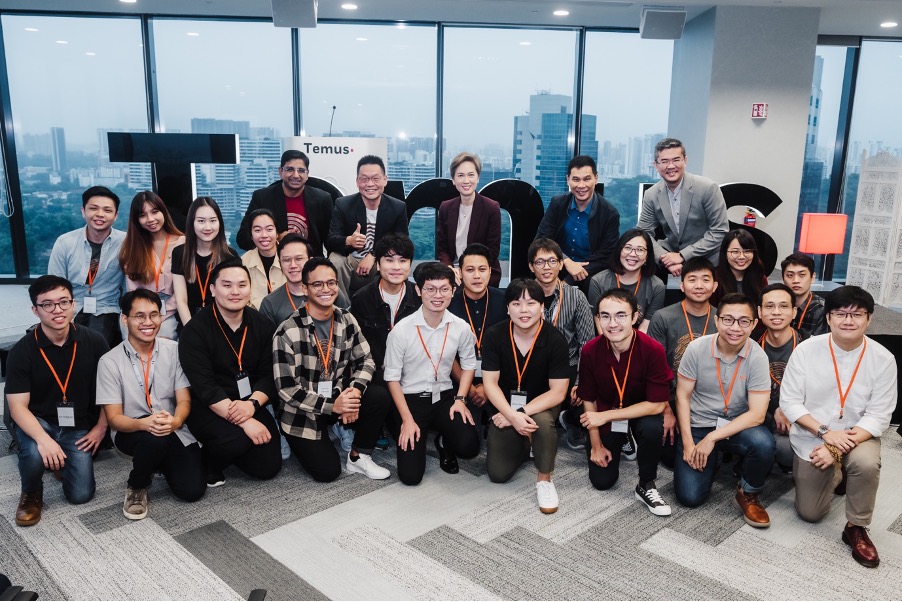 Economy
Singapore's Minister for Communications and Information Mrs Josephine Teo officiated the launch of Temus' Step IT Up programme, supported by Infocomm Media Development Authority's (IMDA) under Techskills Accelerator (TeSA) initiative, for public sector agencies and private companies to jointly 'place and train' people for tech roles in under five months.
January 26, 2023 | 14:00