Vietnam hailed for good economy, stable politics: Japanese business executive
Mr Eto Shinji, General Manager of Japanese building product distributor JUTEC Corporation's Overseas Business Department, has said that Vietnam is a potential and emerging market, with low risks, good economy and stable politics.
"That's why we decided to go there. That was in 2015," he noted in an interview granted to the Vietnam News Agency's correspondent in Tokyo recently.
According to him, at first, his company tried to sell Japanese building materials in the Vietnamese market. But unfortunately, the way of building houses in Vietnam is totally different from Japan's one, and thus, building materials used in Vietnam are totally different from those used in Japan.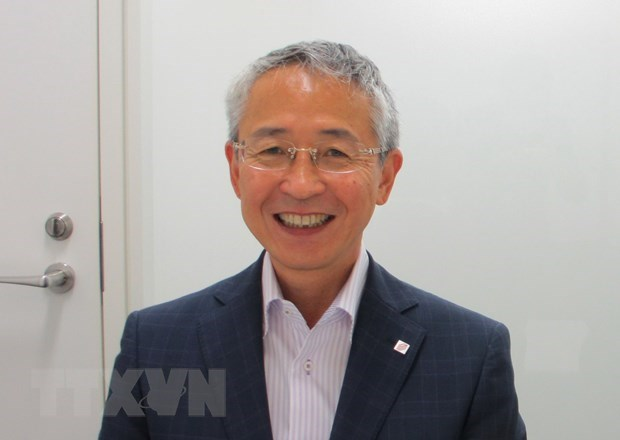 Eto Shinji, General Manager of Japanese building product distributor JUTEC Corporation's Overseas Business Department (Source: VNA)
"We had tried to sell our products to those who have special technical knowledge of Japan, but it was not easy. As a result, we changed our mindset to adapt to the market and then, decided to enter its real estate market because we thought that there is a close link between the two markets," he said.
Despite that fact, Eto Shinji went on to say that his company will return to Vietnam's building material market in the future because the rich in your country is getting bigger and Vietnamese people prefer Japanese products and companies.
"We understand that the chance for that business is coming soon, maybe in five years or 10 years. We strongly believe so," he said.
Regarding JUTEC Corporation's establishment of a joint venture with ISN Real Estate Management JSC. (ISN REM), an affiliate of the ISN Corporation, Eto Shinji said his company chose this partner since ISN REM is the only company that is targeting to Japanese people living in Vietnam, and it has a great network of for-rent condominium owners. Additionally, its manager, who was educated in Japan, has deep knowledge of Japanese people's taste.
Eto Shinji revealed that on May 25, JUTEC Corporation got an investment certificate from the Hanoi Department of Planning and Investment to set up the joint venture. Its registered capital is 20 billion VND, of which the Japanese company owns 50 percent.
Its main business is to lease houses and offer Japan-standardized condominium management and operation services to foreign customers, especially Japanese nationals who are currently living and working in Vietnam.
"Thus, we want to cooperate with Vietnamese tenants who want to rent their apartments or condominiums to Japanese nationals living in the country, he said.
The other business is to distribute Japanese building materials in the market, he said,a dding that the firm now has one showroom in Ho Chi Minh City.
"For this, we want to provide Japanese-style building materials solutions for homebuilders in Vietnam so that to increase their houses' value," he noted.
dangcongsan