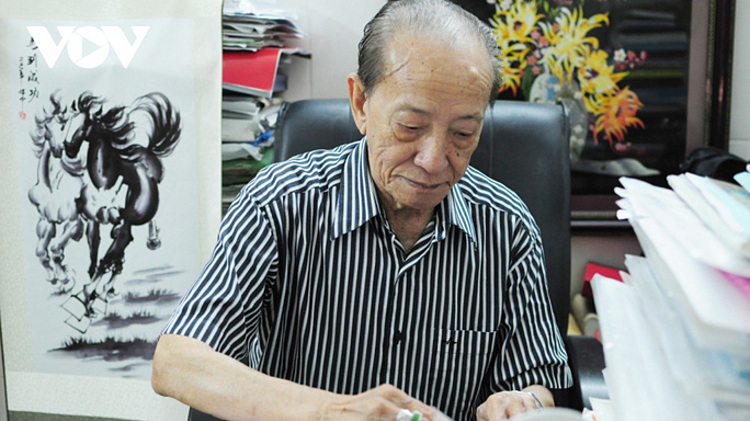 Professor Nguyen Tai Thu. Photo: VOV
Professor Nguyen Tai Thu, Vietnam's top acupuncturist, passed away on February 14 morning in Hanoi.
Thu was awarded the titles "People's Doctor" and "Vietnam Labor Hero" by the State President in 1995 and 2000, respectively, according to VnExpress.
The professor was born in 1931 and started his acupuncture career in 1952 in China. In 1967, he founded the Vietnam Acupuncture Association, which was the foundation of the Central Acupuncture Hospital in Hanoi.
Thu worked as director of the hospital from 1980 until 2007. He organized more than 500 training classes for medics across the country.
Author of dozens of books on acupuncture and Oriental medicines, Thu greatly contributed to the development of Vietnam's acupuncture and traditional medicine sectors. His studies and researches are guidelines for a myriad of medics.
Thu's acupuncture methods, especially his techniques used to substitute or supplement anesthetic in surgery and detoxification for drug addicts, have been successfully applied in Vietnam and introduced to nearly 50 countries.
His technique of analgesia acupuncture has been applied for more than 100,000 operations.
Thu is a master of a new kind of acupuncture, called New Acupuncture. It is an acupuncture technique of using long and big needles to connect acupuncture points and body meridians. The New Acupuncture has proven effective treatment for diseases such as paralysis, stroke, obesity, cerebra vascular accident, etc.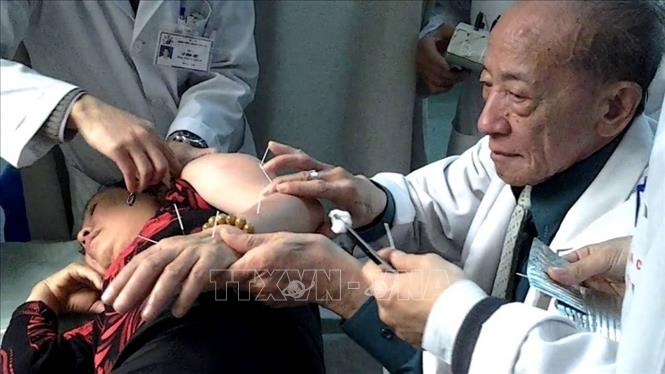 Thu's acupuncture methods have been successfully applied in Vietnam and introduced to nearly 50 countries. Photo: VNA
"Acupuncture is a traditional medical treatment with low prices and does not require modern equipment. It brings efficiency and treats many acute and chronic diseases," Thu was cited by VnExpress as saying.
In 2006, he was awarded Honor Degree by the Autonomous University of Zacatecas (UAZ) in Mexico in recognition of his contribution to the development of acupuncture in health treatment in this country.
He was also Vice President of the World Federation of Acupuncture Societies, President of Vietnam National Acupuncture Association, and President of Vietnam Relief Association for Disabled Children.
Devoting his life to teaching and practicing acupuncture, Thu said his greatest happiness is to see patients recover after being treated and to promote Vietnam's invaluable traditional medicine to the world, according to Sai gon Giai phong (Liberated Saigon) newspaper.
His funeral will be held at the National Funeral Home at 5 Tran Thanh Tong Street, Hanoi, according to his family./.
Rosy Huong