Vietnam's west attract visitors with exotic game on "monkey bridge"
When participating in this game, the participant who climbs to the top of the bamboo bridge will receive an award.
The "monkey bridge" is a kind of bamboo bridge without handrails, very difficult to walk and dangerous for those who are not used to it. This type of bridge is still very popular in the Mekong Delta because there is an intricate system of canals.
There are many different opinions about the name of the monkey bridge. According to Dan Sinh, the image of people crossing the bridge without handrails looks very funny, and easily remind people of monkeys using their hands as a fulcrum to move. Meanwhile, according to VOV, the name of the monkey bridge is derived from the small shape of the bridge, making "only monkeys can pass".
In today's modern life, the monkey bridge in the southwestern region is gradually changed and "transformed" into the broad and stable concrete bridges. However, the monkey bridge is still a traditional culture associated with the West side of Vietnam.
Recently, VN Express published an article about the game in the West to win prizes. Accordingly, players need to climb to the top of a small monkey bridge made of only a bamboo tree and get the bonus hanging at the highest point on the bridge.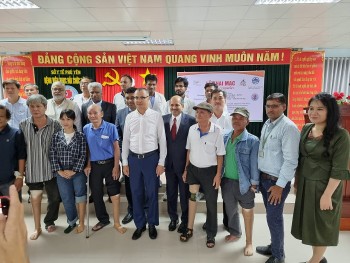 Friendship
This is the 5th time the Jaipur Foot Artificial Limb Fitment Camp has been held in Vietnam since 2018 by the Indian Ministry of Foreign Affairs, Indian agencies and organizations.