Violence emergency response team launched in Yen Bai, Nghe An provinces
With the support of Hagar Vietnam and the Women's Union of Yen Bai and Nghe An provinces, Emergency Response Teams from four communes: Minh An, Binh Thuan of Yen Bai province and Quynh Thang, Quynh Luong of Nghe An province were officially launched.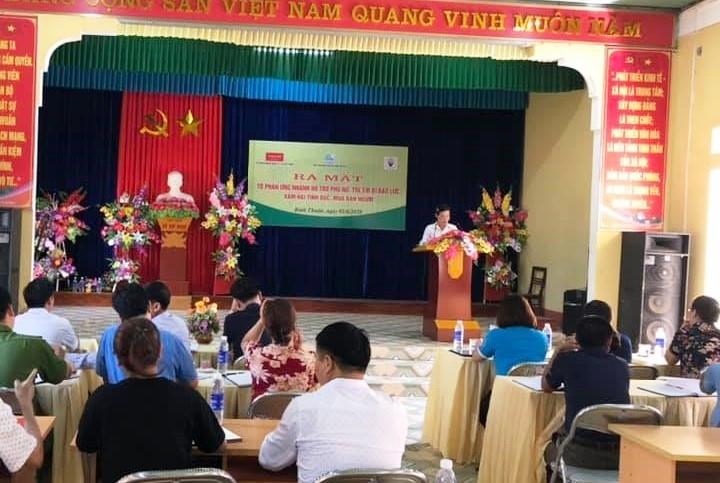 At one of the launching ceremony, Photo: Hagar Vietnam
The objective of the Emergency Response Teams is to intake information and handle cases of domestic violence, human trafficking and sexual abuse in the fastest way. Therefore, there will be appropriate supportive services for survivors to protect their legitimate rights and benefit.
The Emergency Response Teams work under the approach: QUICK on time; DETERMINED about attitude and MULTI-SECTOR COOPERATIVE in dealing with cases.
The 15 members in Emergency Response Teams include representatives of the government, mass organizations at the commune, village heads and key opinion leaders in the community.
This is also the core force of the project "Building capacity of duty bearers and beneficiaries to improve access to services for women and children survivors of intimate partner violence and non-partner sexual violence and change community's attitude and behavior towards violence against women" funded by the UN Trust Fund to End Violence against Women (UNTF).
The project is implemented in four communes of Yen Bai and Nghe An with the main activities: establishing a "rapid response group", setting up equal groups and organize training courses, awareness raising campaigns in many diverse and diversified forms.
The specific objective of the project is to help 100% of women and children who experience violence, sexual abuse and human trafficking in the project area, increase their access to multi-sectoral support services, counselling, counselling, education, vocational training and training of necessary life skills. At the same time, it aims to improve public awareness and attitudes about violence against women and children through community and school communication campaigns.
Hagar is a specialist trauma-informed care agency that works primarily with women and children who are suffering from trauma as a result of human trafficking, slavery and abuse in Cambodia, Afghanistan, and Vietnam. Hagar International in Vietnam (Hagar Vietnam) was launched in 2009 in response to the growing magnitude of violence and human trafficking, as well as the severe lack of services available for victims/survivors in Vietnam.
For more than 10 years in Vietnam, Hagar has been working for one mission that community free and healed from the trauma of domestic violence, sexual abuse, and human trafficking. As a specialist in trauma-informed Care, Hagar provides comprehensive and free services for each individual to recover and thrive, including Safe accommodation; Health care; Legal aid; Psychological counseling; Career orientation, vocational training and job placement; as well as Education support and life skills training./.