Visit Charming Bali – The Tourist Heaven Of Indonesia
Bali is a precious gem of Indonesia and is also a tourist destination. The place attracts many people from around the world for its natural beauty, sacred temples, colorful festival, and secluded sandy beaches.
Bali is a province of Indonesia and the westernmost of the Lesser Sunda Islands. East of Java and west of Lombok, the province includes the island of Bali and a few smaller neighboring islands, notably Nusa Penida, Nusa Lembongan, and Nusa Ceningan. The provincial capital, Denpasar, is the most populous city in the Lesser Sunda Islands and the second-largest, after Makassar, in Eastern Indonesia. The upland town of Ubud in Greater Denpasar is considered Bali's cultural centre. The province is Indonesia's main tourist destination, with a significant rise in tourism since the 1980s. Tourism-related business makes up 80% of its economy.
With its beautiful beaches, colorful festivals, historical sites, and wonderful culture, Bali is considered one of the tourist heavens of Southeast Asia.
A brief history of Bali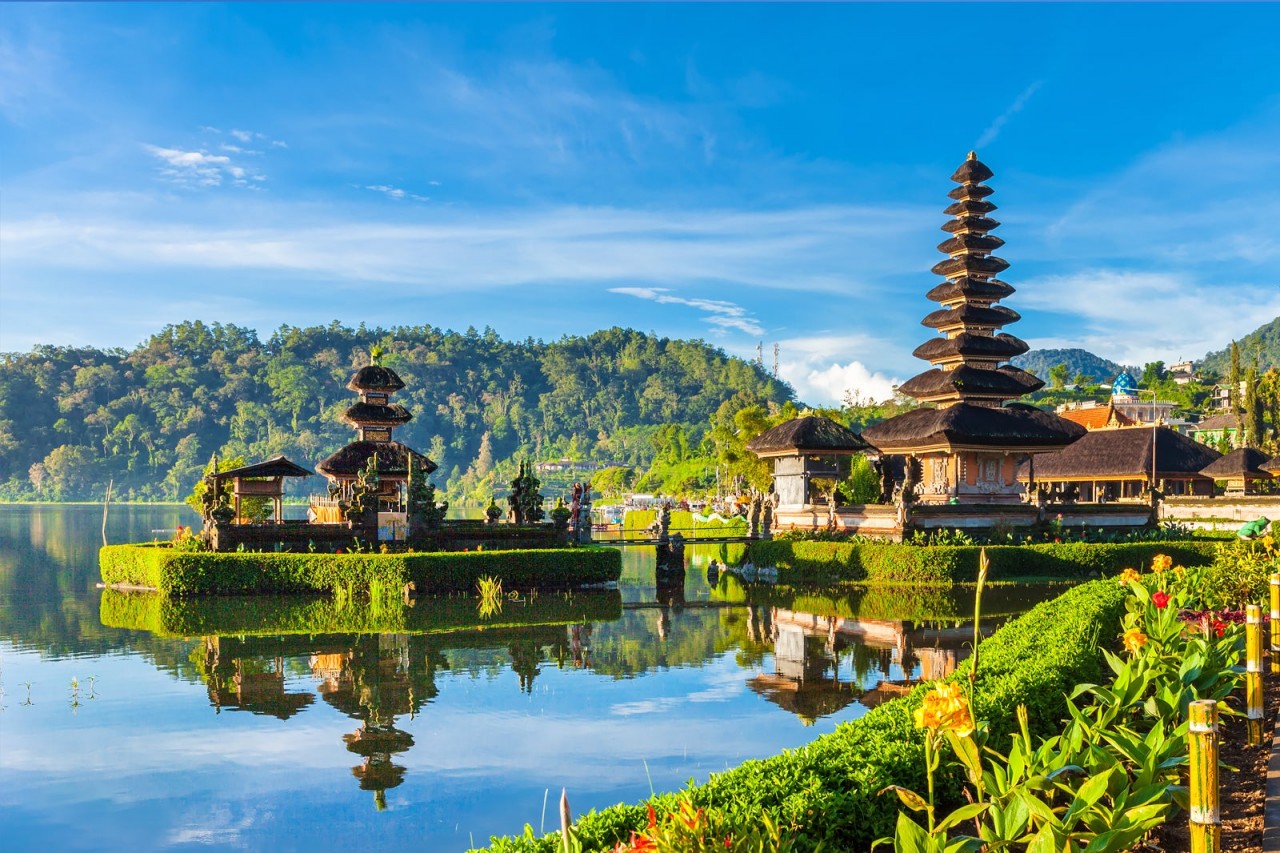 Photo: Hotels Australia
Bali was a more or less independent society of Buddhists and Hindus until the fourteenth century when it was colonized by the Hindu Majapahits from neighboring Java. Despite the subsequent Islamicization of nearly all her neighbors, Bali has remained firmly Hindu ever since.
In 1849, the Dutch started to take an interest in Bali, and by January 1909 had wrested control of the whole island. Following a short-lived Japanese occupation in World War II, and Indonesia's subsequent declaration of independence in 1945, Bali became an autonomous province within the Republic in 1949. But tensions with Java are ongoing and there is concern about wealthy entrepreneurs from Jakarta (and the West) monopolizing the financial benefits from Bali's considerable attractions. The Balinese fear they may lose control of their own homeland.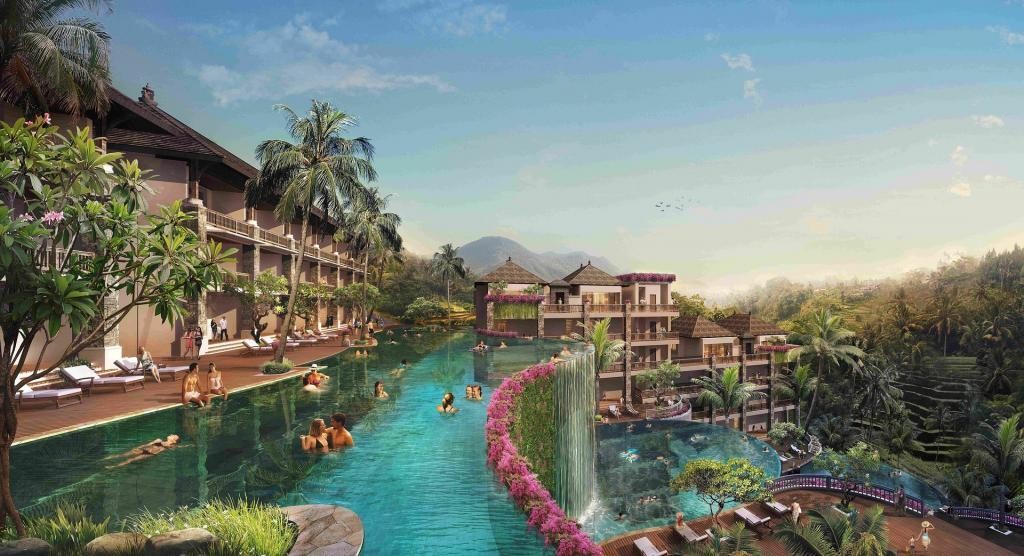 Photo: Travel Dudes
These tensions were horrifically highlighted when Muslim extremists from Java bombed Kuta's two most popular nightclubs on 12 October in 2002, killing more than 200 people and sending Bali's tourist-dependent economy into severe decline. A second attack, in October 2005, came just as the island was starting to recover. Reprisals and religious conflict did not ensue, however, due in part to Bali's impressively equanimous Hindu leadership.
Tourist numbers have since recovered, and since 2010 a renewed interest in Bali travel has seen arrivals rise exponentially, fuelled by a boom in numbers from China, Russia, and other Asian countries. Consequently, a construction frenzy has resulted in urban sprawl and traffic congestion across southern Bali and around Ubud. But head north and west for fewer crowds and wilder beaches or slip into the cool of the mountains to escape the hordes and the heat. Travel to Bali has never been more rewarding, with an intoxicating mix of beautiful beaches, lush countryside, rich cultural heritage, and independent shops.
What is the best time to visit?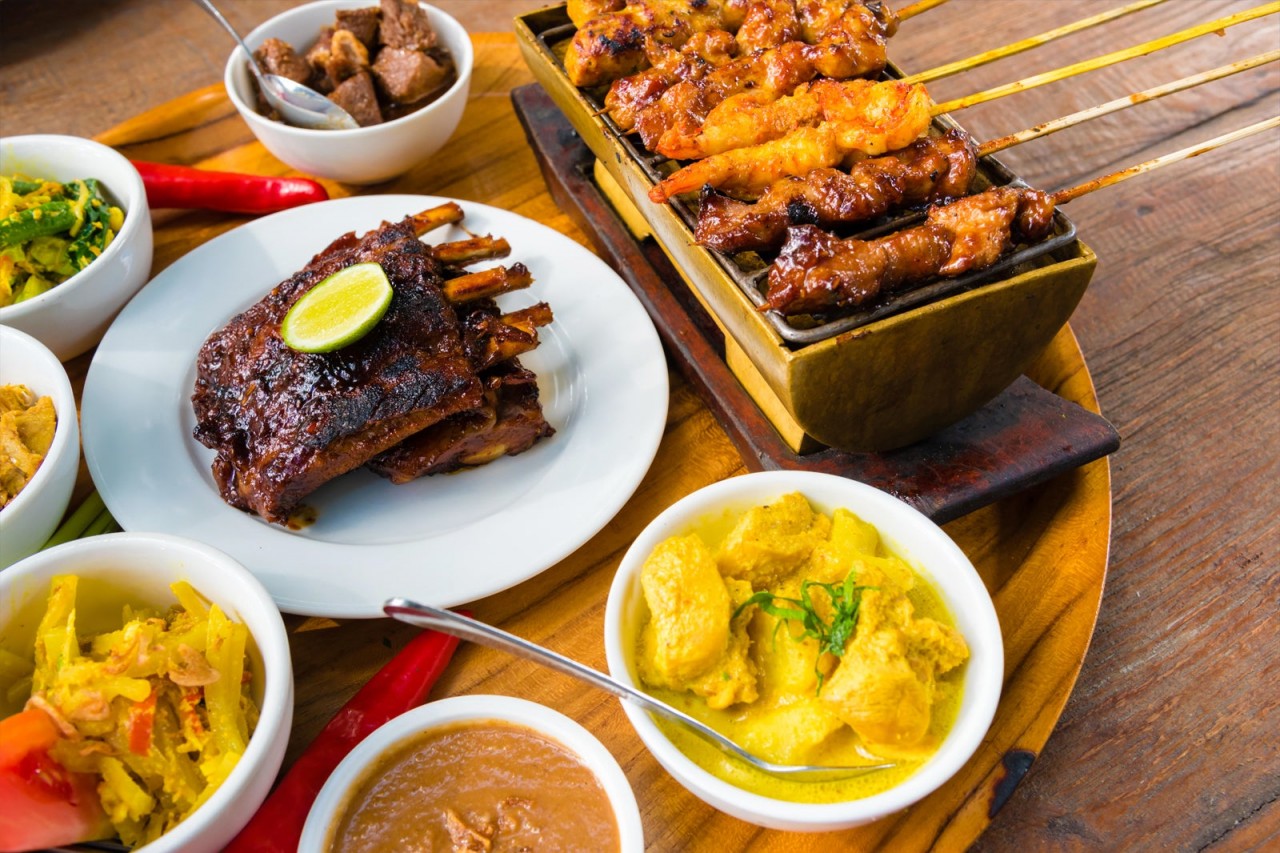 The cuisine of Bali. Photo: Hotels
Bali is busiest during America's summer holiday and festive season, while the low season falls over the rainy months of November to March. Because Bali, unlike the rest of Indonesia, is predominantly Hindu, Ramadan does not affect tourism much. The biggest holiday of the year is Nyepi, which involves fantastical parades of men and boys hauling ogoh-ogoh (huge handmade demon dolls) the night before a 24-hour silent day, on which even the airport falls quiet and planes don't take off or land, and the use of electricity and vehicles is forbidden. For that period, tourists must stay on the grounds of their accommodations, but it's a beautiful opportunity to experience Balinese culture as well as epic stargazing. Surfers will find the best waves on the west coast of Bali from May to October, at which point the winds shift and it improves on the eastern side.
Discover wonderful beaches in Bali
Amed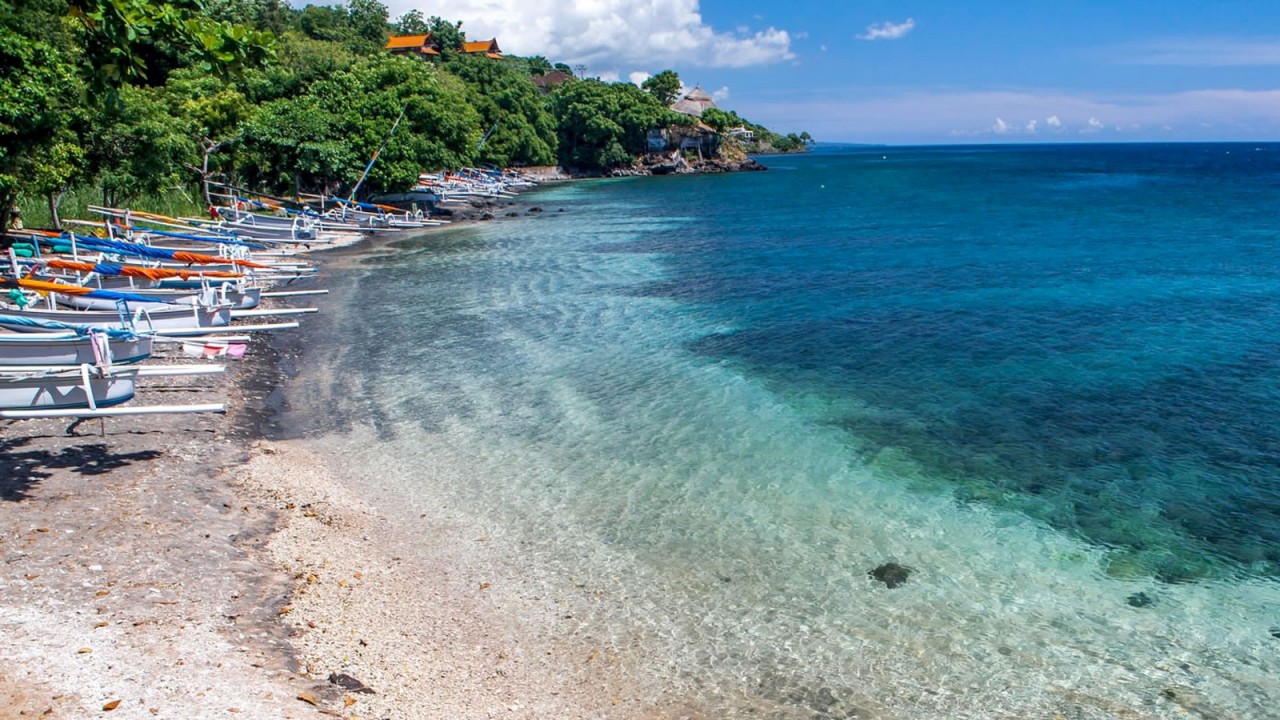 Photo: Wira Water Sports Bali
You'll find one of the best beaches in Bali situated on the northeastern coast. A remarkable black-sand beach, Amed's most beautiful feature is found above its onyx base and beneath the translucent turquoise water. A healthy garden of corallines the ocean floor, rewarding visitors to this top beach with a spectacular show of vibrant colors and unique ocean life.
As a result of this thriving aquatic environment, diving and snorkeling top the list of things to do at this stunning beach. A historical shipwreck only adds to the mystical allure.
Above ground, you'll spot volcanoes sprouting up towards the sky and local jukung fishing boats floating in neat rows close to shore. You'll find plenty of accommodation in nearby Cadidasa, a captivating 40-minute drive south. Wear water shoes or sandals, as the beach is rocky, according to Planetware.
Sanur
The waters of Sanur are protected by a long string of offshore reefs, creating large, warm shallow, safe lagoons that are perfectly clear and excellent for swimming, snorkeling, and a whole array of water sports. Surfers will be pleased to know that the reefs around Sanur produce some of the best waves in the world in the right conditions although they can be very shallow at low tide. But there are more consistent waves beyond the reefs good for surfing.
Sanur is also the launching pad for visitors who want to dive and explore the splendors of the nearby island of Nusa Lembongan. Nusa Lembongan is approximately 8 square km in size and is one of three neighboring islands, the others being much the larger Nusa Penida and tiny Nusa Ceningan.
Many areas around the island are good for diving and snorkeling, with abundant marine life and healthy corals. Surfing can get a bit crowded, but the waves are good. There are several white sand beaches away from the main centers which are virtually never crowded.
As a place where tourism first flourished in Bali, Sanur has some of Balis' historic hotels. There are a lot of restaurants and cafes along the coastline. For budget meals, you may want to try the Pasar Malam (Night Market) at the northern end of Jalan Danau Tamblingan where it meets Jalan Pungutan, according to Indonesia Travel.
Seminyak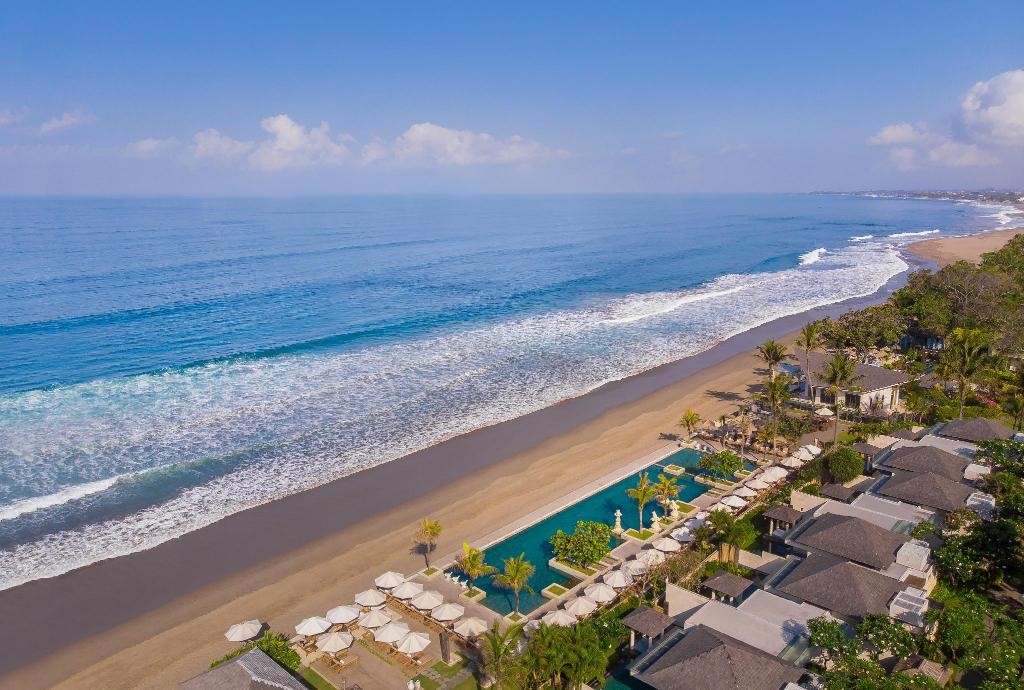 Photo: Agoda
Fabulous Seminyak is the centre of life for hordes of the island's expats, many of whom own boutiques, design clothes, surf, or do seemingly nothing at all. It may be immediately north of Kuta and Legian, but in many respects, not the least of which is its intangible sense of style, Seminyak feels almost like it's on another island.
It's a dynamic place, home to scores of restaurants and clubs and a wealth of creative, designer shops and galleries. World-class hotels line the beach, and what a beach it is – as wide and sandy as Kuta's but less crowded.
Seminyak seamlessly merges with Kerobokan, which is immediately north – in fact the exact border between the two is as fuzzy as most other geographic details in Bali. You could easily spend your entire holiday in Seminyak, according to Lonely Planet.
Legian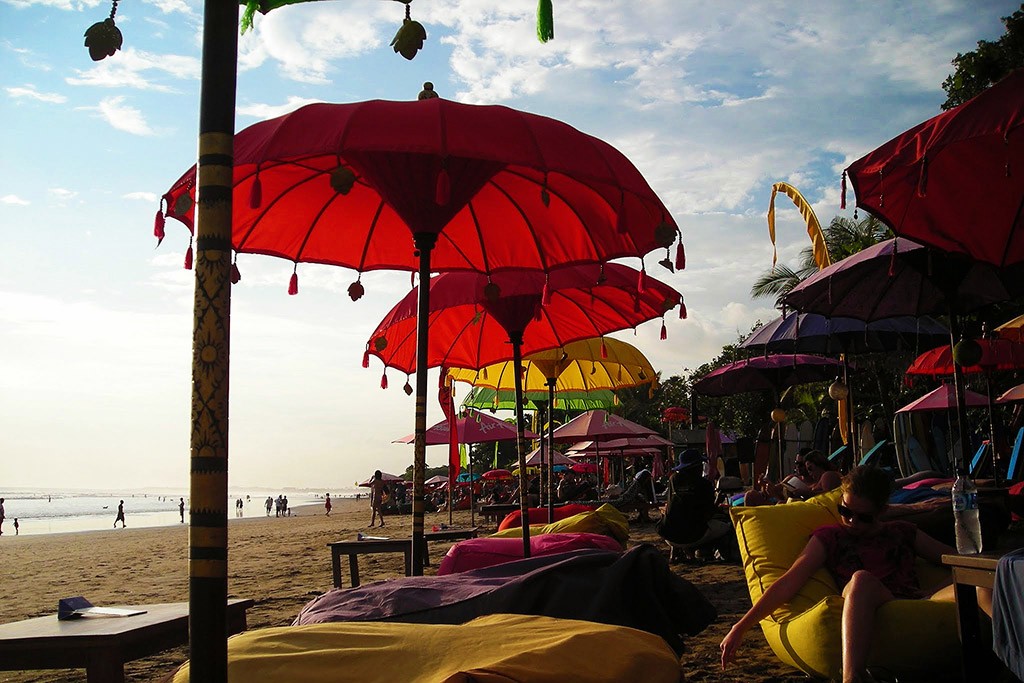 Photo: a travel blog by renata green
Strategically located between Kuta and Seminyak with more of a laid-back atmosphere. A quiet neighborhood in the middle, Legian has a nice beach for experienced surfers and accommodates mostly mid-range and budget travelers
Legian is an extension of Kuta as both areas share pretty similar vibes, although most people find it hard to identify what is considered a part of Kuta or Legian. However, the one big difference between these two is that Kuta is more likely to attract people during the day, while Legian shines more during the night. The main roads of Legian are home to popular mega-clubs that host fantastic DJ performances.
Unlike other places on the island that would normally charge high prices for alcohol, most of the clubs, pubs, and bars in Legian relatively serve ultra-cheap drinks to cater to younger crowds. This includes accommodation, food, and everything else being generally affordable in Legian. It makes this area perfect for those traveling on a budget.
The sacred temples of Bali
Tanah Lot Temple
Tanah Lot Temple is one of Bali's most important landmarks, which is famed for its unique offshore setting and sunset backdrops. An ancient Hindu shrine perched on top of an outcrop amidst constantly crashing waves; Tanah Lot Temple is simply among Bali's not-to-be-missed icons.
Of all the Bali temples, Tanah Lot is the most popular one to visit. This scenic sea temple situated on the top of an outcrop lets you witness the best sunsets on the island, and keeps you entertained with restaurants, shops, and a cultural park that showcases regular dance performances. Hands down, it is one of the best tourist attractions in Bali.
Must Witness: Heirloom pilgrimage parade that takes place five days prior to the temple's anniversary, the gorgeous sunset, panoramic views, and other cultural offerings.
Uluwatu Temple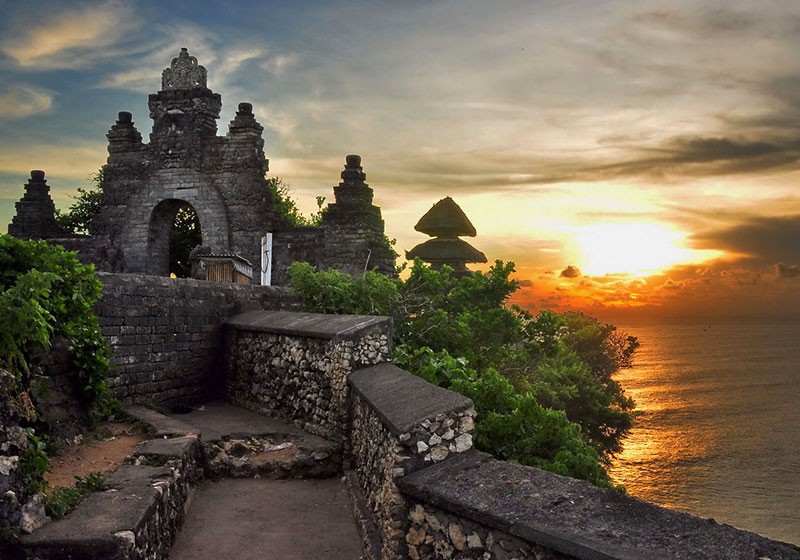 Photo: Asia Travel Gate
Uluwatu Temple, or Pura Luhur Uluwatu, is renowned for its magnificent location, perched on top of a steep cliff approximately 70 meters above the waves. As one of the 6 key temples considered to be Bali's 'spiritual pillars', Uluwatu also shares the splendid sunset backdrops as that of Tanah Lot Temple, another important sea temple that graces the island's western coast.
Pura Luhur Uluwatu is definitely one of the top places in Bali for witnessing a delightful sunset, with direct views overlooking the beautiful waves of the Indian Ocean and daily Kecak dance performances held at an amphitheater nearby. Balinese architecture, traditionally-designed gateways, and ancient sculptures all add to Uluwatu Temple's appeal.
Besakih Temple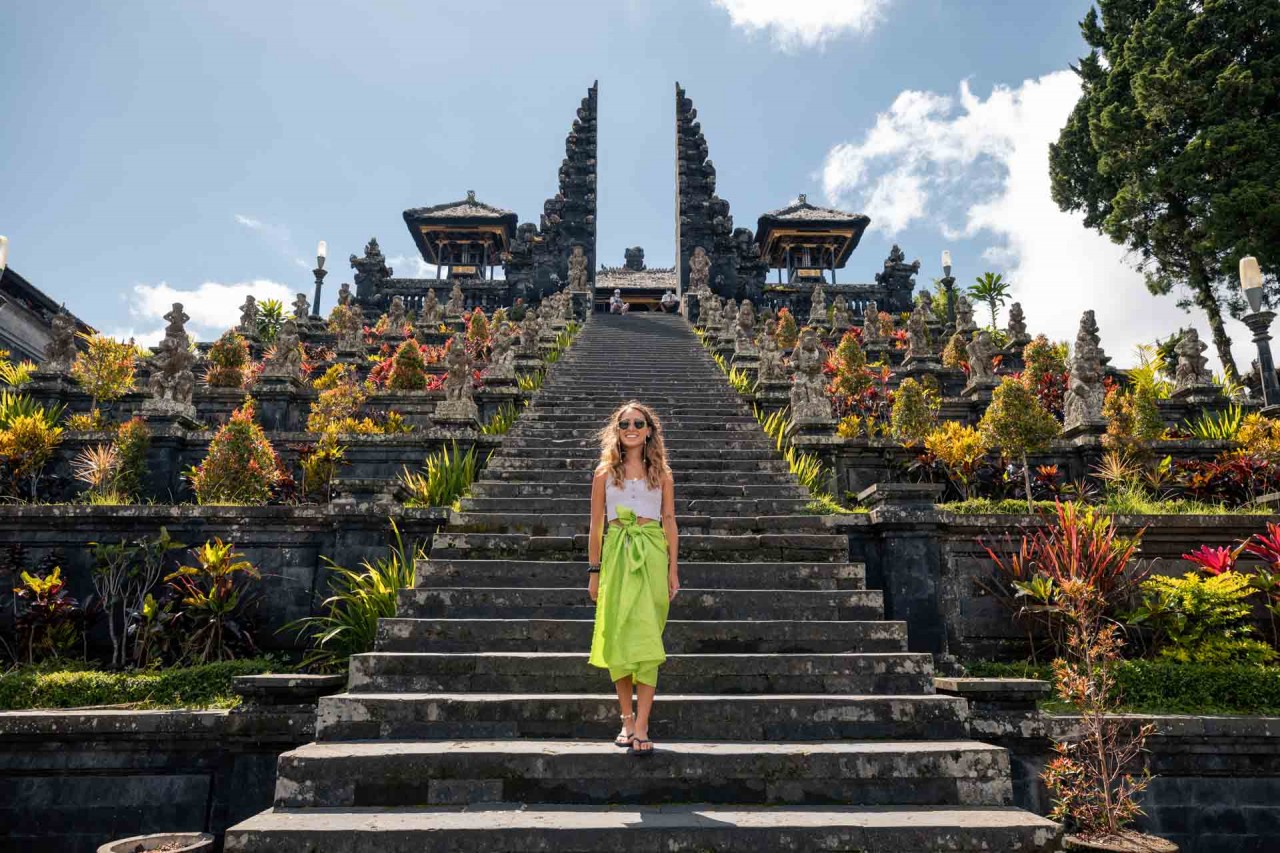 Photo: Jonny Melon
Rising majestically on the western slopes of Mount Agung, and referred to as the Mother Temple of Hindu Bali, is Pura Besakih, or the Besakih temple, covering a vast area that offers breathtaking mountain scenery surrounding this beautiful and artistic temple complex.
Facing Mt. Agung's highest peak, believed to be the abode of the gods, and located at an altitude of 900 meters, Pura Besakih is built in the village of Besakih, in the eastern part of Bali. The name Besakih comes from the word "Basuki", derived from the word "Wasuki" which means Salvation in the classical Sanskrit language. Whereas, in the Samudramanthana mythology, the same name "Besuki" in fact refers to the Dragon-God "Naga Besukian", who inhabited Gunung Agung, the main volcano in Bali.
This grand temple complex has been revered as a holy place since ancient times. The first recorded mention of its existence comes from an inscription dating back to 1007 AD. It is known that since the 15th century Besakih was regarded as the central temple of Hinduism in Bali.
Pura Penataran Agung, or the "Great Temple of State" is the center of the temple complex and is Bali's main place of worship, a complex comprising twenty-two temples on six rising terraces set on parallel ridges.
Top activities to enjoy in Bali
Diving
Divers from across the world travel to Bali for its pristine underwater landscape. Among the island's best diving sites are the famous Liberty wreck and Nusa Penida, whose limpid waters are home to manta rays and giant sunfish. Just off the coast, the tiny Gili islands offer dives for experienced divers, including walls, a pinnacle, and the dramatic Tepekong Canyon.
Surfing
One of the finest surfing destinations in Indonesia, Bali has an enormous variety of first-class waves and perfect breaks. The Bukit peninsula, just south of Kuta, tests intrepid surfers with its world-class breaks, most famously at Uluwatu and Padang Padang.
Trekking
If you're traveling to Bali for adventure, there is nothing more exhilarating than a volcano hike. The most popular is scaling the smoldering rim of Gunung Batur, taking in otherworldly peaks and silver-turquoise crater lakes along the way, while the challenging Gunung Agung is only for the very fit.
Festivals
The island comes alive with vibrant festivals and mystifying rituals throughout the year. Highlights include Galungun Bali, a 10-day celebration of the victory of good over evil, and Nyepi, the major purification ritual for islanders.
Cycling
The lush countryside surrounding Ubud is ripe for exploration. Hire a bike to weave past emerald-green rice paddies and call by pretty villages where locals create artisan wares as they have for years.
Kuta Karnival
Every October, Kuta is a riot of color and music with colorful parades, surfing and skateboarding competitions, and gigs by local bands.
Practice Yoga in Ubud
Ubud is home to one of Southeast Asia's foremost yoga communities, with many devotees traveling to Bali for retreats and training. Over a dozen schools cluster in the area, with possibly hundreds of instructors on hand to impart their wisdom.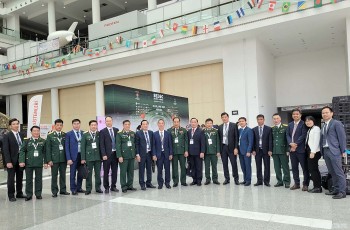 Friendship
Vietnam's presence at the security and defence exhibition SEDEC 2022 in Ankara has been seen as important initial steps to promote the Vietnam-Turkey cooperation.