Visit Chatuchak Weekend Market – One Of The Largest Markets In Asia
Stepping into one of the oldest and largest markets in Asia, Chatuchak - the charming and colorful market of Bangkok, gives the tourists the greatest shopping experience.
Chatuchak Weekend Market in Bangkok (locally known as JJ Market) was once only popular among wholesalers and traders, but it has now reached a landmark status as a must-visit place for visitors to the Thai capital. The market's sheer size and diverse collections of merchandise will bring any seasoned shoppers to their knees – it's where you can literally 'shop till you drop'.
Chatuchak is home to more than 8,000 market stalls that are spread over more than 14 hectares. On a typical weekend, more than 200,000 visitors come here to sift through the goods on offer. Veteran shoppers would agree that just about everything is on sale here, although not all at the best bargain rates. But if you have one weekend in Bangkok, squeeze in a day trip to Chatuchak Weekend Market and you won't be disappointed.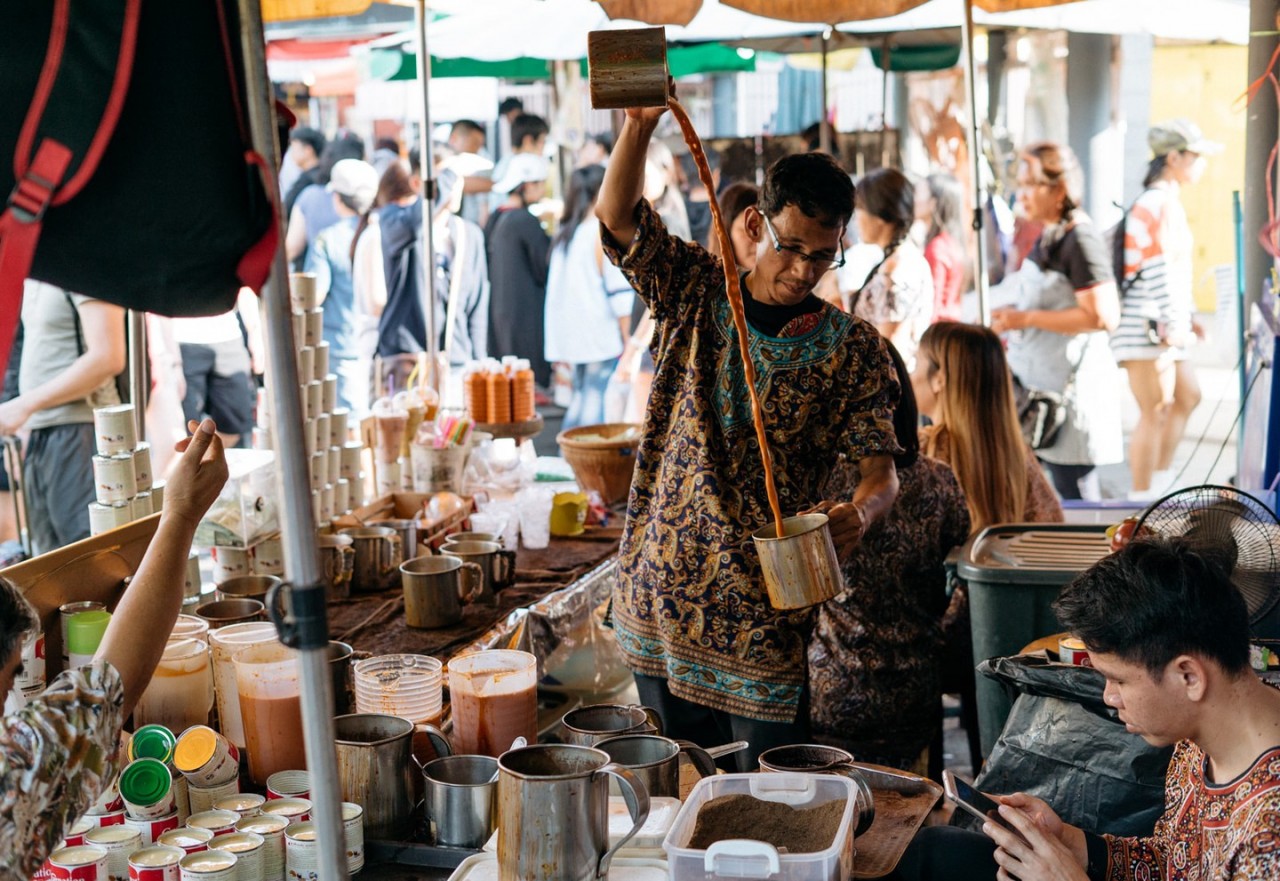 Kit Dale / | © Culture Trip
The Interesting History of Chatuchak Weekend Market
Chatuchak Market has been open since 1942. In 1948, Prime Minister Plaek Phibunsongkhram had a policy that every province was required to have its own market. Bangkok chose Sanam Luang as the market site. After a few months, the government moved the market to Sanam Chai. The market moved back to Sanam Luang in 1958.
Starting in 1975, General Kriangsak Chamanan have the policy to use Sanam Luang as a place of recreational activity for the populace which will also be used for commemorating ceremony. As General Kriangsak Chamanan was the chairman of the State Railway of Thailand at that time, he thus permitted the use of land on the south side of Chatuchak Park as a market. His design was to recycled waste from the looming Din Daeng Garbage Mountain which has stacked up across the decades to use as landfills, where he recruited military engineers for the job. The park was fully completed in 1978 when General Kriangsak Chomanan became the Prime Minister.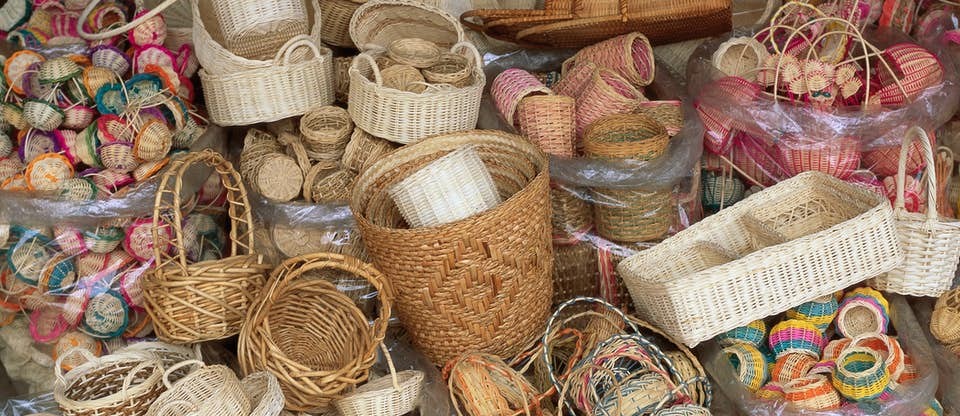 Image by Fuse / Getty Images
By 1983, all of the merchants had moved to Chatuchak. At that time the market was called Phahonyothin Market. In 1987, its name was changed to Chatuchak Market.
The clock tower is a distinctive landmark in the Chatuchak Market. It was built in 1987 on the occasion of King Bhumibol Adulyadej's 60th birthday on 5 December 1987, a cooperative effort of the market administration and Thai-Chinese Merchant Association.
Navigate your way through Chatuchak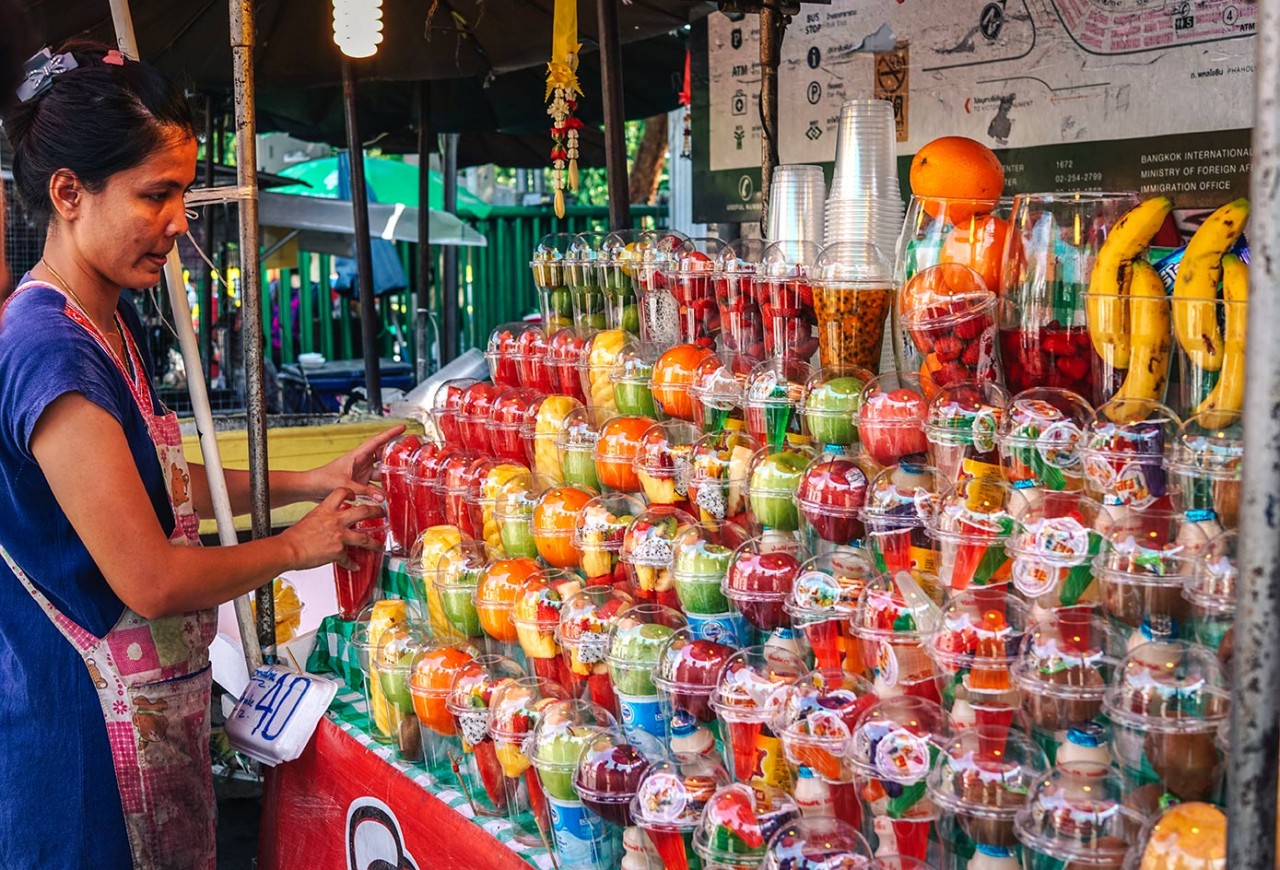 Photo: CK Travels
Section 1 is the place to go for bronze religious statues, old LPs, and other random antiques with religious motifs. Arts and crafts, such as musical instruments and hill-tribe items, can be found in Sections 25 and 26. Baan Sin Thai sells a mixture of kŏhn masks and old-school Thai toys, all of which make fun souvenirs, and Kitcharoen Dountri specializes in Thai musical instruments, including flutes, whistles, drums, and CDs of classical Thai music.
Clothing dominates most of Chatuchak, starting in Section 8 and continuing through the even-numbered sections to 24. Sections 5 and 6 deal in used clothing for every Thai youth subculture, from punks to cowboys, while Soi 7, where it transects Sections 12 and 14, is heavy on the more underground hip-hop and skate fashions. Somewhat more sophisticated independent labels can be found in Sections 2 and 3, while tourist-sized clothes and textiles are in Sections 8 and 10.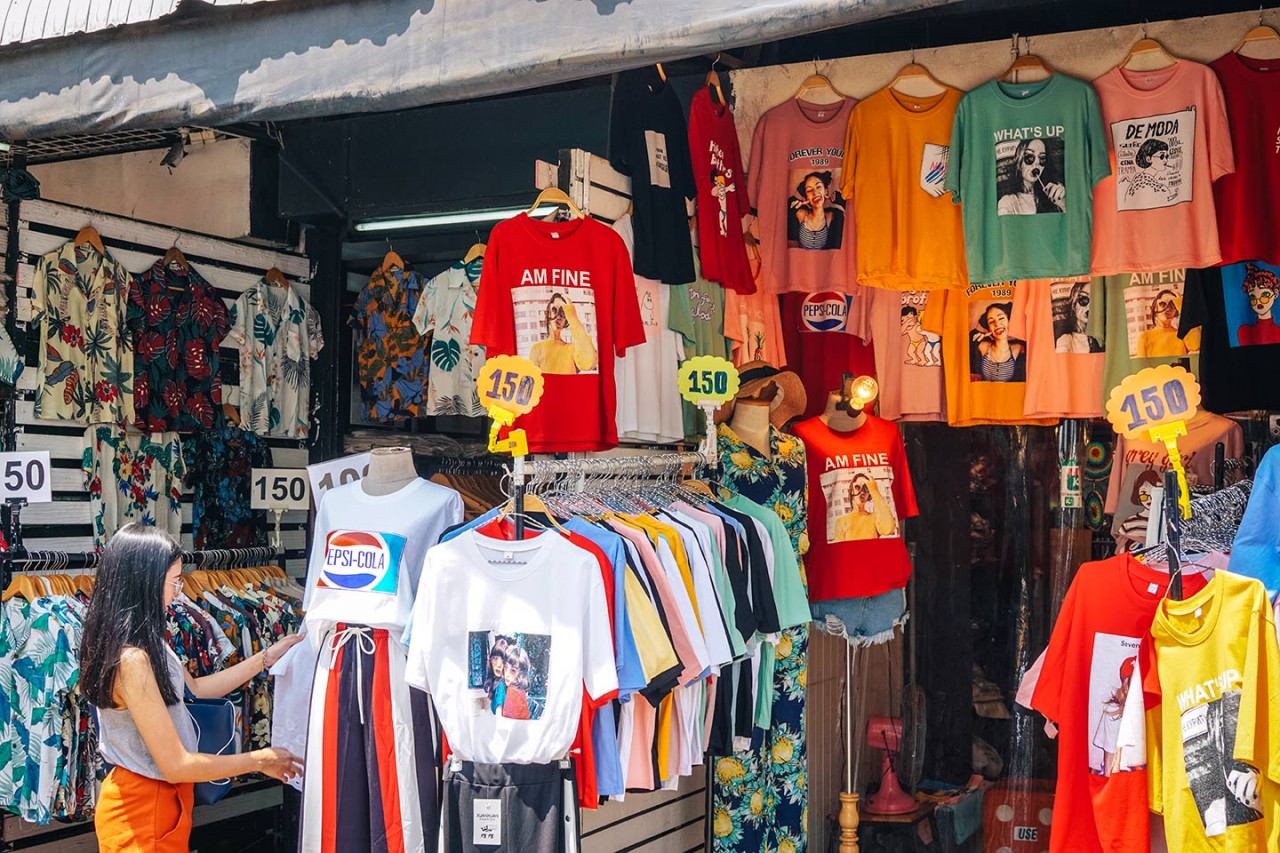 Photo: CK Travels
For accessories, several shops in Sections 24 and 26, such as Orange Karen Silver, specialize in chunky silver jewelry and semiprecious uncut stones, according to Lonely Planet.
Outside the main Chatuchak Market perimeter, you'll find lots of stalls lining the outlying roads, often selling trinkets and toys/souvenirs a bit cheaper than inside the market itself (although lots seem to be manned by very young children who have been sent out to sell wares by their parents, very different from what you'd see inside Chatuchak).
As with any of the markets in Bangkok, this one is generally very accessible and easy to explore but do keep an eye on your belongings and check your change after any purchases – this is 'tourist central' in terms of markets so if you fancy something a little more 'authentic', try Wang Lang Market.
What to eat in Chatuchak
Photo: CK Travels
If shopping isn't your thing, be sure to check out the endless stalls of food throughout the entire market. Chatuchak Weekend Market has a wide array of dessert options. Some of these desserts include chocolate-dipped bananas, crepes, and brownies. The market is also well-known for its many coconut ice cream stands, served in its own coconut. You can also add an array of toppings, including nuts or strawberry syrup. If you don't like ice cream but like coconuts, be sure to find the man with the machete selling them. He can be found near the main entrance. If you don't see him, just listen for his booming voice, screaming, "coconuts!"
Photo: CK Travels
How to get to Chatuchak Weekend Market
Hop on the Skytrain (BTS) to Mo Chit station, take exit no. 1 and follow the crowd until you see rows of canvas stalls selling clothes. Turn right while continuing to follow the crowd and you'll see a small entrance that leads into the market (clothing section).
Another option is to take the subway (MRT) to Chatuchak Park station (exit no.1), then follow the crowd until you arrive at the small entrance that leads into the market (clothing section). For the plants and flowers section, get off at Kampheng Phet MRT station (exit no.1).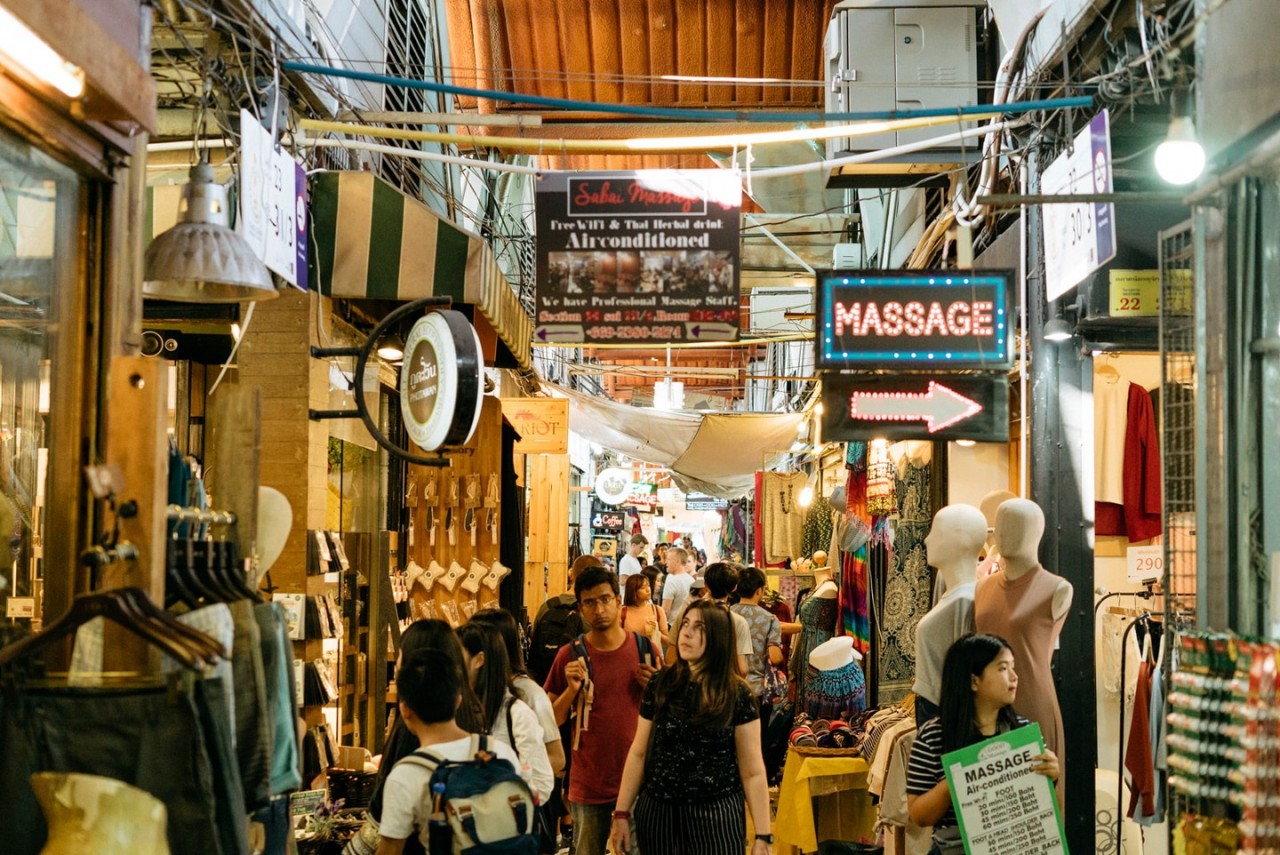 Kit Dale / | © Culture Trip