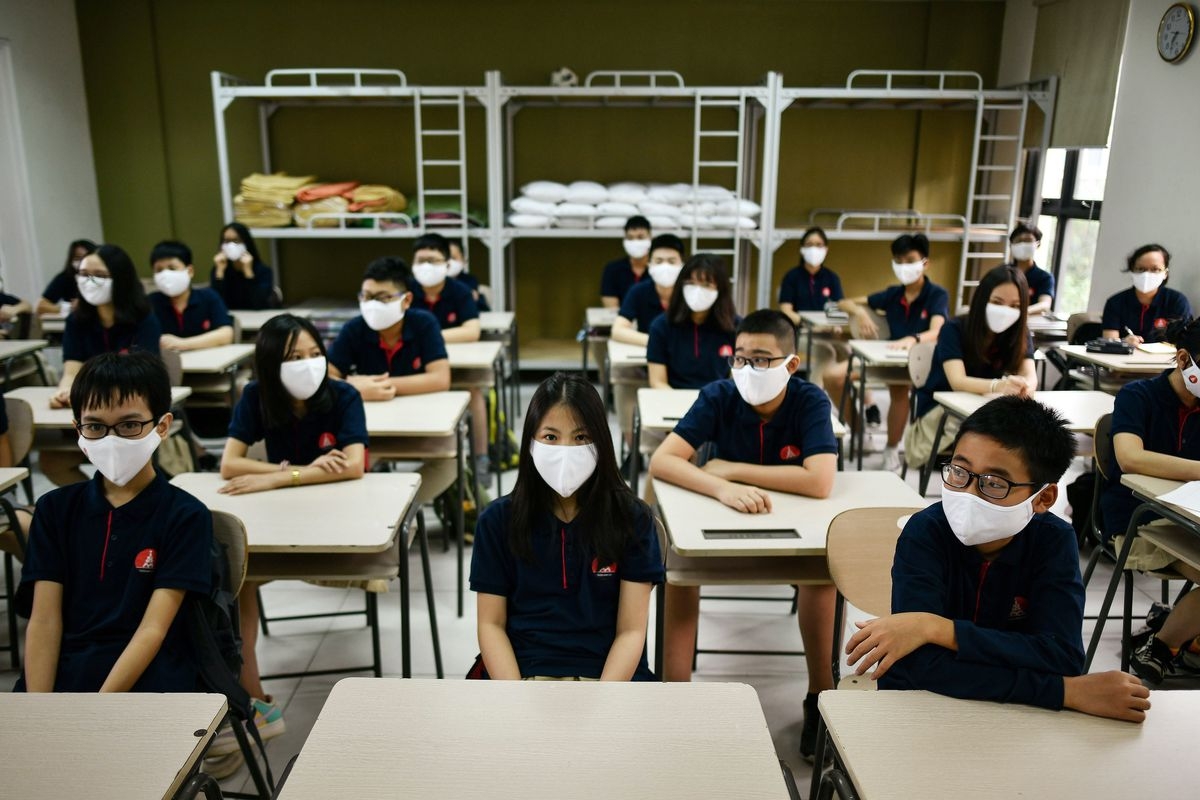 Students wearing face masks in a classroom at the Marie Curie school in Hanoi, Vietnam (Photo: AFP)
According to VOX, the US now has time to learn from other countries' attempts in re-opening schools.
VOX quoted Robert Schwartz of the Harvard Graduate School of Education: "It's a huge opportunity to rethink how we deliver these services." "The old American exceptionalism in education is breaking down a bit, so maybe leaders will look abroad at how others are bringing kids back to school."
The article continued by describing Vietnam's experience of re-opening schools.
The Southeast Asian country has applied early and aggressive testing and contact tracing to handle the epidemic, and Vietnam has also been applying this method to reopen schools.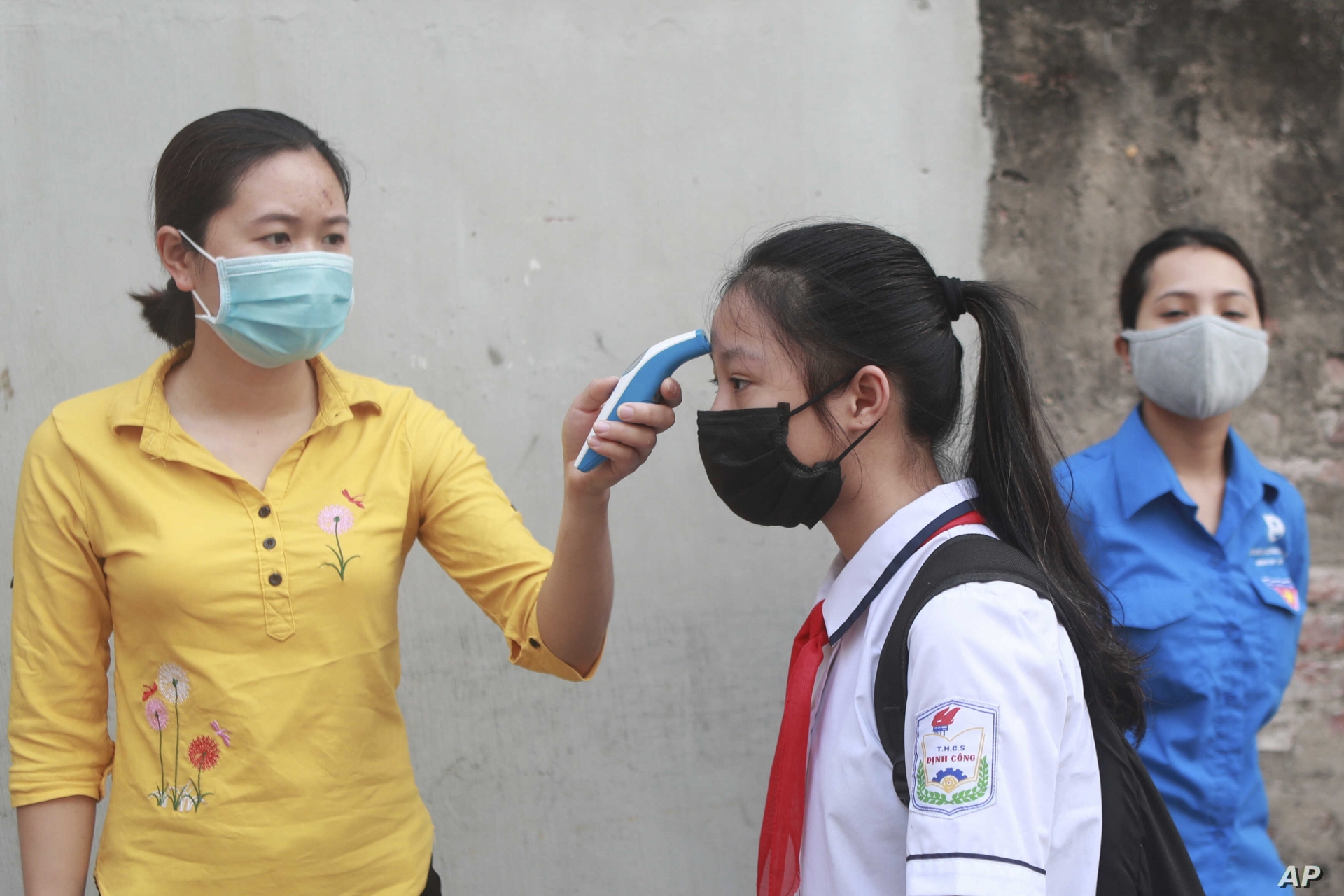 Vietnamese student has temperature checked at school (Photo: VOA)
After a three-month hiatus, Vietnam's 22 million school-age students were allowed to return to their classrooms this month.
However, in Vietnam they have to pass a mandatory temperature check at their school's entrance. If a child doesn't have a fever, they're allowed to attend classes, but they must wear a mask throughout the entire school day. One school in Hanoi bought 10,000 masks to ensure it had enough for students to use.
According to VOX, Vietnamese students feel safe when wearing masks and have temperature checked. As in Germany, Vietnam's schools are also enforcing social distancing measures.
The author says the widespread mask wearing in Vietnam can minimize the risk of the outbreak.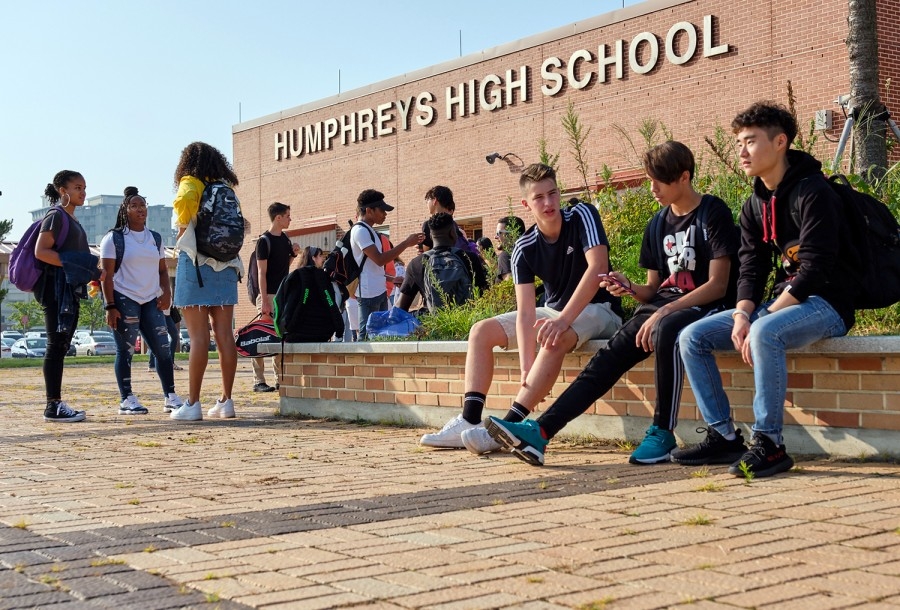 VOX says the US can learn from Vietnam'x experience (Photo: Stars and Stripes)
The article also describing Germany and New Zeland's efforts in ensuring students' safety while re-opening schools.
While in Germany, students administer coronavirus tests on themselves to track if they have the disease or not. New Zealand offers a "transition arrangement" option allowing parents to send their kids to school only when they feel comfortable doing so.
According to USA Today, the COVID-19 pandemic has recast education in the USA, prompting almost every district to send their students home and hastily adopt distance learning to close out the school year that is now ending.
In an exclusive USA Today poll, 1 in 5 teachers say they are unlikely to go back to school if their classrooms reopen in the fall, a potential massive wave of resignations. Though most teachers report working more than usual, nearly two-thirds say they haven't been able to properly do their jobs in an educational system upended by the coronavirus.
The surveys have shown how concerns about the coronavirus will complicate efforts to resume daily routines in American life, from work to leisure to commerce, at least until a vaccine is widely available.
The article by VOX finally quoted Schwartz, the Harvard education expert, who thinks that having US officials learn from other countries' experiences with reopening schools is a worthwhile endeavor.
"The US is notorious for not thinking it can learn from the world, but it should be in this case", reported by VOX.
Candy Lee