VUFO President Attends India - Vietnam Webinar on ICT Cooperation During Pandemic
At the meeting, VUFO President Nguyen Phuong Nga talked about ICT's contribution to the people-to-people diplomacy in the pandemic situation.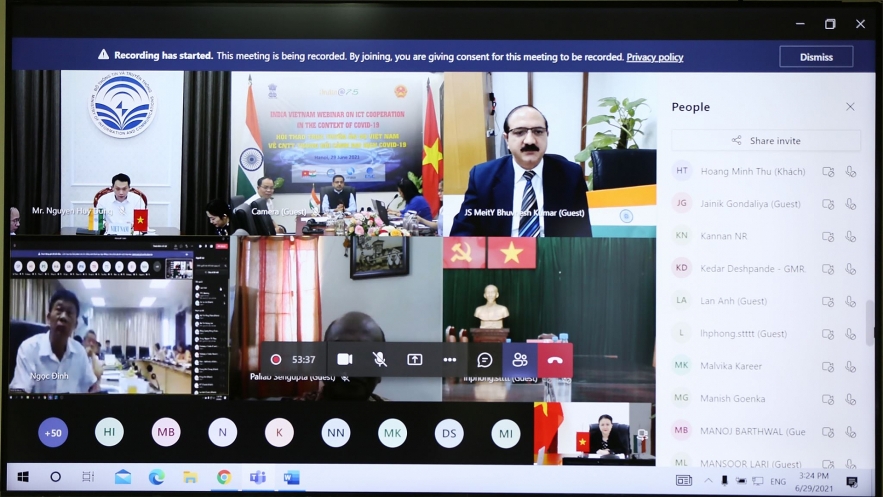 Webinar's overview. (Photo: Tuan Viet)
Ambassador Nguyen Phuong Nga, President of the Vietnam Union of Friendship Organizations (VUFO) attended a webinar on ICT Cooperation between Vietnam and India in the context of the Covid-19 pandemic, which was held virtually on June 29.
The webinar also welcomed Nguyen Huy Dung, Vietnam's Deputy Minister of Information and Communications, Pranay Verma, India Ambassador to Vietnam, Shri Bhuvnesh Kumar, India's Ministry of Electronics and Information Technology, and other experts on ICT.
In the opening remark, deputy minister Nguyen Huy Dung said that Covid-19 brought the world a serious recession, however, at the same time, it had highlighted the crucial role of digital connectivity, development, and cooperation in ICT & digital transformation worldwide.
Regarding Vietnam's ICT sector, he said that the country's timely acceleration of ICT and digital technology development had significantly contributed to overcoming the difficulties of Covid-9 and achieving economic growth of 4.5% in the first quarter of this year. Viet Nam was determined to develop a digital economy and to apply digital technology widely in all sectors. The country focuses to develop digital platforms and apply new technologies to provide new services for the citizens, formulate policies of open data, to comprehensively implement digital transformation support programs for enterprises, especially SMEs.
According to Dung, the ICT sector has been directed to create and manufacture products in Vietnam under the strategy "Made in Vietnam". The ministry attempts to create competitive conditions to make Viet Nam one of the best places in the region for ICT business, especially encouraging foreign tech firms to partner with local industry in such priority domains.
"I believe that both sides have plenty of ideas and experience to share and exchange with each other in this field. From Vietnamese side, we hope to learn more about the initiatives from India such as "Digital India" and "Made in India". On top of that, I encourage representatives from the business sector and enterprises to explore and develop cooperation and partnership, as it would be the best outcome of this event," he said.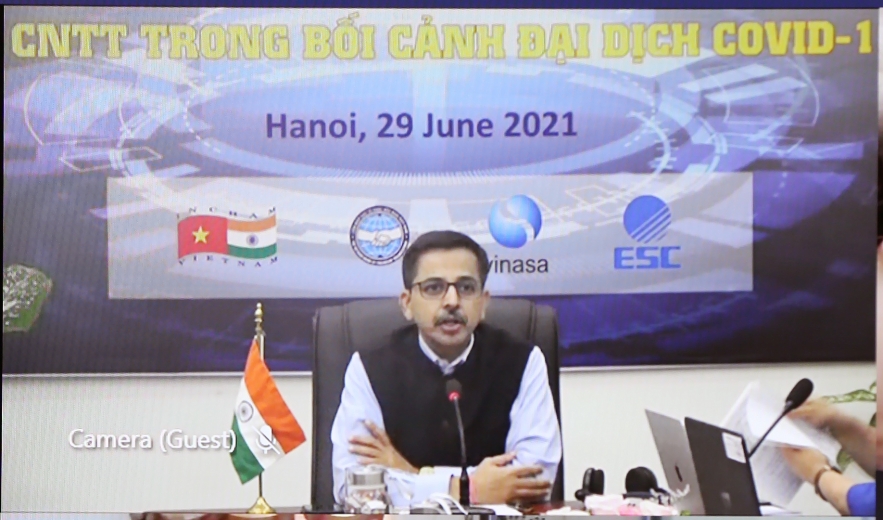 India ambassador Pranay Verma. (Photo: Tuan Viet)
For his part, India ambassador Pranay Verma said ICT between Vietnam and India had emerged as an important cooperation sector in recent years. Both countries have ambitious visions about ICT and are seeking further collaboration. The ambassador is pleased to see Vietnamese and Indian technology enterprises operating in the other country and cooperating in important fields that are focused by both sides such as e-commerce, Fintech, smart cities.
Joining the webinar, ambassador Nguyen Phuong Nga, VUFO president said that the two countries have made all efforts to fight the pandemic. She appreciated India's success in producing Covid-19 vaccines and sharing them as well as other medical equipment with other countries.
"We firmly believe that only by working together, can we overcome the pandemic. Today's Webinar on "ICT cooperation between Vietnam and India in the context of the COVID-19 pandemic" provides a good opportunity for us to share knowledge, experiences and exchange ideas on how to use more effectively information and communication technology to fight against Covid-19 and bring our life to a new normal," she said.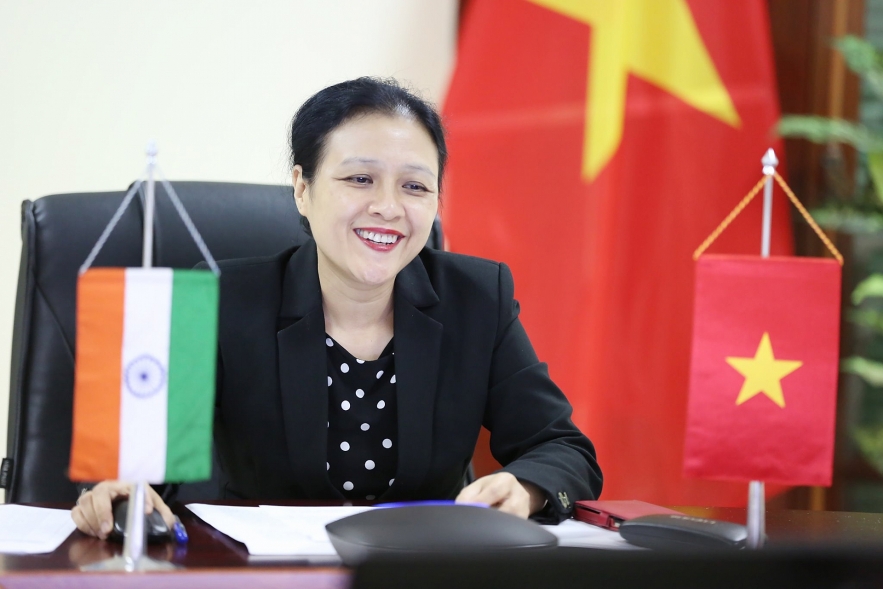 Ambassador Nguyen Phuong Nga, President of the Vietnam Union of Friendship Organizations. (Photo: Tuan Viet)
Regarding ICT contribution to the people-to-people diplomacy, the VUFO president said: "With the mandate of connecting our peoples, VUFO and the Viet Nam – India Friendship organization will work closely with all of you to continue to organize more meaningful and practical exchange activities both in-person and online with the help of ICT in the time to come to enhance the comprehensive strategic partnership between our two countries and the traditional time-honored friendship between our two peoples."
At the webinar, Indian and Vietnamese experts shared opinions and opportunities that the two countries have in this field. They also discussed technology solutions for the pandemic in particular and the two countries' development in general.
In recent years, information and technology have become increasingly important to Vietnam - India's cooperation. Both governments have established mechanisms to facilitate cooperation in the field. In December 2020, the two countries' prime ministers signed the India - Vietnam Joint Vision for Peace, Prosperity, and People. Many Indian technology companies have branches in Vietnam and provide diverse services such as IT training, IT solutions in banking, telecommunications, and cybersecurity.