Water Supply System Gifted To Thanh Hoa's Commune
Good Neighbors International (GNI), a Korean NGO, handed over a clean water supply work to people in Vinh An commune, Vinh Loc district, Thanh Hoa province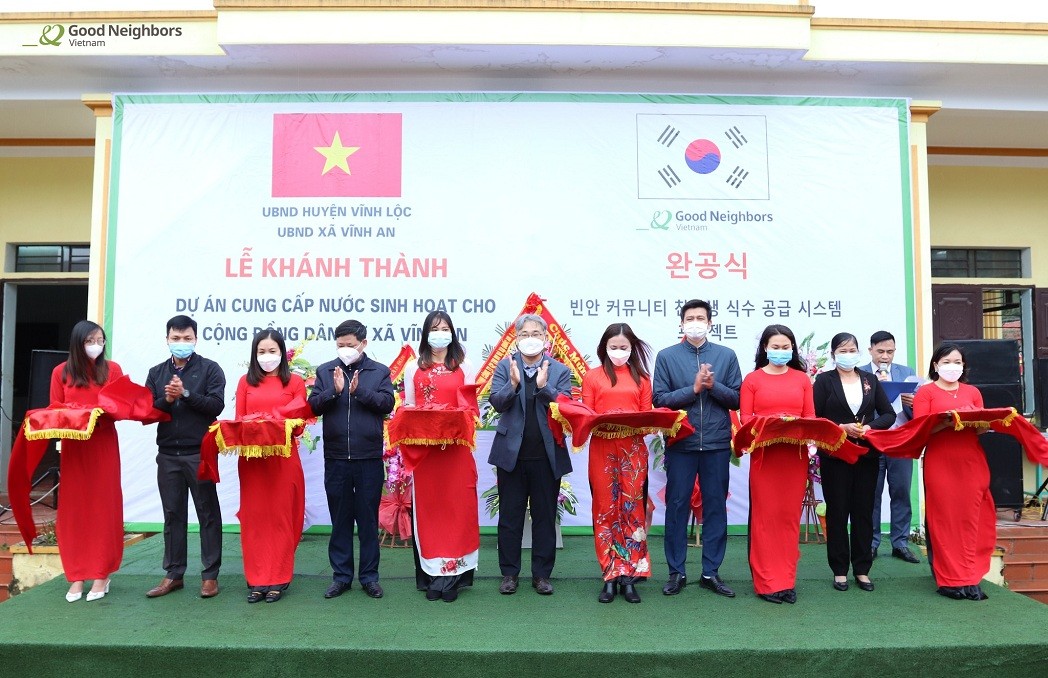 At the inauguration ceremony.
Good Neighbors International (GNI) cooperated with Vinh An Commune People's Committee on Feb. 20 to implement a clean water supply system for the community in Vinh An commune (Vinh Loc district, Thanh Hoa province) with a total value of nearly VND 3 billion (USD 131,550).
Although located near the Ma River, people in villages 4, 5, and 9 of Vinh An commune often lack clean water for daily life, especially in the dry season. Most of the domestic water are taken from wells, but they do not meet the needs of the people. Moreover, the water from the drilled wells is contaminated with limestone while dug wells' water is not hygienic, many diseases related to water lines often occur. Therefore, the safety and hygiene of domestic water sources is a huge issue of the locality in recent years.
Being aware of that situation, in 2021, GNI has sponsored nearly VND 3 billion to set up three clean water supply and treatment systems in three villages, consisted of three drilled wells with a depth of over 100m; a water purification system; water tanks; and nearly 4km-water pipelines to each households.
The system will provide clean water that meets the standards set by the Ministry of Health.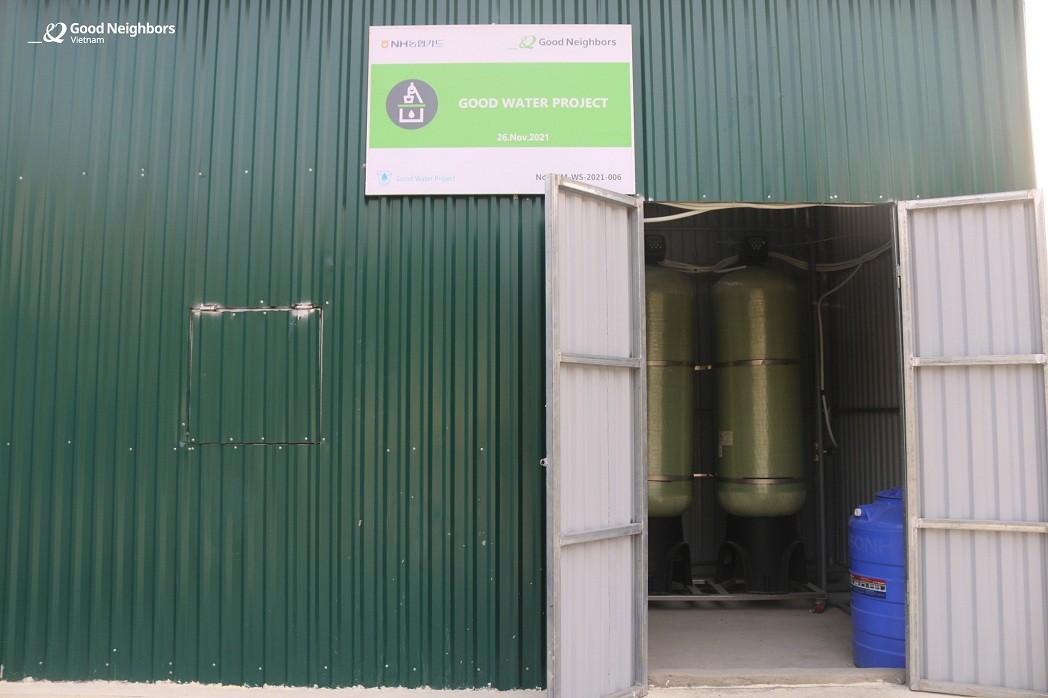 The system provides clean water that meets the standards set by the Ministry of Health.
After completing the project, the project has basically solved the shortage of hygienic water for 418 households in three villages, helping people have a more stable life, improved health and quality of life. The project has also contributed to helping Vinh An commune complete the criteria set for new-style rural areas.
This is also considered as a highlight of GNI's activities in the project area and contributes to improving the quality of life, bringing happiness to people and children in the community.
Good Neighbors International (Korea), which was established in 1991, is a non-governmental humanitarian organization with the goal of raising funds in education projects for children, community development, health, hygiene and reducing natural disasters.
The plans for building new-styled rural areas was initiated by the Government in 2010 with the aim of developing rural regions. The list of criteria includes the development of infrastructure, the improvement of production capacity, environmental protection, and the promotion of cultural values.
Advanced and model new-style rural status have higher requirements.
Unique Bamboo Waterwheels in Lai Chau

The giant bamboo waterwheels, with slow rotation, have long been associated with cool streams and ripe rice fields in mountainous provinces, including Lai Chau