Weaving the dream for Agent Orange victims: helping sufferers overcome adversity
Nguyen Van Mac, an Agent Orange victim, has overcome physical disadvantages to run his own business, extending help to underprivileged people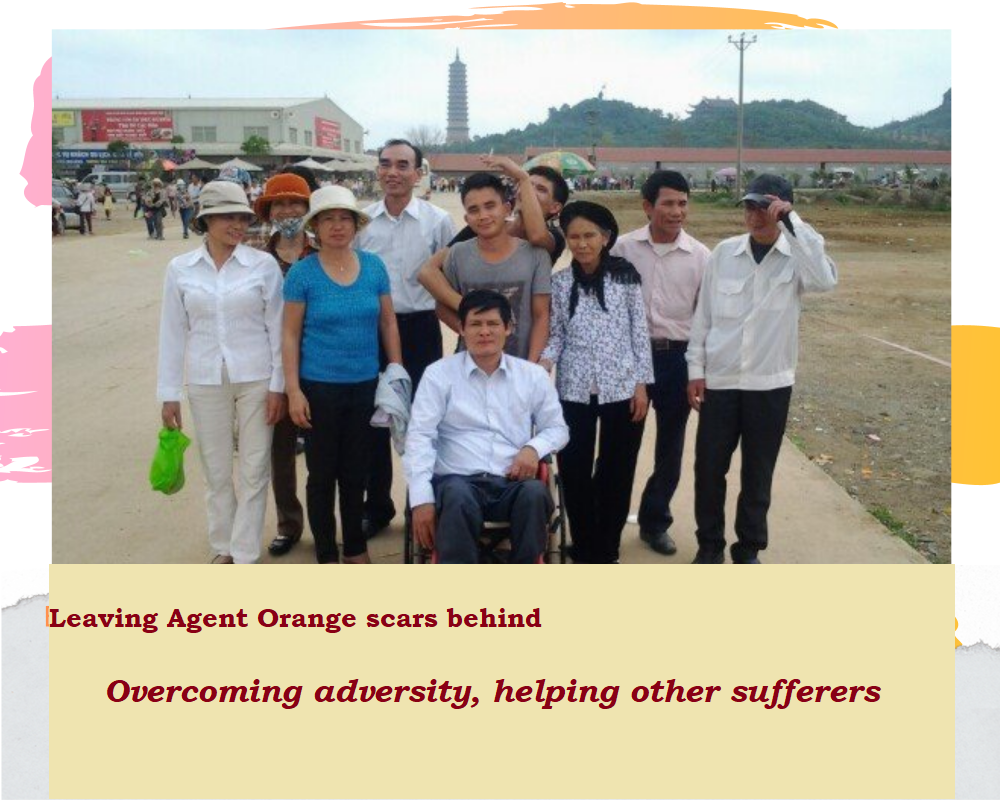 Nguyen Van Mac (sitting) and his family (Photo courtesy of Nguyen Van Mac)
Nguyen Van Mac was born into a poor family, and his father became a victim of Agent Orange after two years serving at the Quang Tri – Thua Thien Hue battlefield from 1966 to 1968.
The day Mac was born he seemed healthy without any birth defects, which was a miracle for the family given how the chemical weapon can result in long-term damage passed on through genetic lineage.
However, things took a bad turn when Mac was just 3-years-old. A bout of high fever left him with a paralyzed leg, though he was given timely emergency treatment.
At the age of eight, Mac went to school, two years later than his peers., and his parents gave him piggyback rides to school every day. With a positive mindset and admirable determination, the disabled boy grew talented and respected.
When he was 17 years old, Mac suffered another bout of high fevers, unconsciousness and seizures. He was rushed to the emergency room at Viet Tiep Hospital, Hai Phong, northern Vietnam. It is here that he met and fell in love with disabled woman who later became his wife.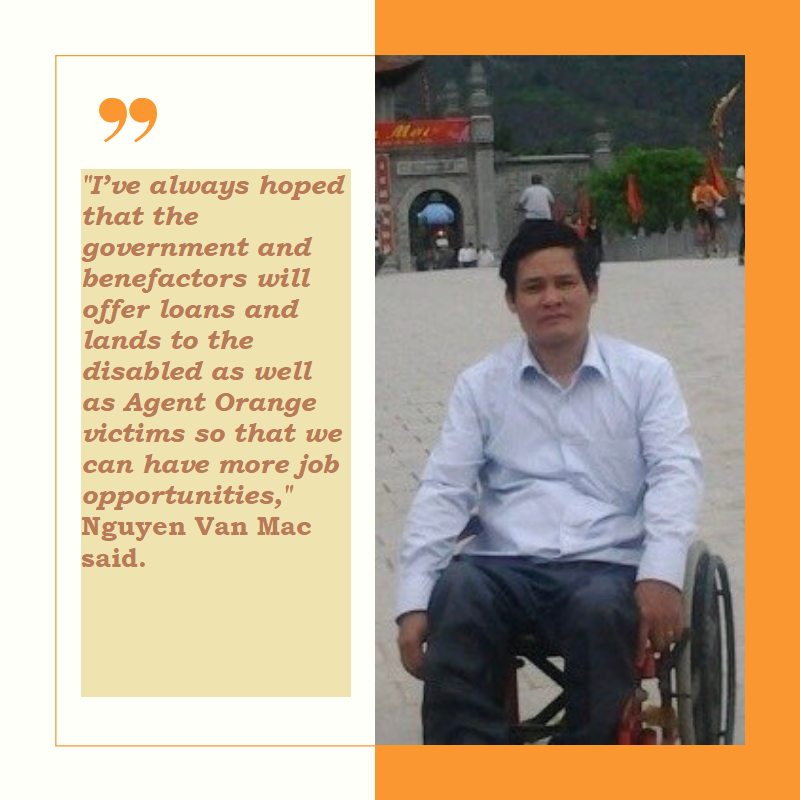 (Photo courtesy of Nguyen Van Mac)
Mac is now deputy chairman of the district Disabled People Association and Dong Hai commune's Agent Orange/ Dioxin victim association. He also runs his own freight transportation and scrap collection company. The Agent Orange victim has recently opened a new factory producing paper and packaging for Korea's MAXPORT footwear company.
Embarking on the journey from nothing and facing many hurdles, Mac and his wife now can take pride in what they have achieved. They even offer job opportunities to members of the Agent Orange/ Dioxin Association.
"My company has over 20 employees, each earned around 220 to 300 dollars. After work, I often take part in local charitable activities to help disadvantaged individuals like me overcome adversity and have more hope for a bright future," Mac told Vietnam Times. "Most of the employees at my new toy factory are victims of the chemical weapon. Those still having two upper limbs and who are healthy can do the job. Productions will be exported to South Korea."
"I've always hoped that the government and benefactors will offer loans and lands to the disabled as well as Agent Orange victims so that we can have more job opportunities."
Mac sets a great example of overcoming life's adversity, by living a happy, abundant and meaningful life.
https://thoidai.com.vn/chi-mong-giup-do-nguoi-cung-canh-ngo-co-niem-tin-va-vuon-len-trong-cuoc-song-140691.html?fbclid=IwAR0fdeEH9ZU0V1X1ylzFJAyHIXzhh32Nlo_--nH1JeaDYKXdvl6yZbYgSdI