Weaving the dream for Agent Orange victims: The lifetime work of an iron lady
Wars have ceased to exist in Vietnam, but their consequences remain. Agent Orange/dioxin has been negatively affecting the health of many Vietnamese. A victim of Agent Orange, Nguyen Thanh Binh has overcome fate with her iron will and become a shoulder to rely on for other dioxin victims.
A victim of Agent Orange and a person with disabilities, Nguyen Thanh Binh, 43, from Vu Lac rural district in Thai Binh city of Thai Binh province, always sympathizes with those who are in the same situation as her.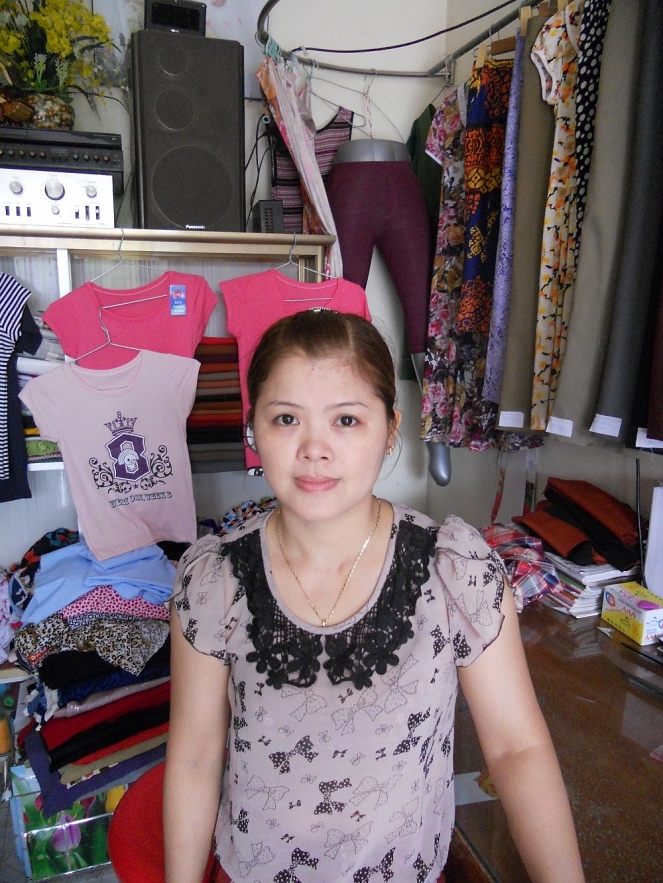 Nguyen Thanh Binh is an indirect victim of Agent Orange, Level 2 / Vietnam Times
Binh's parents have retired. In the Vietnam War, her father was a soldier who fought in southeastern Vietnam from 1970 to 1976. He was a direct victim of Agent Orange. After the war, Binh's father worked for a local business in Thai Binh province. Her mother worked as an administrative officer in the same business.
Binh has two siblings, and she is the eldest daughter. All three have their own families and stable jobs. Binh opened her custom clothing store in 1995 and has been running the store since.
Binh's store currently has three dressmakers who can make customized suits, dresses, and other types of clothes, with an average capacity of 2,800 units/year. They make roughly three million to five million Vietnamese Dong per month on average.
To help Agent Orange victims, persons with disabilities, and other vulnerable individuals in society, Binh frequently opens vocational training courses for laborers in rural areas, persons with disabilities/Agent Orange victims, laborers preparing to work overseas, and students.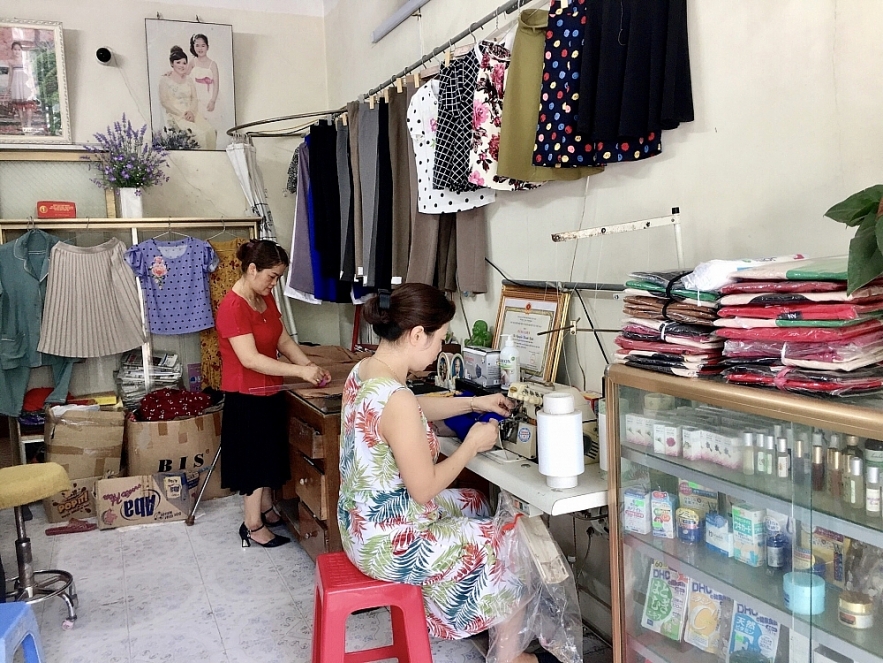 Binh's clothing store has three staff members, making on average 2,800 pieces/year / Vietnam Times
Binh always sympathizes with people who share the same difficulties. She makes efforts to understand the challenges facing her staff and help them to earn stable incomes.
In addition to maintaining her business, Binh has opened many vocational training courses for persons with disabilities and other vulnerable groups in society.
"For people under favorable treatment policies or people living in difficult conditions, I give them a 50% discount. For people with disability or suffering from Agent Orange/dioxin, I let them attend my classes for free," said Binh.
Nguyen Thanh Binh is currently the president and legal representative of the Thai Binh Provincial Association for Persons with Disabilities. Her main duties are working with the management board to Regulate the association's activities and advocate for policies on protecting the legal rights and benefits of persons with disabilities, including disabled Agent Orange victims.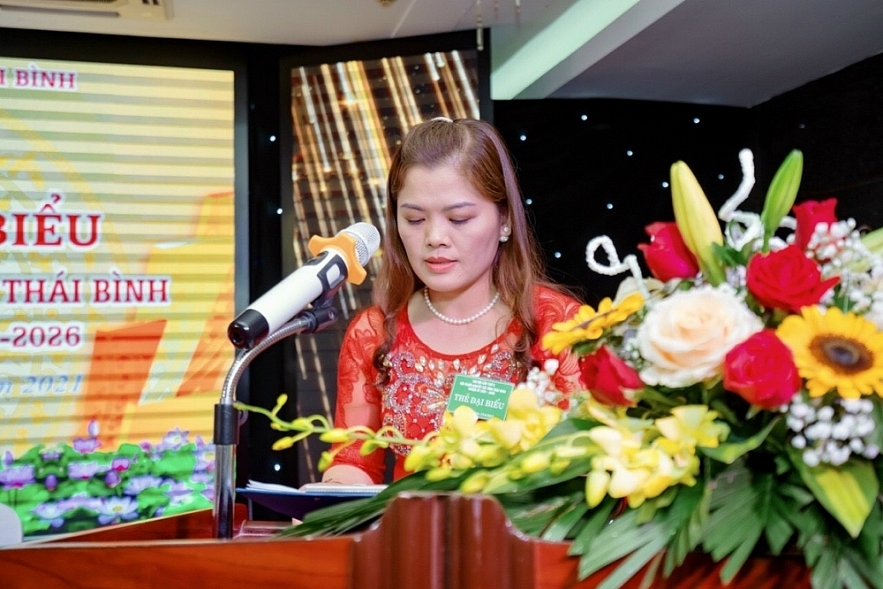 Nguyen Thanh Binh is the president of the Thai Binh Provincial Association for Persons with Disabilities / Vietnam Times
Since the Association's early days, Binh has hoped that the persons with disabilities and Agent Orange victims in Thai Binh province could improve their living conditions and have more access to social services to integrate into society.
Together with the association, Binh has been actively involved in making policies and providing legal support for the members to ensure they can enjoy equal opportunities to partake in social activities. She was involved in compiling an independent monitoring report on the implementation of the Convention on the Rights of Persons with Disabilities.
Binh has received many awards at different levels for her efforts.
In 2015, Nguyen Thanh Binh was awarded the certificate of recognition from the Thai Binh Provincial People's Committee for her achievements in promoting the production and business activities of persons with disabilities. She also received the certificate of recognition from the Vietnam Association for Victims of Agent Orange for her excellent achievements in promoting the rights and benefits of dioxin victims in the period 2011 – 2015. In the same year, the Association in Support of Vietnamese Handicapped and Orphans gave Binh the certificate of recognition for her efforts to overcome challenges at work in the period 2013 – 2015.
In 2016, she received two awards: A certificate of recognition from the Thai Binh Provincial Youth union for her outstanding contributions to youth and community development in the period 2011 – 2016, and a certificate of recognition from Vietnam Women's Union for her involvement in women's movements in Vietnam and the union's activities.
Despite her achievements, Binh tells herself to never rest on her laurels. She continues to take training courses and capacity building workshops to improve her capacities and meet the needs of the Thai Binh Provincial Association for Persons with Disability. Binh has earned the trust and respect of other staff for her continued efforts to uphold work ethics.
Binh hopes the Government and mass organizations will hold more activities on rehabilitation and capacity building for persons with disabilities and Agent Orange victims. She also hopes to organize more vocational training courses and provide universal education for disabled people.
"The association will continue to implement the project funds by a Danish organization for victims of Agent Orange/dioxin. The project aims to improve the management capacity of the management board of the association. At the same time, it is designed to raise awareness about the relevant laws to persons with disabilities amongst the association's members. The project has been carried out for three years now and will continue for five more years," said Nguyen Thanh Binh.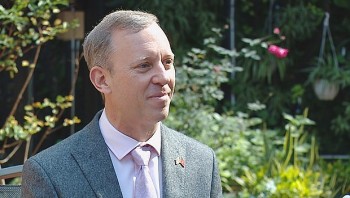 Friendship
The UK will continue to support Vietnam in the pandemic combat, and coordination in science and technology, especially in tracking new variants, British Ambassador Gareth Ward has pledged.