Well-known Female Diplomat Appointed as Australia-Vietnam Leadership Dialogue's Patron
The Australia-Vietnam Leadership Dialogue (AVLD) recently announced the appointment of career diplomat and former Vietnamese Ambassador Ton Nu Thi Ninh as its Patron in Vietnam for a 2-year period.
The Australia-Vietnam Leadership Dialogue recently announced the appointment of the Ho Chi Minh City Peace and Development Foundation's President Ton Nu Thi Ninh as AVLD's Patron in Vietnam.
The Ho Chi Minh City Peace and Development Foundation's President Ton Nu Thi Ninh. Source: phunuvietnam.vn
The Australia Vietnam Leadership Dialogue (AVLD) is an independent non-profit initiative that was established to nurture relationships, promote engagement and incubate collaboration between Australian and Vietnamese leaders from a broad spectrum of society.
With a career spanning academia, diplomacy and public service, Ms. Ninh began as a lecturer in Paris, before serving as a diplomat for Vietnam for over two decades. She is the former ambassador of Vietnam to the European Union, Belgium and the Netherlands. She also served as the Deputy Chair of the Foreign Affairs Committee in the Vietnamese National Assembly, and now acts as the President of the Ho Chi Minh City Peace and Development Foundation.
Through her Presidency at the Ho Chi Minh City Peace and Development Foundation under the Ho Chi Minh City Union of Friendship Organisations (HUFO), Ninh is keenly focused on raising awareness on sustainable development, empowerment of women and youth, international integration, nation branding and Vietnamese diaspora.
Through her frequent interaction with diverse audiences at home and abroad, she is known as one of the public figures with a meaningful voice in Vietnam.
In her capacity as a diplomat, an elected official, and currently an educational and sociocultural ambassador and facilitator, she brings a wealth of international experience and has demonstrated a life-long commitment to the development of Vietnam both domestically and in the international sphere. She has consistently worked to build relations, cooperation and understanding between Vietnam and the world.
She has been awarded the French Legion d'Honneur (1998 & 2002), the Belgian Order of Leopold II (2003) and the Vietnamese Medal of Labour First class (2008). The Royal Melbourne Institute of Technology (RMIT) has conferred upon her an Honorary Doctorate of Social Science (2017).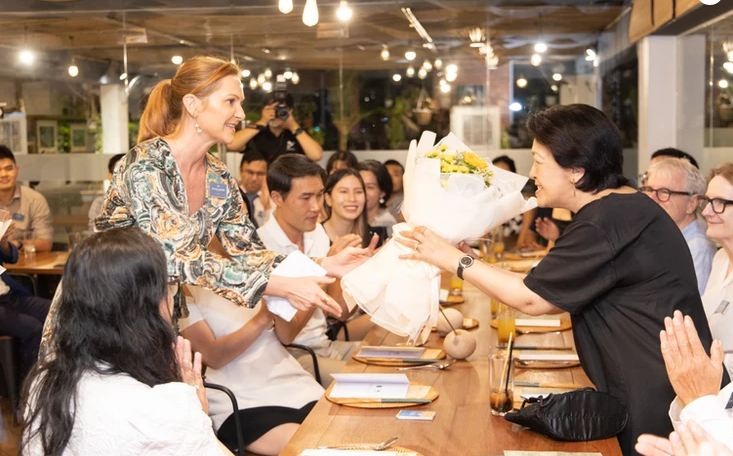 AVLD Board Chair, Dr Melissa Jardine, presenting Madam Ninh with flowers to welcome her as AVLD Patron in Vietnam. Source: AVLD
In accepting the position, Ms. Ninh stressed that Australia and Vietnam are both nations of the Asia-Pacific, committed to their shared security, prosperity and friendship between the two peoples, enriched by the important Vietnamese Australian community."
According to her, the two sides need to invest in the future and sustainability of this significant relationship by spurring and cross-connecting young leaders on both sides, including Vietnamese Australian.
"At the end of the day, it's about people, especially young people. When people meet, talk, debate, disagree and share, this is the true way to a meaningful and lasting relationship. Through this role, I hope to continue making one more contribution toward my life commitment to international peace and mutual understanding and to Vietnam's and its youth's deserved place among the community of nations."
She looks forward to AVLD being an energizing space for true exchange and learning from each side's specific strengths, and for some joint innovative and creative initiatives.
Welcoming Ninh's wealth of academic and diplomatic experience and expertise to the organisation, AVLD Board Director Melissa Jardine, believes that with her support as Co-Patron will allow AVLD to accelerate the goal of empowering young leaders and strengthening the bilateral links between Australia and Vietnam.
Ms. Ninh is joining AVLD alongside the Patron in Australia, General Sir Peter Cosgrove.
Vietnam and Australia remain among the world's fastest-growing economies, with Vietnam ranking 19th globally in terms of the favorite destination for foreign direct investment and Australia maintaining its position as the world's 13th largest economy in 2020. Over the past 20 years, the two-way trade between two countries has grown by an average of 8.6% each year.
With a shared commitment to trade liberalization and economic connectivity, the Australian and Vietnamese governments developed the Enhanced Economic Engagement Strategy which supports an ambitious target of both countries becoming top ten trading partners of each other and doubling two-way investment.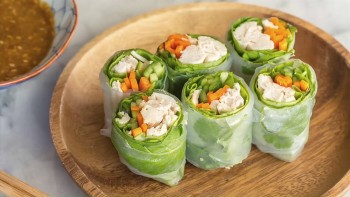 Travel
Rolls are a easy-to-make dish that is loved by many Vietnamese diners as well as Korean stars.