What Causes Unprecedented Heatwave in the Pacific Northwest?
A historic heatwave is sweeping through most of the Pacific Northwest. Experts believe that climate change is the main culprit.
Seattle, Washington State, witnessed the highest temperature of 108oF (42oC) in the evening of June 28, surpassing the previous record of 104oF (40oC) on June 27. The city's normally high temperature averages around 70oF (21.1oC) in June. U.S. census data found that less than 50% of the urban Seattle communities have A.C. Meanwhile, Portland (Oregon) recorded an all-time high temperature for three consecutive days. Multnomah County, where Portland locates, reported at least 43 heat-related urgent medical visits over the past weekend. In Canada, Lytton (British Colombia) broke its own record on Monday afternoon to reach a scorching heat of 47.7oC, topping Las Vegas' highest-ever temperature of 47.2oC, according to CTV News.
Unprecedented heatwave in the Pacific Northwest forced schools and businesses to shut down in many places, including outdoor pools and ice cream shops, where people often hide from summer heat. Covid testing sites and mobile vaccination spots also ceased operation temporarily. In Portland, light rail and electric car systems were suspended due to melting cables and rocketing electricity demand. Heat-related expansion caused road pavements to loosen or pop up in many areas in Seattle. The city announced that Amazon has converted a part of its Seattle headquarter into a public cooling center large enough for about 1,000 people.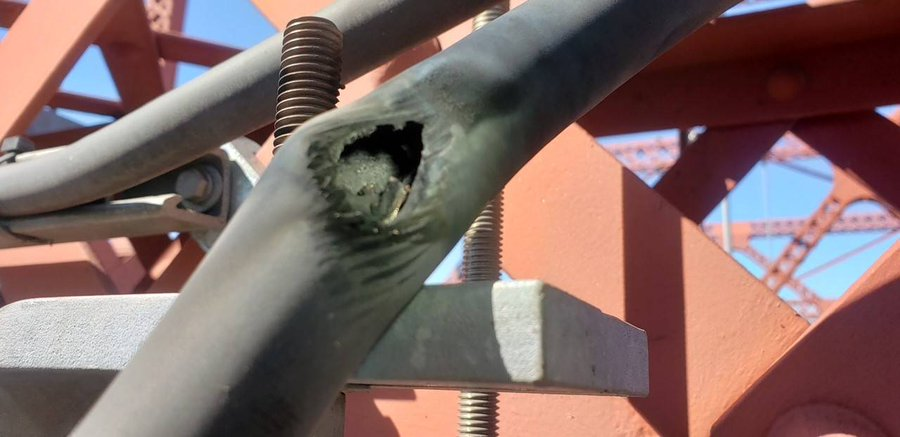 Melting power cables in Portland due to extreme heat. Photo: Portland Streetcar
Kristina Dahl, a climate scientist at the Union of Concerned Scientists, told CNN that the heat wave is extremely uncommon. "We saw heat records over the weekend only to be broken again the next day, particularly for a part of the country where this type of heat does not happen very often," Dahl said.
Michael E. Mann, an expert from Pennsylvania State University, believed the heat wave is caused by climate change. "You warm up the planet, you're going to see an increased incidence of heat extremes," Mann told CNN.
Climate experts assert the Earth's weather patterns are changing due to climate change. The more human releases greenhouse gas into the atmosphere, the more energy the climate system accumulates. Kristie Ebi, a climate researcher at the University of Washington, explains that the excess energy can manifest as extreme weather events. Ebi told CNN that "heat waves have always occurred and will always occur, but we've got a very different pattern of heat waves now than we did a couple of decades ago."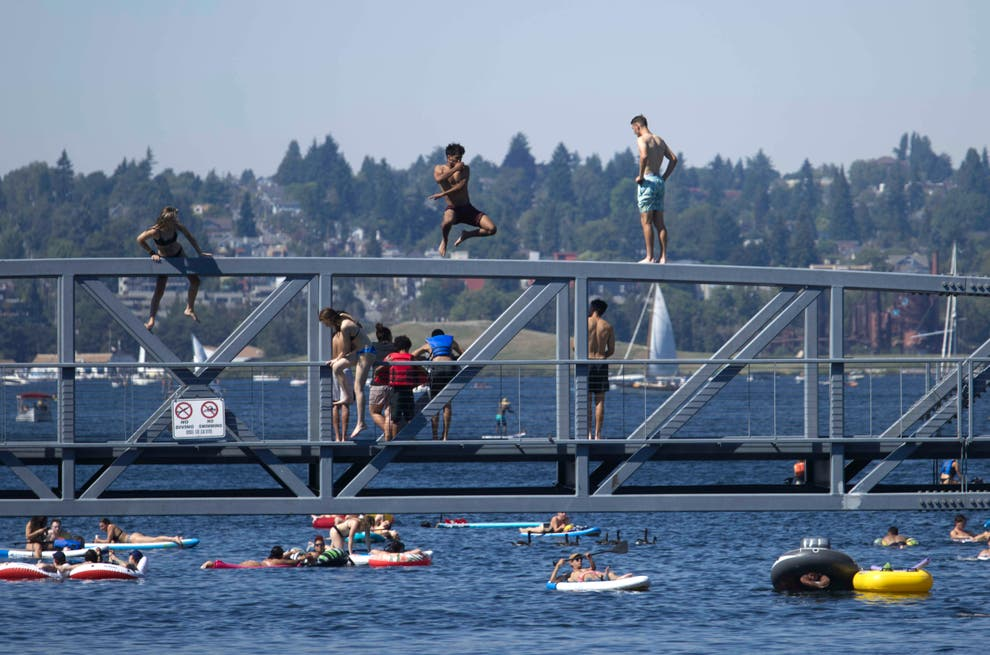 People finding ways to deal with historic heat wave in the Pacific Northwest. Photo: Associated Press
Climate change has many consequences, of which extreme heat is the deadliest. A 2020 study led by Kate Weinberger, an environmentalist at the University of British Columbia, identified an underestimated number of mortalities in the U.S. due to heat-related causes other than heat stroke. "Heat likely contributes to many more deaths from causes other than heat stroke, because heat can exacerbate other chronic diseases, such as heart and lung conditions," Weinberger said. Also worth noticing is the number of premature deaths due to heat exposure, especially among babies and young children left unattended in cars, according to a study which Ebi co-authored.
Climate change can cause high and low pressure systems to get stuck, resulting in extreme weather events like severe heat, according to Daniel Swain, a climate researcher at the University of California at Los Angeles. During the historic heat wave in the Pacific Northwest, a strong high-pressure ridge, or heat dome, has acted like a blanket that prevents hot air from escaping and warms it even more as it sinks.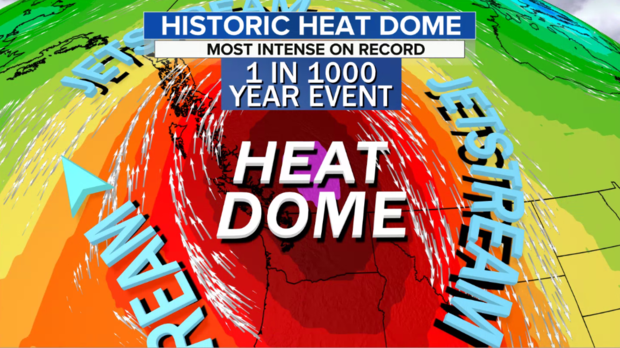 The heat dome is an extremely rare event. Photo: CBS News
"If you warm the atmosphere, you'd expect those heat waves to be hotter than they otherwise would have been," Swain told CNN.
Climate experts say people across the globe will experience more severe impacts of extreme heat if countries do not cut down greenhouse gas emissions and improve climate adaptation systems.
A study from the Union of Concerned Scientists which Dahl co-authored predicts that regions in the U.S. that do not normally undergo severe heat will face this extreme weather condition regularly by the middle of this century.
"When we look at where we're heading in the future, our analysis has shown that if we fail to reduce our heat-trapping emissions, we are poised to see a staggering expansion of dangerous heat across the U.S.," Dahl told CNN.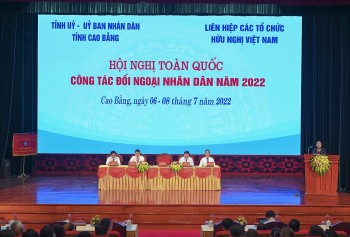 Friendship
During the event, many important issues will be discussed, and constructive suggestions and solutions will be provided to promote more effective people-to-people diplomacy operations.