What Is The Largest Wind Power Plant In Vietnam?
Trung Nam is considered the largest wind power plant in Vietnam, with the total annual utilization output of the wind power-solar power complex reaching 950 million kWh - 1 billion kWh of electricity per year.
On April 16, Trungnam Group held the inauguration ceremony of the Trung Nam Wind Power Plant in Loi Hai and Bac Phong communes, Thuan Bac district, Ninh Thuan province. This is considered to be the largest wind power plant in Vietnam, combined with a 204 MW solar power plant to form the largest and only renewable energy complex based in solar and wind power in Vietnam and Southeast Asia.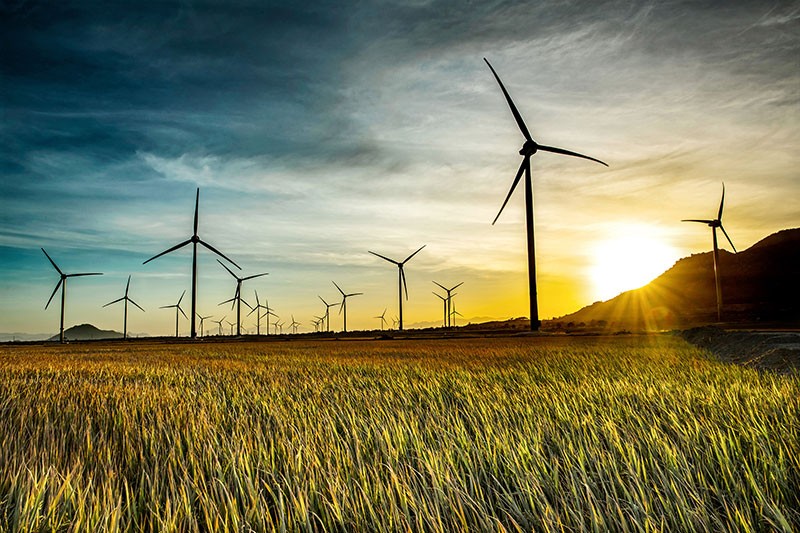 Photo: Trung Nam Group
The project uses turbines of manufacturer ENERCON with gearless technology with the advantage of being able to operate with low wind speeds of 2 -2.5m/s, and the average speed is 7.1 m/s, 6.5 m/s higher than stage 1. This is the type of land-based turbine with the largest capacity in Vietnam today. With the selection of this advanced equipment, the norms of land-occupied areas are reduced to only 0.14 ha/MW (compared to the prescribed land use rate of no more than 0.35 ha/MW), making a significant contribution to the efficient use of national resources.
Unlike the development of solar power projects, the process of developing complex wind power projects is more complicated due to large investment costs, expensive shipping time, and installation of equipment, not to mention the supply of equipment. However, with the experience of the leading energy corporation, Trungnam Group has overcome those challenges and completed phase 3 of the project.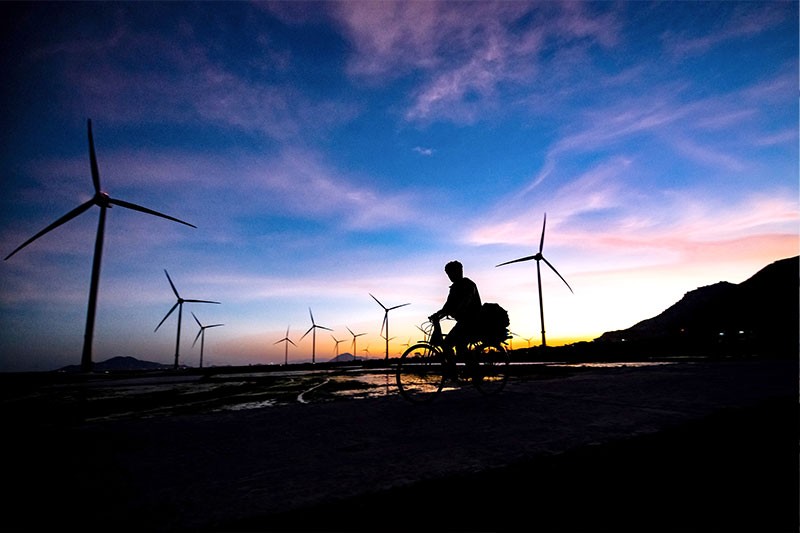 Photo: Trung Nam Group
Trungnam Group has put 02 solar power projects into operation in Thuan Bac District, Ninh Thuan Province, and Duyen Hai District, Tra Vinh Province with a total capacity of above 360MW. Along with the wind power project, Thuan Bac district has a total capacity of over 151.95MW.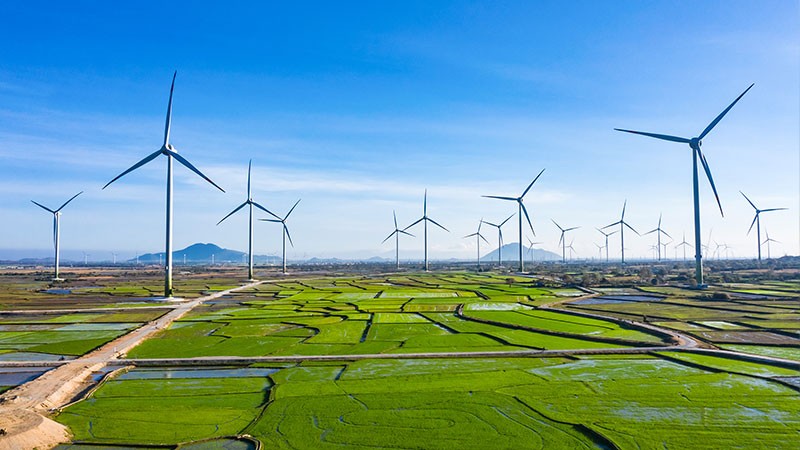 Photo: Trung Nam Group
In addition, in 2020, Trungnam Group became the first private investor in Vietnam to build and bring 220 / 500KV substations and lines to combine Trungnam Thuan Nam's 450 MW solar power plant into operation. Trungnam Group is continuing to implement many energy projects to achieve the goal by 2027, which will add 10GW to the national electricity system. Specifically, Trungnam Group is actively implementing a plan to bring 900 winds onshore, nearshore, and offshore in Dak Lak, Gia Lai, Tra Vinh, and Ninh Thuan.
The project is carried out with the goal of Resolution 55 of the Politburo which is promoting the development of renewable energy, creating conditions for private investors to participate in the development and construction of transmission infrastructure.