With no community transmission, Hanoi considers easing Covid-19 preventive measures
Hanoi city is contemplating a gradual removal of restrictive measures to prevent the Covid-19 pandemic as no community transmission cases detected in over one week. Therefore, the department must have plans and assess the risks fully before proposing solutions for the business to reopen.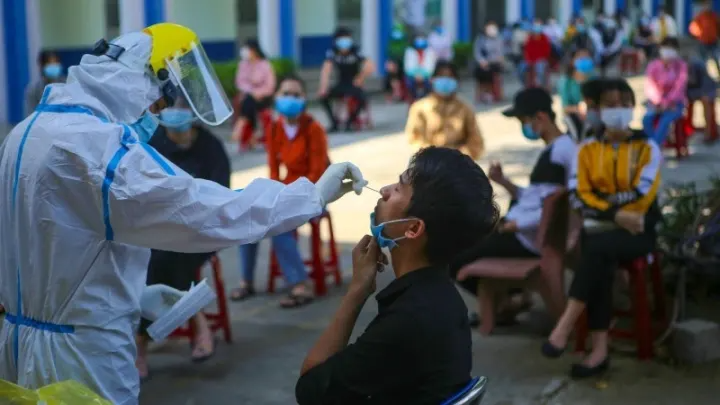 Health authorities carry out COVID-19 tests on residents of Da Nang, Vietnam. Photo by: Trn Lê Lâm / VNA / Str / Latin America News Agency via Reuters.
The information was made during an online meeting between Hanoi's leaders with district authorities last Monday evening.
In Hanoi, from February 16 until now, no new cases have been reported in the community. The disease situation is basically under control, but the risk of disease remains high. In some areas, there are still crowds of people and unnecessary travel, a few people have not yet worn a mask. Some stores have not reminded customers to adhere to wearing a mask and sitting in apart.
Speaking at the meeting, Hanoi People's Committee Vice Chairman Chu Xuan Dung asked localities to handle violations of regulations on epidemic prevention and control, avoiding the city's efforts but still individuals. , the phenomenon affects the general work.
Suggest the Hanoi Department of Health to direct the City Center for Disease Control to coordinate with localities to review the four blocking sites, assess the risks based on the tested results to propose the city consider loosening. loose spacing; Continue to develop specific plans for randomization. At the same time, methodically deploy the medical management and declaration process on the basis of the QRCode guidance of the Ministry of Health for people to support and participate.
The basic situation is under control, so the city recommends that units fully assess the risks and propose solutions in their respective sectors and units, and report to the city before 17:00 on February 25, to practice City leaders consider loosening the pausing of previously carried out activities. In particular, districts and towns instructed schools to actively clean the environment, review conditions to be ready for students to return to school.
Vietnam has so far confirmed 800 new cases during the fresh coronavirus outbreak that started in late January 2021.
Currently, more than 120,000 people who had contact with COVID-19 patients or returned from epidemic hit countries have been placed in quarantine for medical observation.
Hai Duong has still been the Covid-19 pandemic hotspot with three more positive cases reported so far.
All of Hai Duong is undergoing social distancing for 15 days starting February 16 as per a government directive on Covid-19 prevention, according to Vnexpress.
The social distancing directive, the same applied nationwide in April last year to stem the spread of Covid-19, calls for people not to go outside except for getting food, medicine or other emergencies; requires a minimum social distance of two meters and bans gatherings of more than two outside of hospitals, offices, schools and public spaces.
Certain areas with large numbers of infections have imposed stricter preventive measures.