Vietnamese chef aspires to bring local cuisine closer to the world
Not only opening 10 Vietnamese Pho restaurants in Kuala Lumpur, Malaysia, Ton Ngoc Hiep, who used to be a chef of a 5-star hotel in Ho Chi Minh City, also cherished his intention to bring this brand to the U.K and the U.S.
"I want to introduce Vietnamese cuisine to not only Malaysians but also people in other countries in the world. If it hadn't been for Covid-19, I would have brought Pho Vietz to the U.K and U.S", said Hiep.
Malaysia possesses a rich and diverse cuisine. Hence, it's really hard to seek a foothold in this country's culinary market. Hiep has opened 10 Pho Vietz restaurants, only in the capital city of Kuala Lumpur
He has planned to open 5 more Pho Vietz restaurants in Malaysia this year, operate a restaurant in Hong Kong, and eyes to bring this brand to Manchester (U.K) and New York (U.S).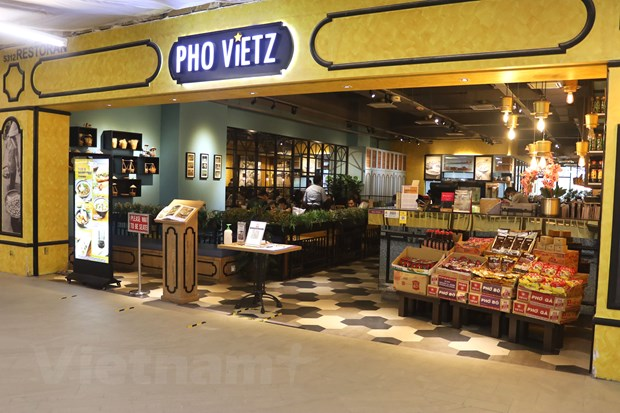 Pho Vietz restaurant at Utama Shopping Center. Photo: Vietnamplus
Used to be a chef at the five-star hotel Equatorial in Ho Chi Minh City in the 1990s, Hiep took the responsibility of introducing Vietnamese cuisine to Switzerland within three months.
That long business trip brought him joy and pride when seeing foreigners welcoming and appreciating Vietnamese cuisine.
Returning from Switzerland, Hiep was sent to Malaysia to promote the local cuisine. Here, he had the chance to meet China-born chefs who wanted to put Vietnamese food into their menu. They also persuaded Hiep to work for them.
While working in Malaysia, Hiep recognized there were many "fans" of Vietnamese cuisine in this country.
Hiep also realized that the dishes he cooked weren't "complete Vietnamese" as the local spices made Pho lose its taste and Bun bo Hue (Hue style beef noodle soup) become sour, etc.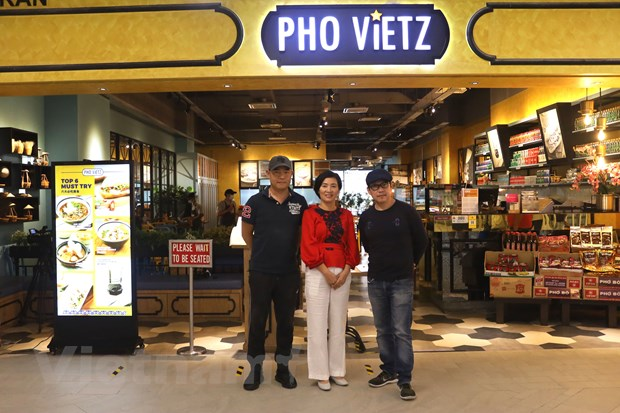 Ton Ngoc Hiep (third from the left), the owner of Pho Vietz. Photo: Vietnamplus
Thus, in 2014, he along with a number of shareholders decided to found Pho Vietz restaurant where he could cook Vietnamese dishes by using Vietnamese ingredients.
"I have made efforts to prepare all ingredients as in Vietnam. Despite not buying completely Vietnamese noodles, I buy those with 90% similarity. Maintaining the quintessence of Vietnamese food is what I always aim to", Hiep was quoted by Vietnamplus as saying.
"After 6 years of launching Pho Vietz, I have opened 10 restaurants with about 120 employees", he added.
"Pho is an iconic food of Vietnam that has gained its reputation among many foreign visitors. "Viet" in Pho Vietz means Vietnam which reminds tourists of Vietnamese dishes".
In order to run 10 restaurants at the same time and ensure the same food quality at restaurants, Hiep set up a "kitchen center" where dishes are processed.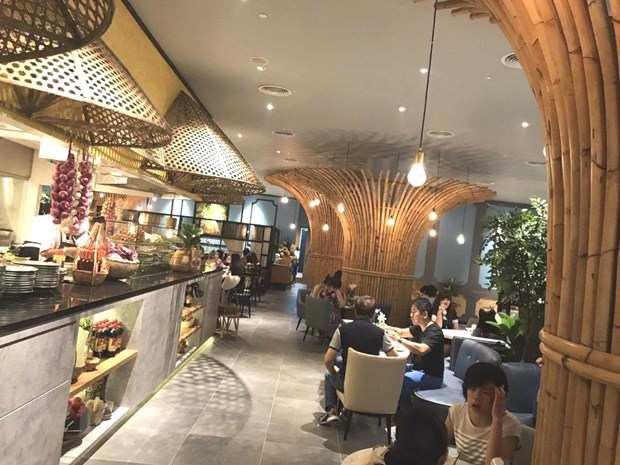 Pho Vietz restaurant's decoration at Pavilion Shopping Center reminds of Vietnam. Photo: Vietnamplus
Before the restaurants are opened, specialized cars are present to deliver food from the "kitchen center" to each restaurant. "Managing and operating like this, I feel more secure about the quality of products", he said.
In spite of busy with the working schedule, Hiep still dedicates time to studying to serve customers with the best Vietnamese dishes. "Signature" dishes at Pho Vietz restaurant include Pho bo (Beef noodle soup), Pho ga (chicken noodle soup), Bun bo Hue (Hue style beef noodle soup), Nem (spring rolls), Banh mi, coffee, etc.
Talking with reporters, Richard Chong and Summer Lee, Malaysia patrons said they liked Pho bo (Beef noodle soup) and coffee most. "Coffee here is perfect. Pho is really delicious. I love this restaurant's recipe. I can eat Pho every day and every week".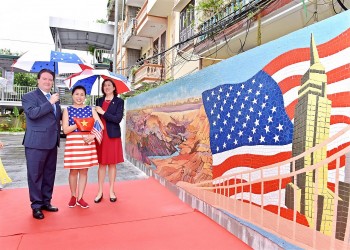 Multimedia
A ceramic mosaic mural named "Vietnam - US friendship" depicting the natural and cultural heritages of the two countries, was just revealed in Hanoi