Workshop reviews ASEAN maritime cooperation over the past decade
The ASEAN Maritime Forum (AMF) provides a platform for ASEAN to review maritime cooperation over the past decade and suggest orientations and measures to further boost cooperation in the near future.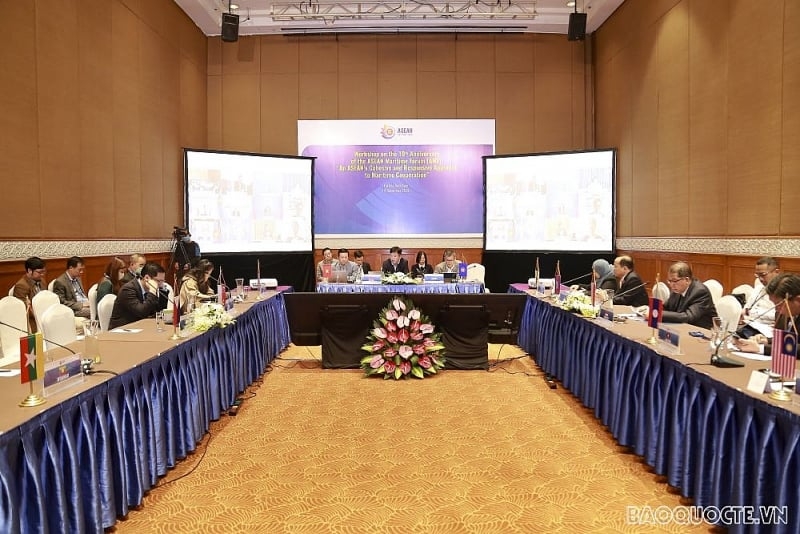 At the workshop focusing on ASEAN's cohesive and responsive approach to maritime cooperation. Source: baoquocte.vn
A workshop marking the 10th anniversary of AMF was held both online and offline in Hanoi on December 14, VNA reported.
Chairing the opening ceremony, Director General of the Foreign Ministry's ASEAN Department Vu Ho said the AMF provides a platform to promote dialogue, share information and enhance cooperation among agencies in the field. It is time for ASEAN to review maritime cooperation over the past decade and suggest orientations and measures to further boost cooperation in the near future, he said.
Ho suggested focusing discussions on regional maritime cooperation in the new context, sharing of lessons and practices, building a responsive and cohesive approach to the field.
Results and recommendations at the event will be reported to the AMF for consideration.
Delegates shared the view that maritime cooperation is always a field of high priority in the region, with the participation of specialised mechanisms and agencies. A number of important agreements in the field have been adopted.
Director General of the Foreign Ministry's ASEAN Department Vu Ho. Source: baoquocte.vn
According to the ASEAN Secretariat, maritime cooperation accounts for over 10 percent of lines of action in the ASEAN Political-Security Community 2025.
Participants also discussed non-traditional security challenges such as illegal fishing, marine environment pollution, plastic waste and crimes at sea.
Many opinions expressed concern over complicated developments in the field, including actions that could complicate the situation, increase tension, and run against international law and the 1982 United Nations Convention on the Law of the Sea (UNCLOS), as well as rising strategic competition among major powers.
Moreover, up to 12 agencies join in maritime cooperation, easily resulting in overlaps and waste of resources.
They agreed that the approach to maritime cooperation should be built on the basis of harmonising national and regional priorities and interests, and their development plans.
Some delegates suggested that ASEAN should continue stepping up collaboration in maritime connectivity and trade, sea environment protection, ensuring maritime security and safety, search and rescue, humanitarian assistance for people and vessels in distress at sea, preventing illegal, unreported and unregulated fishing, protecting livelihoods of coastal community, and maritime scientific research.
They also highlighted the need to increase information sharing and coordination among agencies, and abide by international law, especially the UNCLOS.
They welcomed Vietnam's initiative to build a comprehensive, cohesive and responsive approach of ASEAN to maritime cooperation, thereby affirming the bloc's solidarity and role in face of existing challenges.
As scheduled, the 10th AMF and the eighth Expanded AMF will take place on December 15 to share maritime issues of shared concern.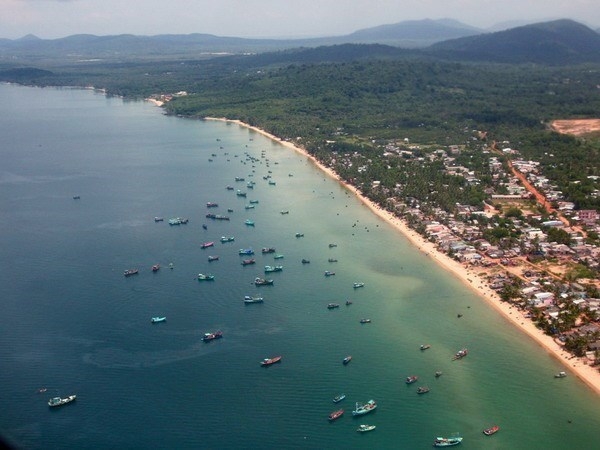 Illustrative image. Photo: VNA
Over recent times, Vietnam's foreign affairs and international cooperation efforts relating to the sea have made many achievements. Based on international law, Vietnam conducted of delimitation in the Gulf of Thailand, with Thailand, in 1997, in the Gulf of Tonkin with China in 2000, and on the continental shelf with Indonesia in 2003.
Vietnam also adopted flexible and creative solutions in the dispute settlement process, such as striking an agreement to conduct joint oil and gas exploitation with Malaysia on the overlapping continental shelf between the two countries before the 1992 delimitation, and an agreement on fisheries cooperation with China in the Gulf of Tonkin together with the signing of the 2000 delimitation agreement.
Vietnam and other ASEAN countries signed the 2002 Declaration on the Conduct of Parties in Bien Dong Sea (DOC) with China to maintain peace and stability, ensure freedom of navigation and aviation in the region, and facilitate the settlement of disputes in Bien Dong Sea.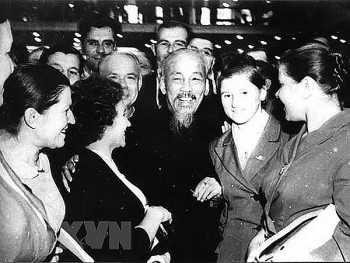 National
Throughout its history Vietnam has come into contact and exchanged with many cultures and civilizations.