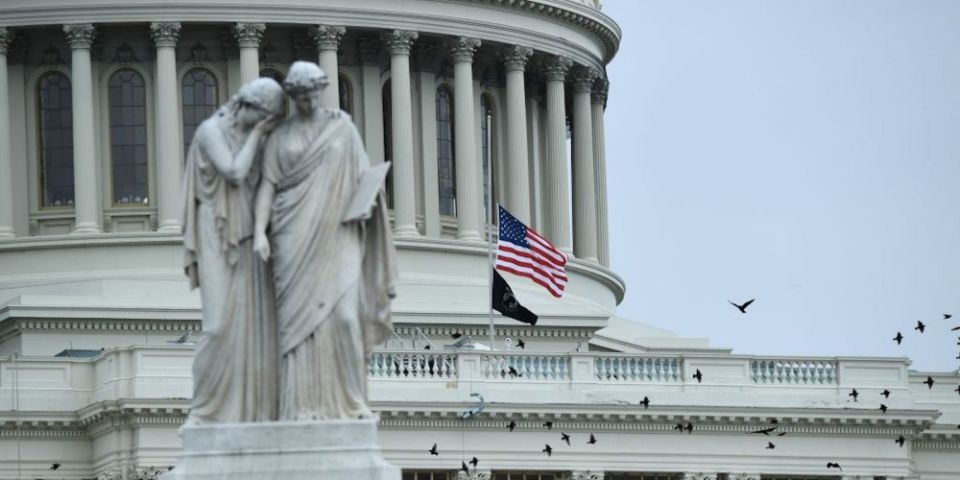 President Trump ordered flags lowered at the White House, and all public buildings and grounds until sunset on Jan. 13 (Photo: Yahoo News Canada)
Trump orders flags to half-staff in honor of 2 fallen Capitol Police officers
In a statement, President Trump ordered flags lowered at the White House, and all public buildings and grounds until sunset on Jan. 13. Military bases and naval ships and embassies will also fly the U.S. flag at half-staff, FOX 29 reported.
Officer Brian Sicknick, a 42-year-old New Jersey native, died from injuries sustained during the pro-Trump insurrection. Sicknick was a 12 year veteran of the Capitol police force and previously served in the United States military. The Associated Press reports Sicknick was killed after he was hit over the head with a fire extinguisher.
New Jersey Gov. Phil Murphy, who ordered flags to half-staff last week, said Sunday that flags will remain lowered until Officer Sicknick's burial.
On Sunday it was reported that fellow U.S. Capitol Police officer Howard Liebengood, 51, had died by suicide. Sources said Liebengood was off-duty when he died on Saturday. He was a 15 year veteran of the force.
Four other people, including an unarmed Trump supporter, died after Wednesday's storming of the Capitol during a congressional hearing certifying Joe Biden's election victory.
At least 25 troops under investigation for terrorism in connection with Capitol riot
Rep. Jason Crow, a Democrat of Colorado and a former Army Ranger, said he spoke with Army Secretary Ryan McCarthy on Sunday and was told that "at least 25 domestic terrorism cases have been opened as a result of the assault on the Capitol."
The troops are suspected of taking part in the insurrection that shut down Congress as it formalized President-elect Joe Biden's Electoral College victory, said a Defense official, who was not authorized to comment on the law enforcement investigation. Five people died, including a Capitol Hill police officer, after the pro-Trump mob overwhelmed security lines.
Members of the military are sworn to protect the Constitution. It is not clear if they would face military courts-martial or prosecution in civilian court.
The Pentagon also has been asked to review all members who will be a part of the security detail for the Jan. 20 inauguration to ensure they are "not sympathetic to domestic terrorists," Crow said, according to USA Today.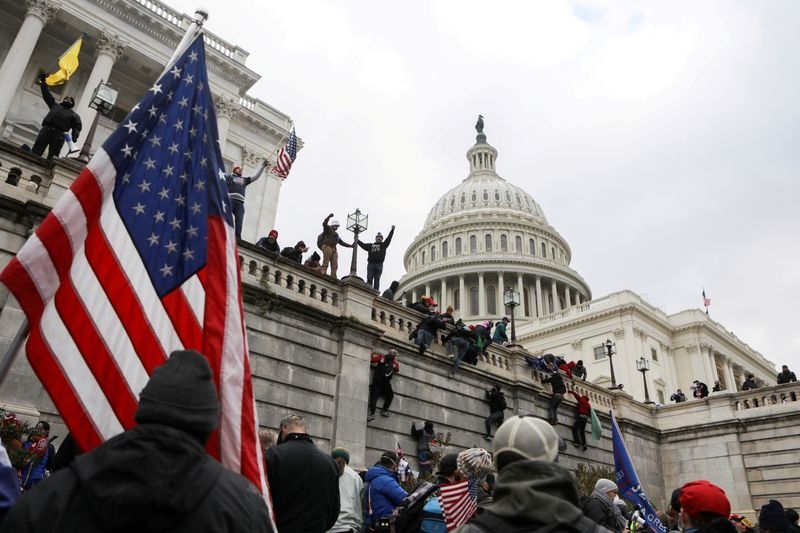 Terrorism at the Capitol (Photo: Yahoo News)
North Korea says leader Kim elected as general secretary of the ruling party
North Korean leader Kim Jong Un has been elected as general secretary of the ruling Workers' Party, state media KCNA said on Monday, taking over the title from his late father in a largely symbolic move seen aimed at further cementing his power.
The election took place on Sunday during the party's ongoing multi-year congress, designed for Kim to map out blueprints for his diplomatic, military and economic policy over the next five years and make key personnel decisions.
The congress "fully approved" a proposal for promoting Kim to general secretary of the party, KCNA said, calling the position "head of the revolution and centre of guidance and unity."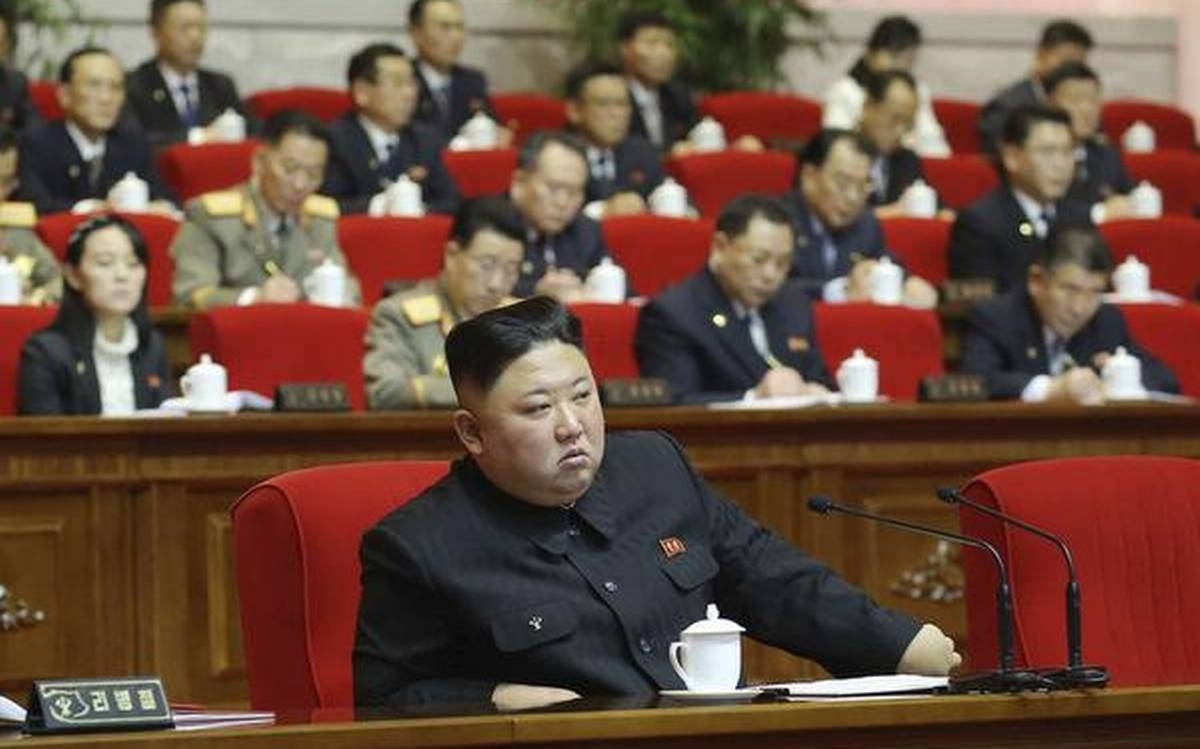 North Korean leader Kim Jong Un has been elected as general secretary of the ruling Workers' Party (Photo: The Hindu)
Kim has wielded almost absolute power in dynastically ruled North Korea since taking over following the death of his father Kim Jong Il in 2011. In 2012, the party named Kim Jong Il "eternal general secretary" and Kim Jong Un "the first secretary" at a conference.
The party also held elections for its Central Committee, a key governing body that includes the powerful politburo, KCNA said.
Kim Yo Jong, the young leader's sister and senior party official who had previously been a candidate member of the politburo, was not on the list, confounding widespread expectations from observers of the reclusive regime, as reported by Reuters.
South Korea's Moon says will make efforts for breakthrough in inter-Korean ties
President Moon Jae-in said on Monday South Korea will try to make a breakthrough in inter-Korean ties and a stalemate between North Korea and the United States.
During his New Year's address, Moon also said the coronavirus pandemic could expand inter-Korea cooperation, facilitating future unification, Reuters said.
South Korea's resolve to continue dialogue with the North remains unchanged, said Moon.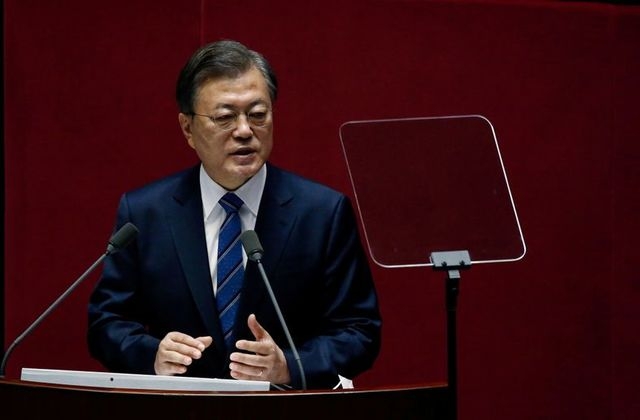 President Moon Jae-in (Photo: US News and World Reports)
Gold prices drop over 4% for biggest one-day loss since November
Gold futures dropped by more than 4% on Friday to log their biggest one-day loss since early November, as yields for U.S. government bonds extended a weekly climb, eroding some appetite for bullion which competes against haven sovereign debt for buyers.
Strength in the U.S. dollar also pressured dollar-denominated prices for gold.
A higher U.S. dollar index DXY, 0.34% is also negative for the metals, Wyckoff said. Meanwhile, bitcoin, which hit a new record high, may be "stealing some of the trader/investor buying interest that would have in the past been directed to the safe-haven metals," said Wyckoff.
February gold GCG21, -0.40% GC00, -0.41% fell by $78.20, losing 4.1% to settle at $1,835.40 an ounce. That was the lowest settlement for most-active gold futures since Dec. 14, according to FactSet data. Prices also saw their worst one-day percentage loss since Nov. 9, according to Dow Jones Market Data.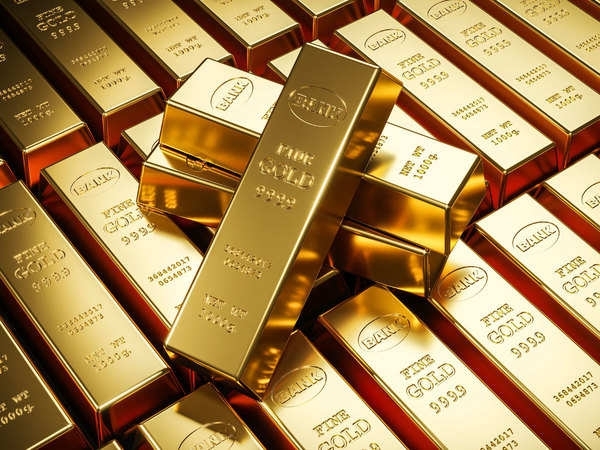 (Photo: Economics Times)
Silver for March delivery SIH21, 0.32% SI00, 0.32%, meanwhile, fell $2.62, or 9.6%, to $24.637 an ounce. That was the largest single-session percentage decline since Sept. 21 of last year.
Based on the Dec. 31 settlement, which was the last trading day of last week, gold has lost nearly 3.2%, while silver saw a weekly slide of 6.7%.
The 10-year U.S. Treasury yield TMUBMUSD10Y, 1.120% was nearing 1.1%, after ending 2020 at 0.926%, marking a powerful uptrend for the benchmark note in the first full week of 2021. Higher Treasury yields can spell weakness for gold, which like other commodities offers no yield and suffers more by comparison, according to Market Watch.
Jasmine Le