World breaking news today (March 16): EU takes legal action vs UK over Brexit deal delays
World breaking news today (March 16): EU takes legal action vs UK over Brexit deal delays. Meanwhile, China Calls on Myanmar Junta to punish arsonists who attacked factories in Yangon, US consulate in Hong Kong closes and gold price also make headlines today.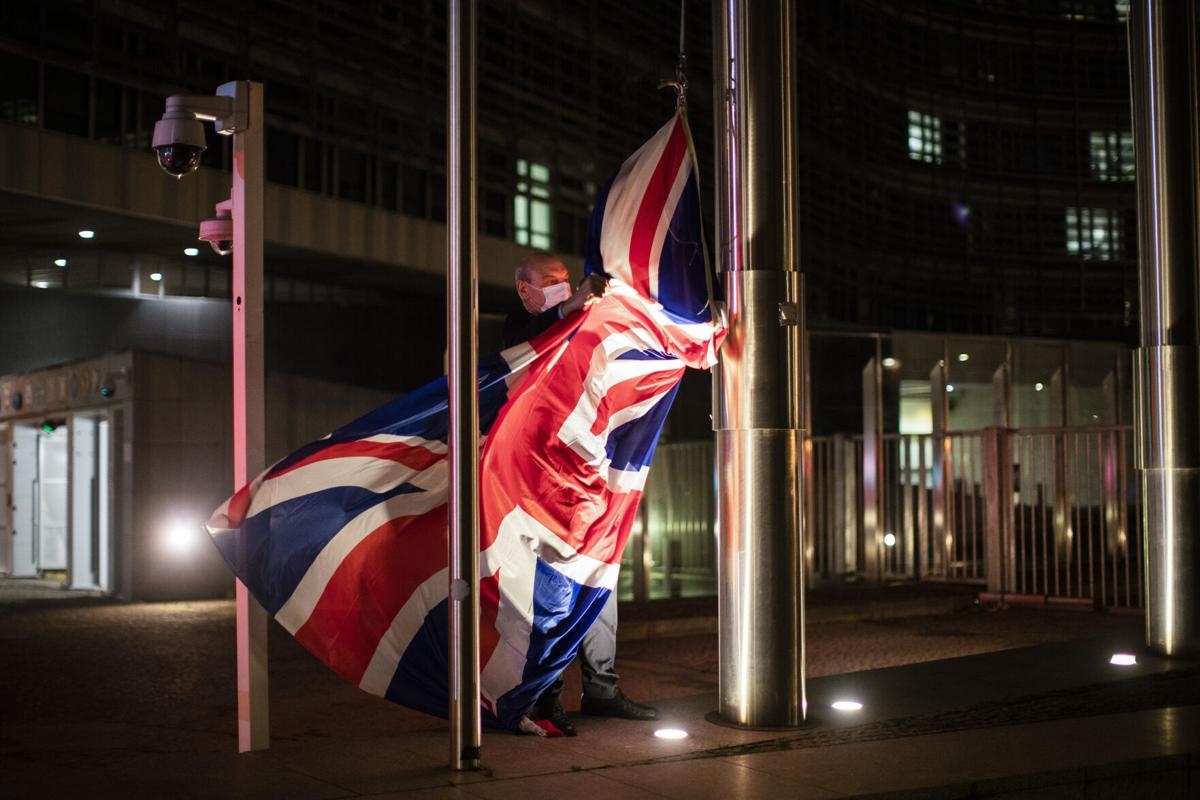 (Photo: Mooresville Tribune)
EU takes legal action vs UK over Brexit deal delays
The European Union said Monday it is starting legal action against the United Kingdom, arguing it does not respect the conditions of the Brexit withdrawal agreement and is violating international law.
The 27-nation EU is objecting to Britain unilaterally extending a grace period beyond Apr. 1 that applies to trade on the island of Ireland, where the EU and the United Kingdom share a land border and where a special trade system was set up as part of the Brexit divorce deal.
It marks yet another worsening of relations between the two sides since a divorce transition period ended on Jan. 1. Disputes have ranged from fights over vaccines, to the full diplomatic recognition of the EU in Britain and now again the terms of the divorce agreement.
On March 3 the U.K. decided to unilaterally extend a grace period until October on checks for goods moving between Britain and Northern Ireland. Northern Ireland is part of the United Kingdom but remained part of the EU's single market for goods after Brexit to avoid a hard border that could revive sectarian violence.
In September last year, the U.K. had already upset the 27-nation bloc when it considered legislation that would have given Boris Johnson's government the power to override part of the Brexit withdrawal agreement relating to Northern Ireland.
So the EU sees the U.K.'s March 3 statement as proof that Britain has now twice sought to violate an international agreement, according to abc News.
"The recent measures once again set the U.K. on the path of a deliberate breach of its international law obligations and the duty of good faith that should prevail," EU Vice President Maros Sefcovic wrote to his U.K. counterpart David Frost.
China Calls on Myanmar Junta to punish arsonists who attacked factories in Yangon
Global Times, the mouthpiece of the Chinese Communist Party, has called on the military regime to punish the people who attacked garment factories in Yangon on Sunday.
In an editorial the Beijing-based newspaper said, "We strongly urge the Myanmar side to stop these kind of crimes, punish the perpetrators and compensate Chinese factories for their losses."
The Chinese embassy in Yangon said many Chinese staff were injured or trapped in arson attacks by unidentified assailants on garment factories in Yangon's Hlaing Tharyar Township and called on Myanmar to protect Chinese property and citizens.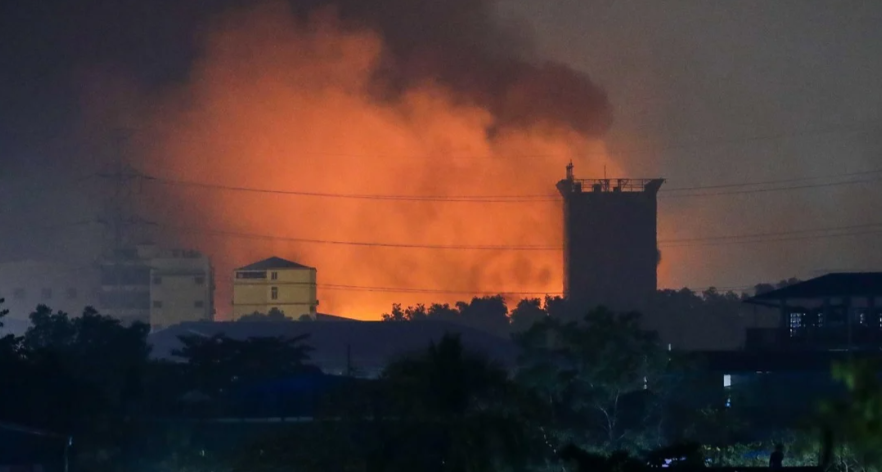 Chinese-owned factories burn in the industrial neighbourhood in Hlaingthaya in Yangon on Monday. Photo: EPA-EFE
The Global Times said, "The violent attacks were apparently well organized and planned. One twitter account tweeted a warning to the Myanmar military government saying: 'If one civilian is killed one Chinese factory will become ashes.' This verified account belongs to the Founder and Executive Director of Burma Human Rights Network (BHRN). This is just one example of inflammatory instigations." The London-based BHRN was founded in 2015.
The editorial also claimed that China "doesn't interfere heavily in the Myanmar situation" but "tries its utmost to promote peaceful settlement of the crisis according to law."
It said, "China holds friendly ties with all parties in Myanmar. No matter which party holds power, Myanmar maintains friendly cooperation with China."
In response to the increasing anger directed at Beijing, China's ambassador to Myanmar, Chen Hai, told local media that the current situation in the country is "absolutely not what China wants to see."
According to The Irrawaddy, Chen Hai also said Beijing was not informed in advance of the military takeover, adding that China hoped all parties in Myanmar "could handle the current problem properly through dialogue and consultation and lead the country back on track as soon as possible."
US consulate in Hong Kong closes as coronavirus hits wealthy districts
The United States temporarily closed its consulate in Hong Kong on Monday after two staff tested positive for the coronavirus during a new outbreak that has rippled through the city's well-heeled "expat" community.
The two cases emerged during an "ambush lockdown" -- a tactic used by Hong Kong authorities to descend overnight on apartment blocks where they suspect there may be cases and test everyone inside.
"We have closed the Consulate General to perform a deep disinfection and cleaning while contact tracing is conducted," the consulate said in a statement after it was informed of the cases on Monday.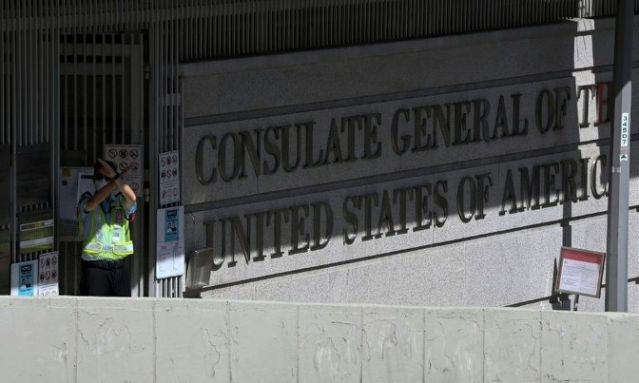 (Photo: Yahoo News)
And the US consulate said staff "have abided by all Hong Kong government requirements for the arrival, testing, and quarantine of all diplomatic personnel and their family members."
In a separate statement, the consulate said it was aware that some US citizens in Hong Kong had concerns about the city's mandatory quarantine and hospitalisation procedures "particularly in regard to the possible separation of children from their parents".
Hong Kong has recorded some 11,000 infections and 200 deaths since the pandemic began, AFP reported.
North Korean leader's sister warns US not to 'spread the smell of gunpowder'
North Korean leader Kim Jong Un's influential sister slammed the US and South Korea on Tuesday, state media reported, as the new US secretaries of state and defence began a visit to Tokyo and Seoul.
The US and South began joint military exercises last week and Pyongyang's official Rodong Sinmun newspaper carried a statement from Kim Yo Jong offering "a word of advice to the new administration of the United States that is struggling to spread the smell of gunpowder on our land from across the ocean".
"If you wish to sleep well for the next four years, it would be better not to create work from the start that will make you lose sleep," she said.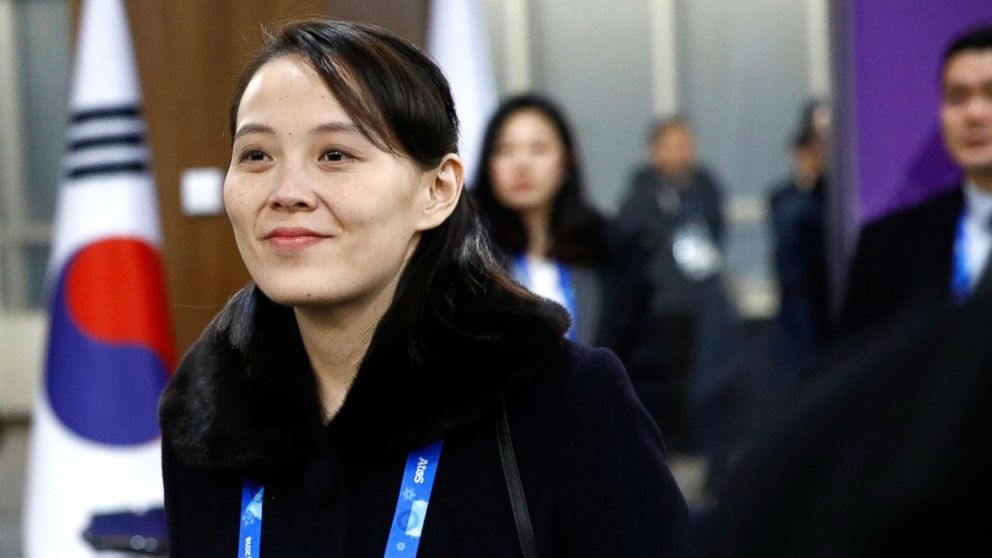 North Korean leader Kim Jong Un's sister (Photo: ABC News)
It is the first explicit reference by the nuclear-armed North to a new president in Washington, more than four months after Joe Biden was elected to replace Donald Trump -- although it still did not mention the Democrat by name.
Trump's unorthodox approach to foreign policy saw him trade insults and threats of war with Kim Jong Un before an extraordinary diplomatic bromance that saw a series of summits.
But ultimately the relationship made no progress towards the denuclearisation of the North, which is under multiple international sanctions for its banned weapons programmes, according to AFP.
Gold price forecast – gold continues to form potential basing pattern
Gold markets continue to go sideways overall, as we are looking for some type of directionality coming out of the US dollar.
Gold markets have gone back and forth during the trading session on Monday as we continue to hover just above a major support level. The $1700 level of course will attract a lot of attention, and therefore it is worth paying attention to. The hammer on Friday suggested that there was going to be significant buying pressure, and that does make sense considering that the $1700 level is a large, round, psychologically significant figure and of course where we have seen bullish action in the past. Furthermore, the 61.8% Fibonacci retracement level sits right here as well, so in general that should attract a lot of attention, FX Empire reported.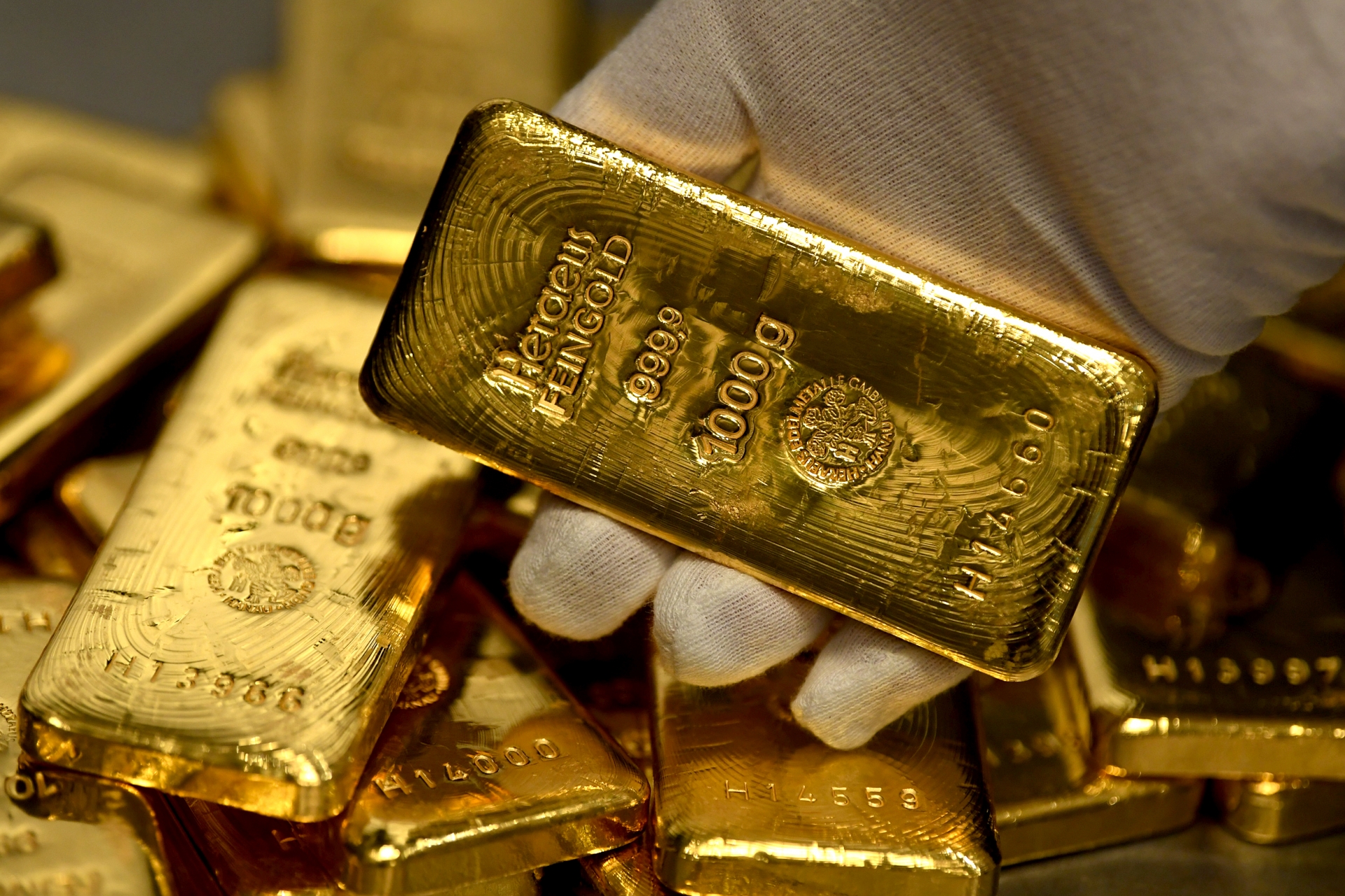 (Photo: NBC News)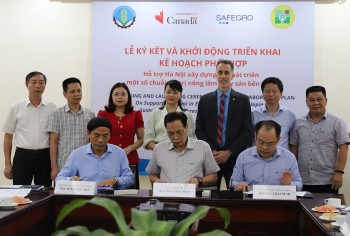 Make in Vietnam
As Vietnam furthers its international intergration, building agro-forestry-fishery high value chains is crucial for the sustainable development of the agriculture sector.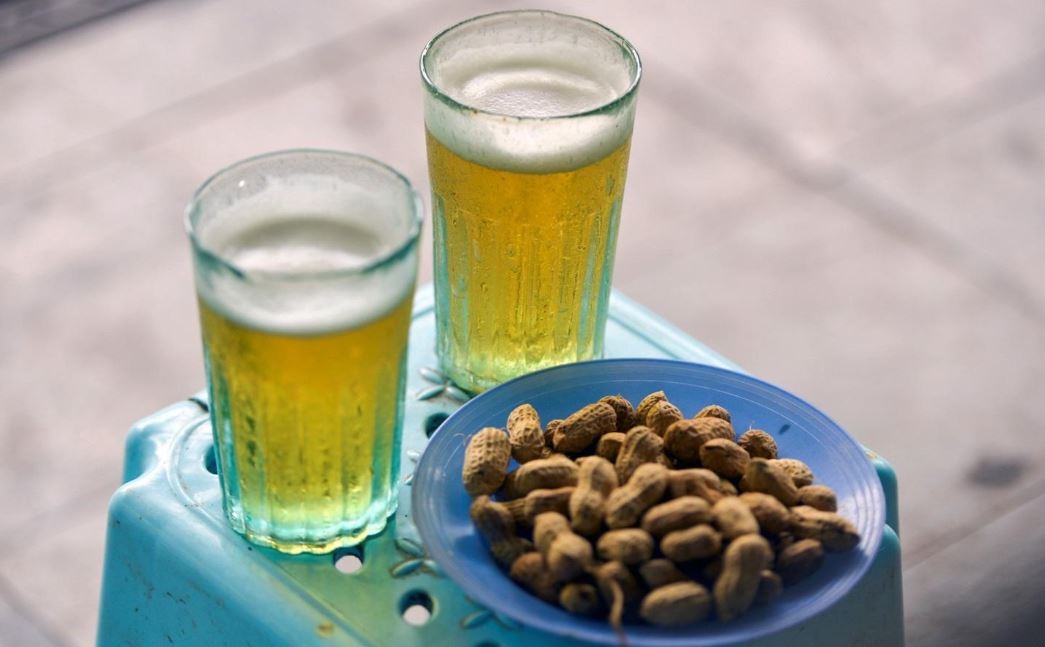 World
Among Vietnamese best beer destinations voted by foreign travelers, Hanoi is followed by Ho Chi Minh City, Hoi An, Nha Trang, and Da Nang.
August 06, 2022 | 14:54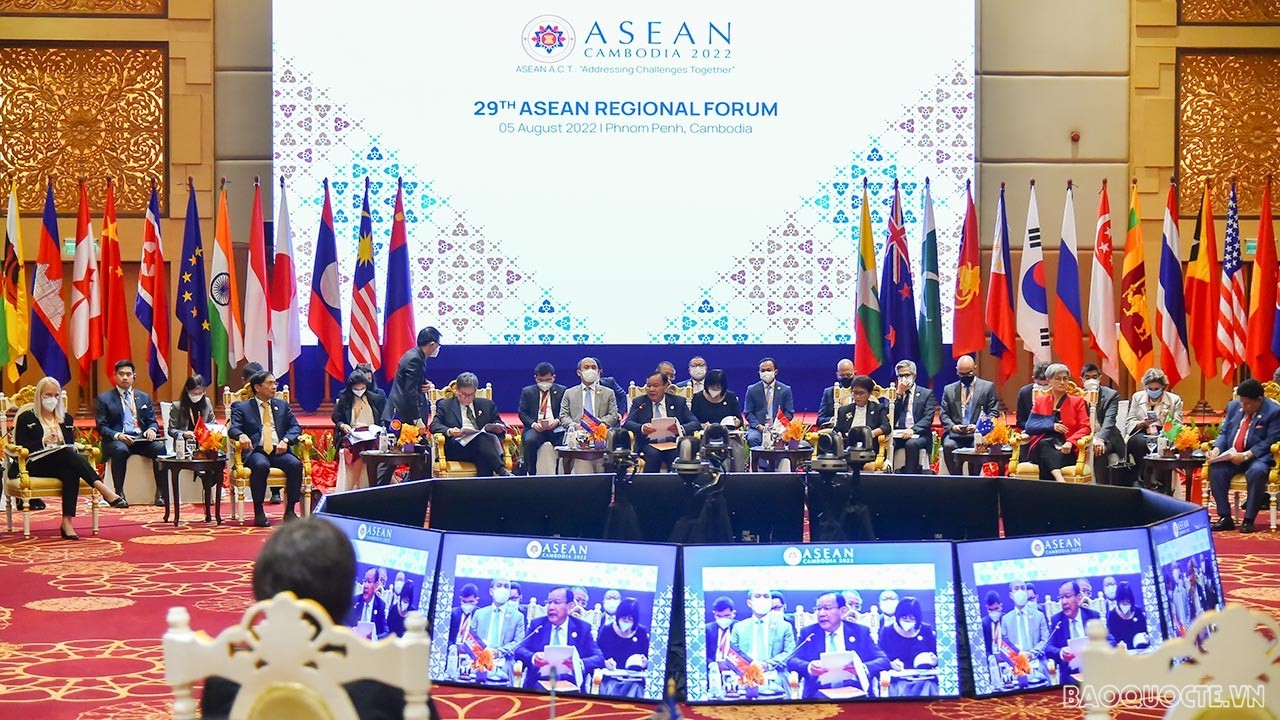 World
Foreign Minister Bui Thanh Son attended the 29th ASEAN Regional Forum (ARF) that took place in Phnom Penh, Cambodia on August 5 within the framework of the 55th ASEAN Foreign Ministers' Meeting (AMM-55), and held several bilateral meetings on the sidelines of the event.
August 06, 2022 | 09:12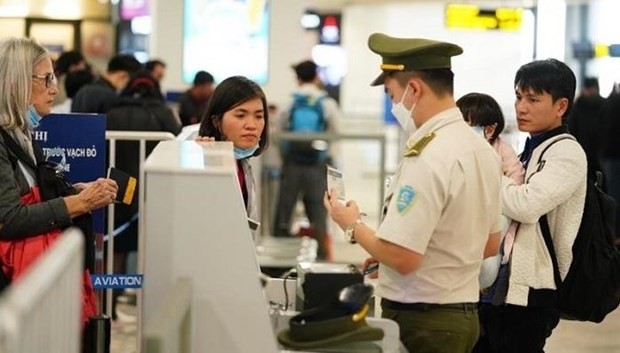 World
The Ministry of Health has asked localities nationwide to monitor foreign arrivals from countries with monkeypox as an early response after infections were spotted in the region.
August 05, 2022 | 16:11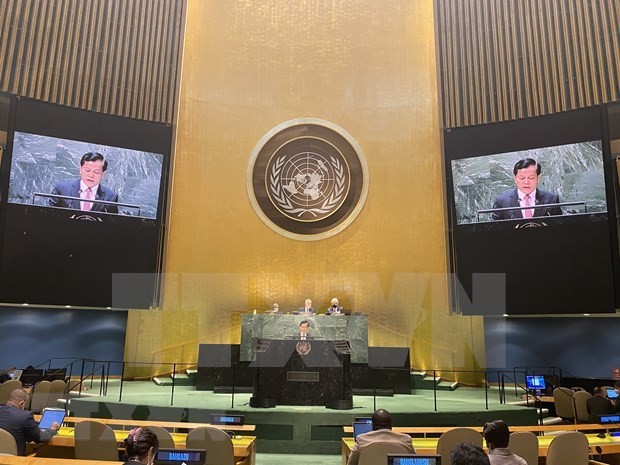 World
Deputy Foreign Minister Ha Kim Ngoc had a meeting on August 3 with United Nations (UN) Secretary-General Antonio Guterres who highly valued Vietnam's active and responsible contributions to the common work of the organisation, especially the country's strong commitments in the fight against climate change, and promised to continue supporting Vietnam in this work.
August 04, 2022 | 16:57